Last updated on December 1st, 2013 at 09:34 pm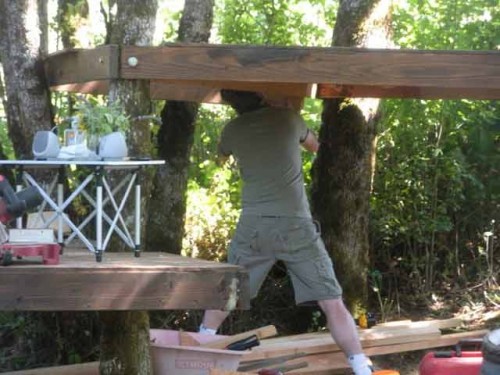 With a tip of my straw hat, or in my little son's case a bike helmet, we pay homage to the spirit of Swiss Family Robinson this week, as we continue to build our dreams out here in the heart of Willamette Valley, Oregon.
The key to my heart word, as always in my blessed life is:  Family.
Our tree house down at the seasonal creek is coming along beautifully, with my amazing husband leading the way and making most of the lumber cuts and installations.
My little daughter is not only joining in on the fun with brush clearing and branch placement for the pond we're creating at the base of the tree house, but she's also steadily blackberry picking and doing a little baking outdoors in the solar oven she constructed out of a cardboard box and aluminum foil.
It's been unusually hot, up into the triple digits this past week, and that's call for outdoor cooking and baking, so my sweet petite took it upon herself to forge ahead with her special creative project.
Proud mama, here!
This project, like so many we endeavor is rife with learning opportunities for my husband and me as well as our two children.
We love to repurpose materials either no longer needed for winemaking, in or around the winery where my husband is winemaker, and I am the A #1 head lab lackey, or from vine clippings we collect during the vineyard's pruning here on the 206 acre property, we call home.
Things like retired, yet oh-so-gorgeous, French oak barrels.  The wood pallets that many things needed for winery production are delivered on, especially during bottling season, which we are soon to wrap up and this year, some high quality sheets of plywood lumber that accompanied the glass deliveries.
Naturally, The Croft Family had to build a tree house.
Not just for our little son and daughter, their cousins and friends, though.  No Siree.  This idea was born out of my love of the outdoors, and my husband's love for me, his joy in seeing me happy and his whole need to create greatness.
This is a play place, study, reading and writing spot, dining and eventually a sometimes sleeping space for the young and young at heart as well.
From conception through completion, every undertaking is a family affair, here in and around our little home in the big vineyard.
Even Mr. Twiggsie Kitty gets involved, cute as he can be, and boy does he earn his kibble by keeping the rodent critters away from the front and back doors.
The chickens have also been known to scratch their way through and under the vines, following us down to the seasonal creek for a sip of water or to dig under the crispy leaves, and honestly just hang out with the whole family.
With all of the country living happenings and happiness out here, I surely have my good, good work cut out for me (which is just the way I love it), but truly, the most amazing aspect to building, playing and learning together as a family is how I find that with every passing hour, turn to days, weeks, and then seasons of our life, I still promise you that I cannot get enough of this togetherness.
I find every morning I am fortunate enough to wake to my vineyard and garden view to be an electrically charged moment of blissful promise.
I love to honor the gift of each new day with genuine joy and a state of constant gratitude that has been a practice for the six years that we have lived here and now has become an easy habitual state of being for me.
I pay tribute to the love I receive from my children and my husband and our animals by caring for them in the best way I know how– I show them my love, and then think of even more ways to do so, and then do better than my best at every opportunity.
My husband has a thing for apple pie, for example, and our two Melrose variety trees in the back vineyard garden have been ripening up nicely this end of August.  Of course I picked a good sized basket full, made him my new favorite recipe, (and yay, now his, too) of this super yummy, fresh ginger and spiced apple filled, flakey, tender pastry, topped with fresh vanilla bean cream while he was down securing the middle level of the tree house until twilight set in.
Just crazy in love with my man!
For my little babes, well, I know what they like to do, what they love to experience and seeing to their happiness is their mama's great pleasure.  Turns out, bicycle riding, playing with the animals, picking berries, running through a sprinkler, cooking and learning about life in this naturally beautiful setting is what makes my home educated little son and daughter joyful, spiritual and thoughtful.
At night, they sleep the slumber weighty with delightful dreams of the day, on a soft bed of security in a home filled with love.
I honestly don't know what more a child could want, but I'll be sure to keep checking in with them.
Treats for our feline and free ranging feathered family members are super fun to share, as every single time these critters hear the sound of my voice they come-a-runnin', like I was their very own Ellie May Clampett!
Cracks me up.
One foot out front and I am surrounded by poultry waiting on some left over plain pasta, or grated cheddar cheese, or day old soaked bread.  They eat right out of my hands, and I tell you, I love it!
In addition to the affections of my Ameraucana and Black Sexlink breeds of hens, their eggs are beyond delicious, in all of the dishes I love to create–I even used one in the pastry for Bryan's apple pie.  My Henny-Penny's also gobble up a good number of grasshoppers and garden pests including slugs, which my son and daughter also like to uncover or dig up to feed to the sweet chickens.
The thing is, my heart is the center of my body and my family is the center of my world.  I am becoming the person I was meant to be in this life and all of my dreams continue to evolve with the deep and abiding faith that living each day should be a pleasure, loaded up with laughter and delicious experiences to share with the ones I love.
I wish you joy and great blessings until we visit again next Sunday,
Shellie
Shellie Croft spent a year sharing her American dream stories on 8 Women Dream.  You can now find these stories on her blog Shellie's Consumption.

Enjoy this special 8WomenDream Guest Contributor story submitted by new and experienced big dreamers throughout the world, edited and published to capture a dream perspective from different points of view. Do you have a personal dream story to share with 8WomenDream readers? Click here to learn how to submit dream big articles for consideration.
Note: Articles by Guest Post Contributors may contain affiliate links and may be compensated if you make a purchase after clicking on an affiliate link.