Last updated on July 27th, 2014 at 09:49 pm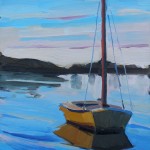 This week I met with the other women of 8 women dream and we enjoyed a stroll through Rosenblum Callars, where I played Vanna White to my paintings hung there.  It isn't an international showing yet as in my dream, but a wonderful beginning.
On a side note from my dream of being an international artist: I am having an affair.  Though it is dark, rich and enticing, it only comes in small bright packages and is found in stores.  My passion for chocolate does not stop at candy but includes: cakes, cookies, rich brownies, ice cream and more as long as it is chocolate.  I am sad to say, I passed on my sweet-tooth to my son who upon receiving a pair of rats for his tenth birthday, he promptly named them "Taffy" and "Carmel".  This was after naming his dog "Cocoa".
So yesterday was a beautiful day and I found myself drowning in procrastination.  I had managed to check my email multiple times, scour craigslist and update my Art Blog.  At noon I was still in my pajamas and slippers.  This was my one uninterrupted day to paint and I was totally unmotivated.  How am I ever going to accomplish my dream to be an international artist if I am wasting precious painting time? I needed inspiration!
Then it came to me.  Chocolate.  I promised myself a quick detour to the store and ten minutes later armed with with a hidden Toblerone Bar in my purse, I was off to paint.
This guy found a bottle on the ocean, and he opened it and out popped a genie, and he gave him three wishes. The guy wished for a million dollars, and poof! there was a million dollars. Then he wished for a convertible, and poof! there was a convertible. And then, he wished he could be irresistible to all women… poof! he turned into a box of chocolates.  Virtual Chocolate Quotes
Happy Mother's Day!
Wendy
(Wendy's dream is still to become a influential international artist, but she left 8 Women Dream in March of 2010 to complete grad school.  She is still a strong supporter of 8 Women Dream and you will see her in the comments on the blog.)

Enjoy this special 8WomenDream Guest Contributor story submitted by new and experienced big dreamers throughout the world, edited and published to capture a dream perspective from different points of view. Do you have a personal dream story to share with 8WomenDream readers? Click here to learn how to submit dream big articles for consideration.
Note: Articles by Guest Post Contributors may contain affiliate links and may be compensated if you make a purchase after clicking on an affiliate link.