Last updated on February 19th, 2013 at 12:53 am
Event Images courtesy of Geek Girl Dinner Cape Town
My journey as a dreamer with 8 Women Dream is almost at its 1st year mark!
Last year, I was dreaming of being a motivational speaker, so I worked hard on my dream and to position myself as someone who is very pro-women empowerment.  I shared my insights on my motivation blog, Just Pursue It and as part of my talks in front of audiences whenever I could.
What many of you do not know is that I am a graduate in Multimedia Technology.  I am a self-proclaimed, geek-girl  I am even married one of the geekiest guys I knew. I love technology and I cannot live without my Mac-book and smart phone. Two weeks ago I attended a Dinner in Cape Town where I was invited to be part of a panel of speakers.
Being invited to speak at the Geek Girl Dinner
The Geek Girl Dinner Cape Town, is where Cape Town's geekiest girls come together for an evening.  There is a presentation by a guest speaker, good food, networking, and of course, the lovely goodie bags. This initiative is co-ordinated by the Chairperson, Suhaifa Naidoo. I have been a guest at these dinners for the past few years and it was an honor when she asked me to be on the panel. (Thank You Suhaifa).
The theme of this dinner was "women in business."  This topic resonated with me because I run my own media business, I've been a part of other partnerships that have failed in the past, and I was hoping to share my experiences with other women in the audience.
The dinner was held at the Cape Town International Convention center.  As part of the featured panel of successful businesswomen, I felt honored and privileged to be sitting among these women who all used their expertise and industry experience to answer questions.
My experience of the evening
The place was packed with beautiful ladies when I arrived with just a few men sprinkled here and there. I was seated at a table next to two lovely ladies. One was the beautiful, Margaux the co-owner Ruby Box and the other was the talented, Amanda Millard, a fashion designer and photographer. The starter dishes and main meals were delectable. Prizes were given out to the audience, including one prize I donated. It felt great to make someone else smile.
Image courtesy of Amanda Millard Photography  
The panel of speakers were called up on stage for the question and answer period. The panel consisted of Margaux Knuppe, Judith Middleton , Alexandra Fraser, and myself. At first, I was a bit anxious but the moment the first question was asked, I felt myself ease in to a comfortable state of being.
Speaking is never difficult for me, so it felt exciting to share my experiences with the audience.
I must admit the crowd was pleasant, but tough.  They asked serious questions and some even disagreed with some of the panel answers, but I think the panel handled it all very well. We shared our funny moments and I learned so much about the women from this experience.
After the session ended, women approached me to thank me for the advice I offered. It felt wonderful to know that I planted the seed of motivation in their minds. I tried to make my answers end on a positive note. The evening ended with photographs with many of the ladies.
I walked to my car with the biggest smile on my face thinking, "I really did this! I was actually on a panel of speakers and it felt like where I belonged!" It made all the hard work that I've put in on my dream thus far so very worth it.
I look forward to another year of applying my skills as a motivational speaker for even more functions. I will be doing a talk this Saturday in front of 100 girls.  I will be crowing them and being featured on another panel. I'm really excited to see my dreams coming true.
With today being Valentine's day, let's fall in love with our dreams. Success can only be obtained when you love what you do. Pursue to do what you love, what calls to your heart, and what gives you energy.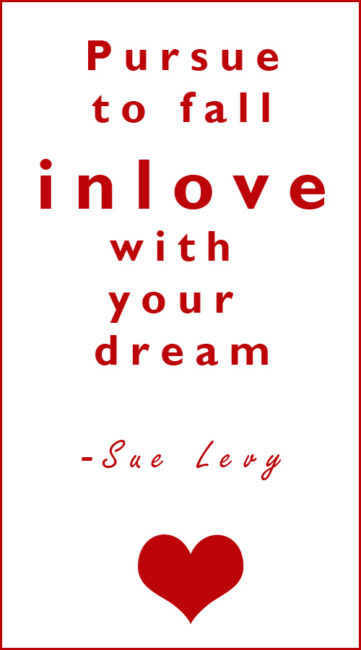 Happy Valentine's Day! I wishing you all a day filled with love whether you are single or married. Pursue to share love today, even if it's just a smile to a stranger as you pass by.
Sincerely,
Sue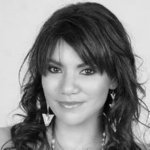 Sue Levy is the founder of the South African Just Pursue It Blog and Inspirational Women Initiative. She's a motivational writer and media designer, who is obsessed with everything inspirational with a hint of geek. She thrives on teaching women how to be brave and take big chances on themselves. You can find Sue on her Twitter page @Sue_Levy.
Note: Articles by Sue may contain affiliate links and may be compensated if you make a purchase after clicking on an affiliate link.