Last updated on July 27th, 2014 at 10:21 pm
I spent yesterday morning on a field trip to the  Legion of Honor in San Francisco.
If you have never been, you must go.
It is my favorite museum.
It sits on top of a hill with a panoramic view of the bay and the city.  Its white neoclassical architecture reflective of the ancient Rome with large ornate pillars.
The museum is breathtaking.
I was able to visit my favorite painting in their permanent collection called the "Broken Pitcher" by William Bouguereau.  My mother took me to this museum throughout my childhood and this one haunting picture of a young sad girl sitting at a well always entranced me.
Now, seeing it as  a grad student working towards my masters in painting, I can appreciate Bouguereau's gift so much more.  The rendering of the form down to the details of the fingers and toes are amazing.
It is funny how the more I learn the less I realize I know.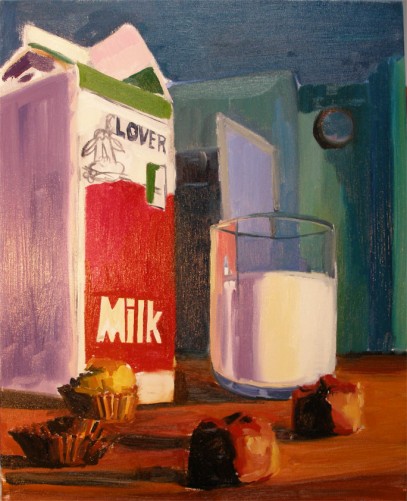 As for my 2010 dreams to go to Italy and to participate in the Wildflower sprint triathlon, I have my work cut out for me.
On a positive note, I have been walking and going to the gym.  On the not so positive side, I have yet to dip a single toe in the pool.
I have a little face submerging phobia to overcome along with a fear of others seeing me in a bathing suit.
There is much more work to do to make my Italy dream a reality. At the museum there was a small Monet painting of Venice that inspired me.
So now I am up to three spots I will have to visit- Rome, Florence and Venice. I am still brainstorming on ideas to raise the funds for this adventure.
With "Turkey Day" just around the corner, I am reminding myself to take time and recognize all I have to be thankful for.
Just a few I would like to  acknowledge include; I am thankful to be living in such a beautiful part of the world, my family, my best friend Jane, this support group and chocolate.
Happy Thanksgiving!
Wendy
(Wendy's dream is still to become a influential international artist, but she left 8 Women Dream in March of 2010 to complete grad school.  She is still a strong supporter of 8 Women Dream and you will see her in the comments on the blog.)

Enjoy this special 8WomenDream Guest Contributor story submitted by new and experienced big dreamers throughout the world, edited and published to capture a dream perspective from different points of view. Do you have a personal dream story to share with 8WomenDream readers? Click here to learn how to submit dream big articles for consideration.
Note: Articles by Guest Post Contributors may contain affiliate links and may be compensated if you make a purchase after clicking on an affiliate link.