Last updated on August 30th, 2012 at 06:34 pm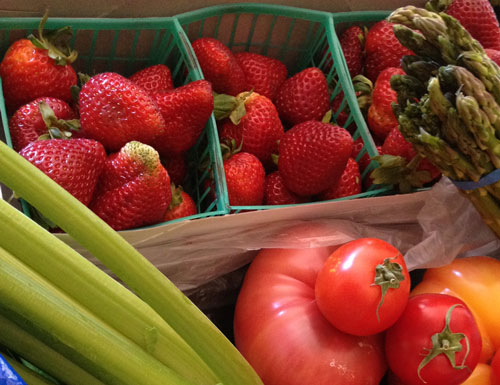 Question for you this week from your health and fitness product dreamer:
True or False: We have plenty of time to prepare healthy meal options everyday for ourselves and our children as they start back to school.
You can pick yourself up from laughing now. Even on the best days when we have plenty of time to prepare food, and actually sit down and enjoy it with each other, we have a hard time fitting healthy eating into our schedule.
Put it on your calendar
We have meetings for work, personal appointment, kids sport schedules… how do you keep track of all of these items? I know I completely rely on my smart phone, to the point that I have been teased about reminders popping up that read "EAT". Whatever system you are using, have you thought of adding an appointment for healthy meal preparation?
Before I lose you to the thought of being too organized hear me out.
Prepping all your food for the week saves time.
This may be a foreign concept to those who love to pick up fresh produce for your daily meals, in which case you have already time in your day for shopping and food preparation. Personally I can't spare the hour the store trip and individual dinner preparation would take from my day. Making ahead saves this daily concern.
Of course there may be other issues to getting all your food ready for the week ahead of time… you (or your family) won't eat leftovers.
I have family members that don't eat leftovers. Once food is cooked, it has to be eaten right then and if there is any left over, it most likely won't be finished if you leave it in the refrigerator. If your family has been trained to expect the 3+ course meal hot off the stove, this "reheating food" option may not work well for your household.
That doesn't mean a little prep for the week won't come in handy.
Tip: Shopping is faster… when you don't go down the aisles
Most of you that grocery shop on a regular basis have noticed that the stores keep fresh food on the outside perimeter of the store. You'll find most of the shoppers up and down the aisles, so keeping to the edge makes the process faster. Anyone who has known me for a while would be amazed looking in my refrigerator today. As part of my healthy lifestyle dream I have switched most of my food intake to, well… real food.
Gone are the prepackaged dinner meals, ready-to-microwave lunches and "snack-packs" of everything from carrot sticks to pudding.
Now I have to fight for shelf space around all my vegetables.
How can prep help you eat healthy? Here's a quick video of my snack food prep I do weekly to keep from diving into a donut box at work.
Cook it up!
Remember I mentioned putting it on the calendar earlier? This is where that cooking appointment comes in. Sunday just happens to be my down day. I rarely make appointments, meetings or plan errands on Sunday. It's one day I plan on getting all the household stuff done – with help from the family of course!
What is your slow day in your week? I know you have one, even if you don't think you do. I'm talking 2 hours here, so if you have to DVR a couple of your favorite TV shows, I say take time for your food prep.
I am a big fan of the assembly-line method – for a lot of the things I do. Why would I want to take the joy out cooking and cut short the experience of a recipe coming together? Believe me, I'm all for slow enjoyment of preparing a special meal, but I'm looking at this for what it is.
You need more time, so let's use that time efficiently.
Here's what my typical Sunday cooking plan looks like:
Chicken: 10 pounds of chicken breast, skinless and boneless.
I buy in bulk and pack the chicken in marinade BEFORE I put them in the freezer for later. You can use prepacked marinades – which not only save time but you can also find some amazing healthy options that offer real ingredients and leave out fillers. Watch for sugar and sodium content on any prepacked foods, and marinades can be notorious for this.
TIP: the perfect marinade has 3 main elements… acidity, sweet, and savory. Keep this in mind and you can easily whip up a quick marinade from your own refrigerator. Need a quick citrus marinade? Blend up orange juice (acidity), honey (sweet), and garlic (savory).
Broccolli: 3 pounds florets
I buy this ready to go already cut up. Steaming is the way I like to prepare it but there are amazing recipes that help you get the most out of eating vegetables while making them super tasty.
Green Beans: 3 pounds
It only took 17 years, but I found a vege that my son will eat! Even prepping this much on a Sunday, I know I will be steaming more by the end of the week with alll of us eating these up.
Cauliflower: 2 large heads
I have discovered a few ways that I like cauliflower. It's easy to eat raw at the office and kills my "I want something crunchy" craving. Plus, I just tried this recipe that f you marinade it in a little soy sauce, makes an incredible baked option.
Celery: 2 large stems
This is new for me. I really don't like celery. Well, I didn't. I have this as a snack with a little almond butter and it is so much better. I'm picking up pistachio butter soon to try with this – I've heard it's amazing.
Pasta/Grain
Pick your families favorite. We have a couple in my house so I either pick one for the week and make a large batch, or two small batches to add variety.
My latest favorites here are long grain brown rice or quinoa. If you haven't tried quinoa (pronounced keen-waa) it is an excelent gluten free grain that goes everywhere rice can go, with a wonderful flavor and texture. Since I eat my grains plain (and it's taken me a while to get there!) I will cook them in fat-free chicken broth to add flavor.
Something delicious
This is a food that is driven purely by my craving – and occasionally I may ask my family what they want! Warm banana bread sound good? Perfect timing since the bananas look just right for making bread. Need chocolate… NOW? Dark chocolate almond clusters will calm that craving right down. I figure that I'm the one doing the cooking, so my favorite part (read: dessert) has got to be a part of this cooking day.
Tip: Start the longest cooking item started FIRST. For my healthy eating that means getting the protein cooking.
This is how it breaks down for my schedule:
Start the BBQ gas grill (or oven) to preheat: This is the easiest way for my family to enjoy delicious protein. We have been known to use an umbrella to grill in the winter – obviously the gas grill makes this an easy option, or we wouldn't be using it as often. Oven cooking works here too, I just use my oven primarily for baking!
Pull out all your vegetables and pots/pans needed to get the job done
Once the meat has started cooking (don't forget to set a timer!) get your pots set up and on the stove with water/broth as needed.
Tip: I've discovered my favorite time saver is a cheap pasta pot that sat unused forever in my kitchen for years – large pot with a deep straining pot that nests inside. Now I use this pot to steam my giant batches of vegetables!
Start the vegetable prep while water gets to boiling
Keep an eye on the timer and check the meat – rotate or flip as needed
The water is boiling by now, so the first batch of veges, pasta and/or grains is on. Start a timer for this too! Take my word for it – getting distracted while steaming broccoli will stink up your house for days.
Once the veges are on, start on the fun stuff.
Here's when to try a new recipe for protein bars, work on breads or desserts, basically anything that won't suffer too much if I have to step away to swap out veges int he steamer, or get the meat off the grill.
In between checking on everything, start chopping up snacks for the week. Here's when you can prep all those healthy kid snacks so they are ready to grab and shove in a lunch box while rushing around in the morning.
I love the process of cooking this way, mainly because it allows for time each evening to have a conversation at dinner, instead of trying to juggle prep and cooking every night from scratch and getting trapped in the kitchen.
What's for dinner?
Cooking ahead does not mean eating the same thing for dinner every night. Have a variation on protein, veges and carbohydrate to mix things up so you don't get bored.
Sides and last minute additions that don't need major cooking time and can be added quick:
Potatos/Yams – microwave these guys! Super quick and they turn out moist and flaky
Sauces –  use cans/jars or make your own lovely sauces on your cooking day to use throughout the week
Our favorites to mix it up work whether we prepared chicken breast, ground beef or turkey:
chop up the chicken into a BBQ chicken salad with tons of veges and drizzled with BBQ sauce
add strips of chicken to a pile of pasta and pour over your favorite pasta sauce
use ready-to-bake small pizza crusts and have a do-it-yourself pizza night with shredded cheese, tomato sauce and of course some of the chicken chopped or in strips
taco salad is one of my staples that got me through my weight loss journey. The salad is only 265calories and believe me, you are stuffed! Check out the Healthy Taco Salad recipe at the bottom of his post.
I'll be diving into this "planning out your day concept" in future posts, but if you know where your next snack or meal is coming from, you are much more likely to make healthy food choices. At least that has been my experience.
How do you feed your family with busy schedules? Share your tips and stories in the comments!
Healthy Taco Salad (Serves 1)
I still weigh all my food so I'm putting other measurement equivalents next to it for an estimate of amounts.
8 oz Lettuce (about 4 cups)
3 oz Ground Beef, 95% Lean (about 1/2 cup)
4 oz Tomato, diced (about 1/2 cup)
2 oz Nonfat Greek Yogurt (about 4 tbsp) – we use Greek yogurt as a sour cream replacement… more protein than sour cream!
6 oz Salsa (about 3/4 cup) – Salsa gives you a lot of volume and taste for a low calorie option
Toss or layer… and enjoy!
1 Serving: 265 calories, 5.6g Fat, 2.5g Fiber, 19.8g Carb, 665.4g Sodium, 30.1g Protein

Heather Montgomery is a fitness writer, triathlete, and serial entrepreneur who is devoted to sharing what she has learned about becoming a triathlete after age 40. She uses her Metabolic Training Certification to help other women struggling to get fit in mid-life. She lives and trains in Santa Rosa, California, the new home of the Ironman triathlon. You can find her biking the Sonoma County wine trails.
Note: Articles by Heather may contain affiliate links and will be compensated if you make a purchase after clicking on an affiliate link.