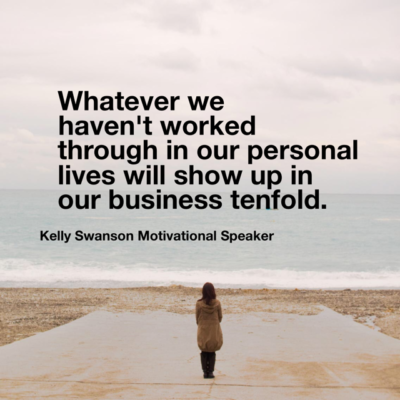 My Dream Business Is Great But My Life Is A Mess
My Uncle Peter was an extremely successful businessman who never talked about business at home and never talked about his family at work. He prided himself on life-balance.
Until he had a heart attack. Turns out stress was more powerful than his life plan.
You see, that's the thing. We think we're controlling our stress when often it's controlling us, and we think that by saying "we're fine" we are.
Not true.
Never Mix Business With Pleasure
It's been an old adage that our business and personal lives do not mix. But leaving our personal lives at the door of the office is not realistic. We do bring those issues to work with us, and vice versa.
So today's motivational dream message is simple:
Get your sh*t together.
Whatever you haven't worked through in your personal life will find its way into your dream business. Better to deal with it now than later.
So How Do You Take Back Control of Your Life and Your Big Dream?
Good question. And not one I can easily answer. But it starts with this:
• Take time to assess your life.

• Go on a personal retreat.

• Turn off the noise and the distractions and the list of things-to-do.

• Get grounded again.

• Remind yourself of what's important.

• Start with the end of your life and what will be most important when all is said and done.
If you need help finding clarity in this time of rest and reflection, I would like to recommend a book "Wrapped In Stillness" by Laurie Guest.
It's never too late to take back control of your life and your big dream.
Kelly