Last updated on September 30th, 2012 at 11:54 pm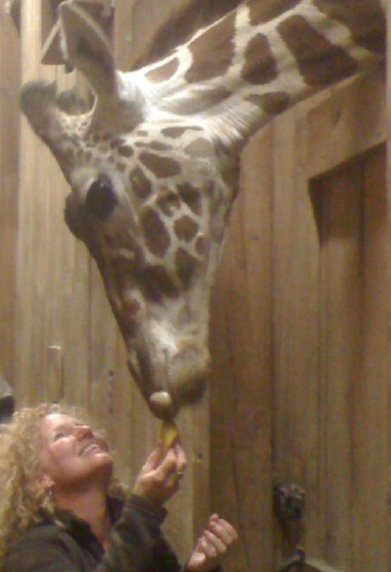 Do you have a really wild dream?
The kind where you think, "If I could do the exact things I love to do, in the perfect place I love to be, with the people I love most in the world, what would this picture look like?"
Is your big wild dream something you think on as you drift off to sleep, with a smile upon your face and a thrill in your heart?
Yes, on all counts, is my answer and this past weekend my very, very wild dream came completely and spectacularly true.
First, I met and fell in love with a Masai giraffe.
This dream realized, was witnessed by my little children, my husband and my wonderful parents-in-law.  The six of us took a three hour guided tour of the most wildly unforgettable Sonoma County landscape I could ever have imagined.
It was not the lush vines of chardonnay or cabernet for which the "Valley of the Moon" is so very famous.
Not at all.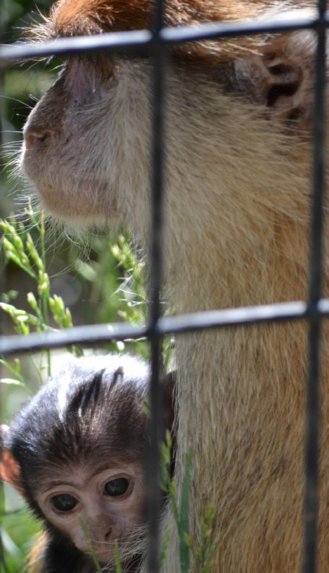 The scenery we took in through our eyes, ears and hearts was that of the amazing breeds of mammals, birds and reptiles in numbers in the hundreds, including the precious newborn Eastern Colobus and Patas monkeys.
My children, particularly my little daughter, amazed me as well, with her depth and breadth of knowledge and correctly answering our oh-so-wonderful tour guide/safari vehicle all terrain driver's questions while we were in the field.
Our tour concluded at a spot in front of the breath-takingly beautiful American, Greater and Lesser flamingos where at the restaurant just adjacent, we first shared a delicious meal and some local wine before we strolled at sun's setting to our tent cabins and spent a gloriously surreal night only yards away from where the giraffe would greet us the next morning and play with fellow Masai and Reticulated giraffe mates.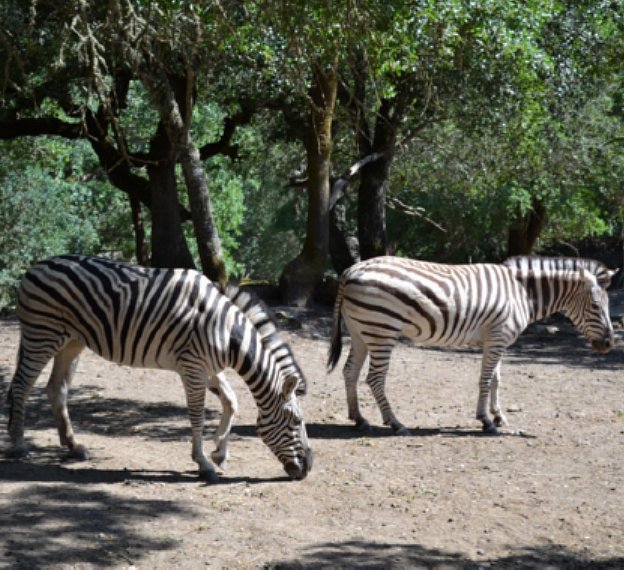 It was day one of our American dream family vacation and the whole four day extravaganza will be forever emblazoned across my soaring, wild soul as one of the all-time greatest experiences of my crazy fun, dream life.
Safari West is known as the Sonoma Serengeti, and a dream realized for owner Peter Lang, a wild at heart visionary and lover of animals.
If you're one of these special kind of dreamers:

Checking out and departing from this magical place was very real, sweet sorrow.  I smiled, wiped away a tear of joy and whispered out loud to the dazzling ring tailed lemurs frolicking on their island that I would be back soon, because dreams do come true.
I did not know, when my darling beyond all reason mom-in-law said we were going to lunch at a place she's been wanting to take me, that a very personal wildest dream number two would be on the menu.
Sitting next to my favorite little raven-haired guy, watching his marinara-stained cheeks suck up the long spaghetti noodles and munch the out-of-this-world tasty meatballs, in his usual garb of a button down collared shirt with a tie, is a joy in and of itself.
When my little son's shirt and tie are covered by a huge white lined napkin and his fadora hat close by?
Well, for just a moment I imagine I am the mama to a little Italian bambino who loves to eat good, good food and always dresses to impress.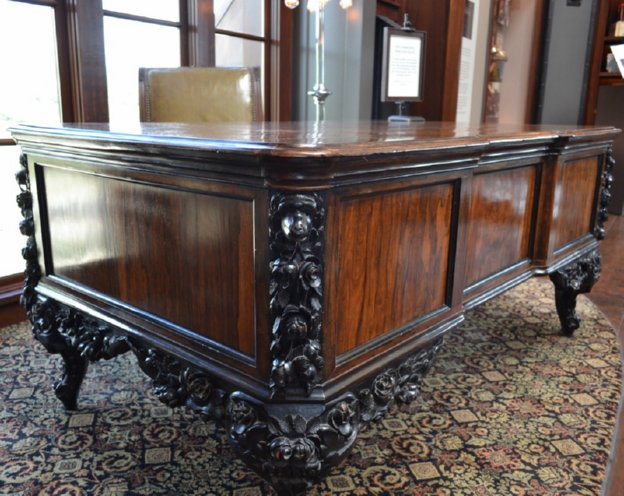 Rustic, is the restaurant inside Francis Ford Coppola's most recent winery project in  Geyserville California, and the food, Italian, is my favorite.  The meal was sublime, the wines were very good, the view spectacular.
I was so very happy to be here with my family my own cheeks were aching from the smiles and laughter shared in this place that was very obviously about family, and celebrating.
At lunch's end, mom and dad encouraged my husband Bryan and me to have a look around and maybe do a little wine tasting.
So, we did.
Only, the looking around caused my heart to skip and jump a beat as I ascended the stairs just above the "Tucker" car from one of Coppola's films which I knew of but have not seen.
Suddenly my legs carried my body two stair at a time because I–saw–Him.
Michael Coroleone's gorgeous profile with those intense ebony eyes.  The gold phone cradled in his hands from the masterful,  "Part II".  And…The…Godfather's desk!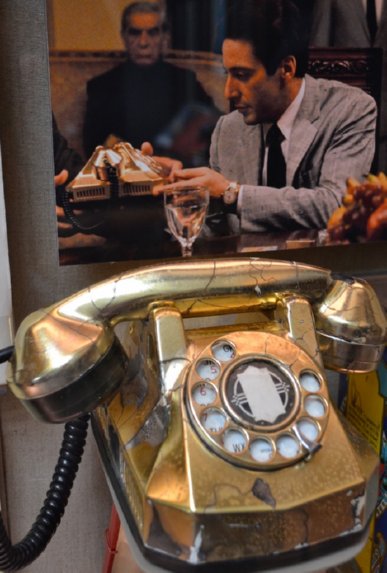 "Oh my Gosh! This is my favorite movie EVER!"  I shouted, laugh-crying without caring who heard it.  My cutie-pie mom-in-law was on my heels and said softly, which is her way, with that adorable smile, "I know."
I mean to say, who has this kind of love expressed so stylishly, so perfectly thoughtfully!?
Not that I ever make a secret of my favorite things in this life mind you, (that's not my way).  But to think, even as I share this with you, right now, that someone would be thinking of me and take to heart the things and experiences in life that bring me such joy, and then plan to make it part of our relationship, well, I am overwhelmed.
Also, I was wildly giddy with gratitude.
This cloud nine afternoon lead me to the Friday evening, first time ever meeting with our fabulous red haired beauty/editor in chief, Catherine Hughes and workhorse, gadget loving, pretty-baby product launch gal-pal dreamer, Heather Montgomery at The Flamingo Resort and Hotel.  Where is the Flamingo? Just a short walk from mom and dad's home in Santa Rosa, and as I do not believe in coincidences, was wild dream come true number three, at least for me.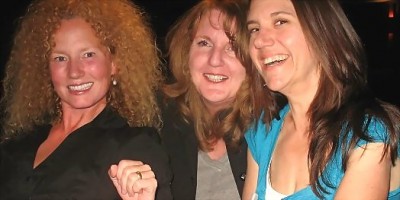 Catherine and Heather are 8 Women Dream.
Cath said in her recent post about our meeting that the connection felt like we had all known each other for three lifetimes.
It was simply, dreamily, perfect.
Do we have much in common?
Yes.
Much to share?
Most definitely.
Is there much to learn and love about Cath and Heather?
Without a single doubt.
Just a little bit before we hit the dance floor together, I shared with these wonderful women that Saturday morning was all about a life-long dream fulfillment for me of walking across a certain bridge.
The Golden Gate Bridge!
San Francisco is my favorite city on the planet.  Back when I lived and worked in the Napa Valley I took a ferry from Vallejo to the city as often as possible.  As a child, for my birthday, I asked to go to Fisherman's Warf.  Last year for my January birthday gift, mom and dad gave me the gift of a night's stay in my city by the bay.
I love San Francisco.
Living out in Oregon's Willamette Valley, on our little vineyard garden farm and with my husband's work as winemaker, since our move from California in 1996, the opportunities to play in the bay area I so love have been few and far between.  So this visit with mom and dad was when I would "carpe the diem" to walk my Golden Gate, at last.
Here's where it gets wildly perfect.
I absolutely did walk my bridge from shore to shore.  Not alone, as I had so often envisioned, but even better–with my little daughter on this rare, fogless, sunny, only lightly breezy, picture postcard gorgeous San Francisco morning!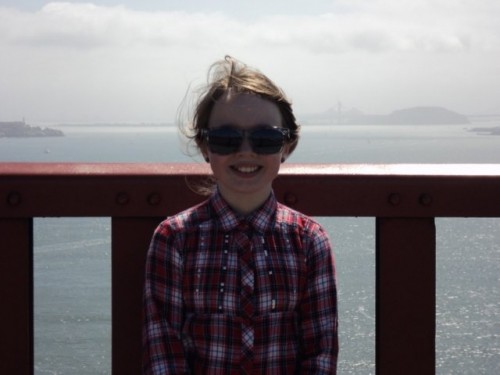 Also, the very next day, the bridge would be closed for some hours to celebrate its 75th Anniversary.  I had no idea, but I guess this was information I didn't need.  I didn't bother to check the weather in advance either, because I was determined that now was the time for this dreamer to "dream big and carry on" rain or shine.
Talk about worth it, now the Golden Gate is our bridge, and the crossing was so very sweet.
An element of danger in my dream experiences exists, to be sure.
Being wild is, I believe part and parcel of this.  Things that by their very nature might harm me is a bit of a thrill.  I thought of this when we were in the presence of the Cape Buffalo in the totally open all terrain vehicle, with my children riding on top with their grampa.
I very often think about how dangerous it was to be even loosely connected to, or God forbid, an enemy of anyone involved in, the based in Italian American true story of the  "Coroleone family."
Holding tight with a death grip to my little sweet petite's hand as we walked the two miles across the bridge, perched above the Pacific ocean in constant competition with oncoming and passing bicyclists, and runners (not to mention the traffic zooming by while texting or using cell phones), gave me some cause for concern, certainly.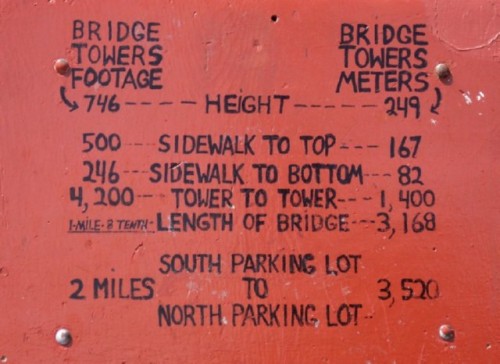 The big dream living motivation in my life is my love of very fine and wild things.  I never want to tame them, I just love being in their presence and always welcome the blessed moments when I feel I am accepted into their habitat, their family, their city.
Thank you mom and dad.  Thank you to my new special friend the Masai Giraffe.  Thank you, Francis Ford Coppola for making my favorite movies.  Thank you Catherine and Heather for sharing your time and hearts with me and thank you San Francisco where I always leave a little bit of my heart and long for my return to you.
Here's to celebrating wild dreams coming true and knowing that you'll find yours.
Wishing you tons of love and blessings until next Sunday,
Shellie

Enjoy this special 8WomenDream Guest Contributor story submitted by new and experienced big dreamers throughout the world, edited and published to capture a dream perspective from different points of view. Do you have a personal dream story to share with 8WomenDream readers? Click here to learn how to submit dream big articles for consideration.
Note: Articles by Guest Post Contributors may contain affiliate links and may be compensated if you make a purchase after clicking on an affiliate link.