Last updated on December 7th, 2013 at 03:24 pm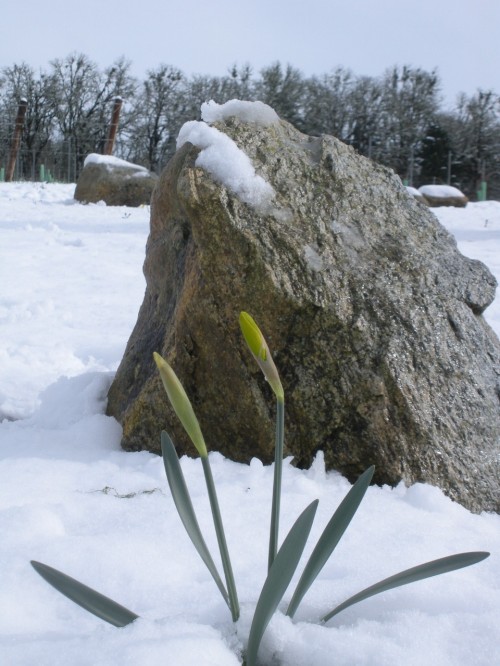 Out here in the still, quite-naturally-wild western part of Willamette Valley, Oregon, I let my chickens range freely to scratch and peck as they please. My lovely hens reward me with their presence and delicious healthful eggs.
We released our New Zealand white rabbit into the snow, freeing her from her hutch (cage) inside the hen house to test what she thought of the white blanket laid out before us.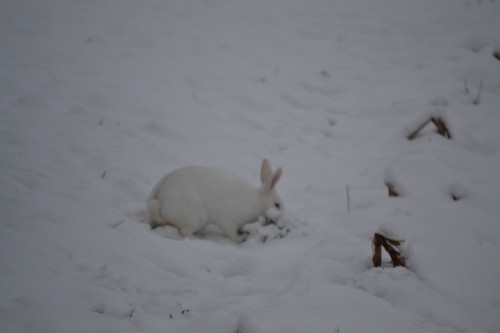 Jack Lapin, as we call her, runs around this property, but chooses to spend time close to my little son, daughter and me. We delight in hand-feeding this fuzzy ball of fun, the wild greens that grow between the rows of Pinot Noir and Pinot Gris on this two-hundred-acre vineyard we are so thrilled to call home.
The two kitties we adopted back in October are curled up on the front porch, and unlike their months spent in a 4 x 4 room (cell) with several other kittens, aren't found taking cat naps very often.
Even in the wildest of rain storms and snowy conditions, "Dogcat," as we have taken to calling this grey and cream colored cutie, heels beside and runs along with us wherever we roam.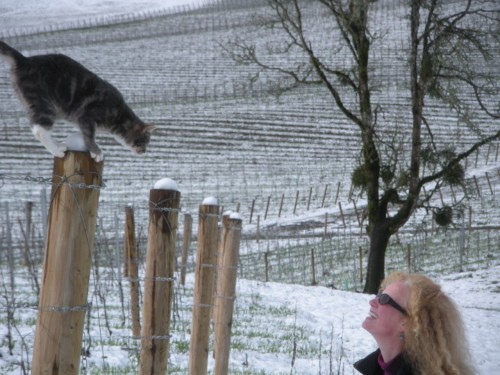 The weather of the first two days of spring was unusually wild and brought a blanket of five inches of snow down here to the bottom of the hill and seven more up to where we decided to embrace the opportunity for a small, wild adventure, hike to the glacial erratic boulders, find a sweet spot and "carpe diem" with some sledding runs.
It was extraordinarily beautiful to look out over these and the surrounding neighboring vineyards, Douglas fir and hundred-plus-year-old oaks, on this twenty second of March morning.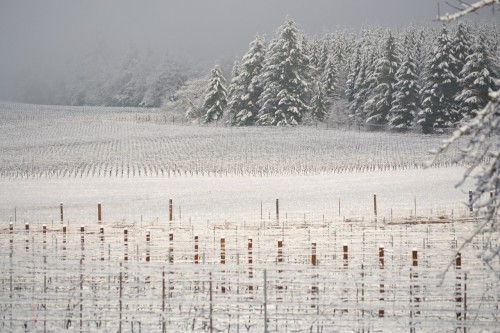 As far as we could see, in all directions, the magic of it all was enough to keep me in celebration mode all day.
We took run after run, swooshing down hills on our sleds, at times getting some really good speed, laughing and squealing wildly, until we were starving and thirsty and remembered we had a couple of miles' hike back to our warm and cozy home (and the hot chocolate).
What a feeling of adventure and pure joy.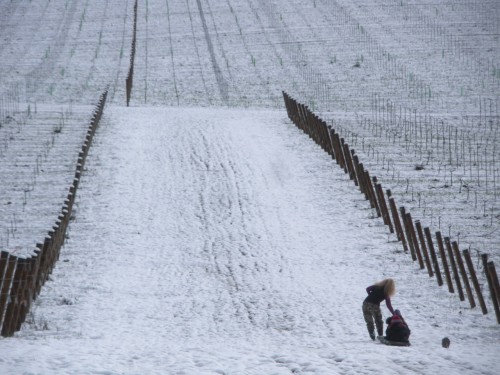 I don't know which member of this wild bunch had a better time; the children, the critters or mama.
I know for sure that long after the snow has melted and the buds open to blossoms and share their fragrance, this year's very first week of spring will surely be remembered as our favorite yet.
What about you? Are you living the American dream in your part of the world?  If so, what is your favorite wild adventure?
Shellie
Shellie Croft spent a year sharing her American dream stories on 8 Women Dream. You can now find these stories on her blog Shellie's Consumption.

Enjoy this special 8WomenDream Guest Contributor story submitted by new and experienced big dreamers throughout the world, edited and published to capture a dream perspective from different points of view. Do you have a personal dream story to share with 8WomenDream readers? Click here to learn how to submit dream big articles for consideration.
Note: Articles by Guest Post Contributors may contain affiliate links and may be compensated if you make a purchase after clicking on an affiliate link.