Last updated on September 15th, 2022 at 01:58 pm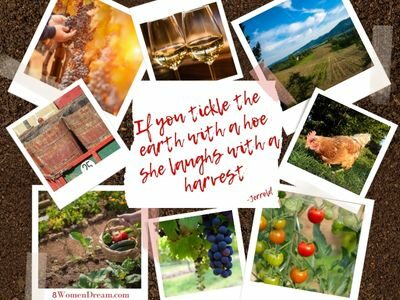 I did not inherit my family's dream farm.  My husband, Bryan, was not trained by his father in the wine business, nor was I formally trained by anyone.
The things I most treasure, that was handed down to me and Bryan by our ancestors are grit and gumption.
It's a good thing, too.
Essential are these things, really, because my own personal brand of American dream living requires these two attributes.  In heaping helpings, every single hour, rain or shine, exhausted or freshly coiffed, babies, toddlers, or children underfoot, day in and day out.
I mean to tell about the kind of grit that is sweat on your eyelashes, heaving chest, bleeding hands, and "oh, my gosh, I'm getting too old for this crud" kind of grit.
My winemaking husband and I take on the sort of "down to IT!" stuff that has us both working so physically hard that it all, honestly, has me forgetting about my chronological age, mostly.
There's simply not any time for that nonsense, and I find no room for defeatist thoughts of this sort anyhow.
Vain concern over the suppleness of the skin on my hands or my non-existent manicure as I help tend to the suckers growing from the trunk of the vines flies out of my head as I breathe in the sweet almost indescribably intoxicating fragrance of bloom floating through the warm air of early summer.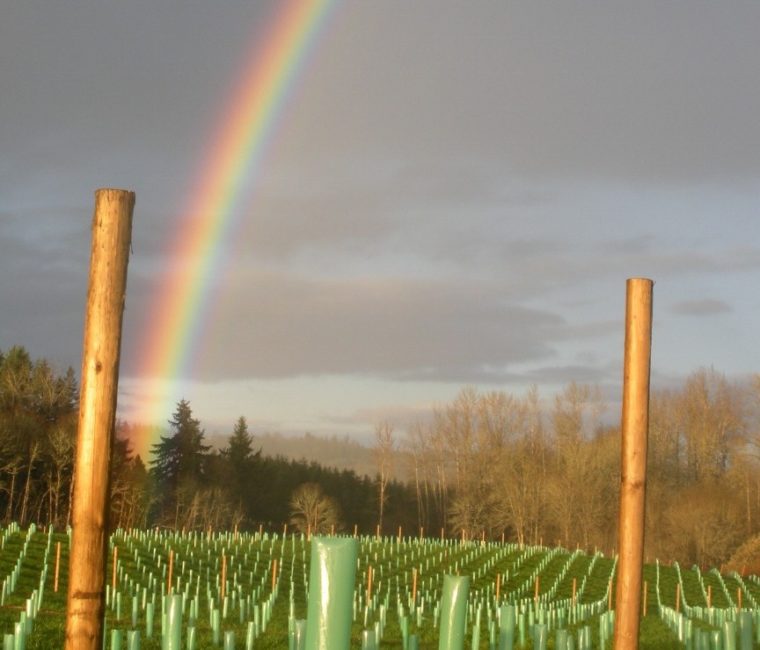 All regard for cute, clean, fashionable shoes doesn't even take a back seat in the tractor to the sturdy workhorse, all-weather black, rubber vineyard boots I now don every day, complete with boot scraper by the back porch as the only necessary accessory to keep me stomping along.
I figure while I am out here, living this incredibly blessed life, surrounded by several hundred acres of Pinot Noir, Pinot Gris, Chardonnay, Riesling, and the new Gewürztraminer that fortunately wasn't zapped by this past spring's frost, I owe it to myself and the spirit of the real pioneers in Oregon wine and farm country development, who pushed themselves beyond the limits of what everyone thought was reasonable to achieve the impossible.
I'm not saying that I do this completely to honor those who came before us, but in more of a receiving of the American spirit torch, and further investing this heart of another generation (or two or three if my children will then take up the task of the stewardship of this land) in something outside the mainstream of modern world living.
Partly, I suppose, this kind of living could be considered a throwback to a time when women and men dreamed of nothing outside of the cultivation of a piece of land and creating a life for themselves and their families wrought with adventure, the sweat of the brow, working the earth to reap the rewards of the days of harvest where before the soil had been so noncompliant.
I believe farming, whether it's vineyard or cattle, sheep, goat, or grain, is vital to not only our survival but our ability to thrive and create more goodness.  It's said that there can be no culture without agriculture.
Viticulture and winemaking are certainly not necessary to living a happy and comfortable life, for any of us, but as the wonderful Jancis Robinson shares, "It takes just one sniff and sips…to make you realize that wine is capable of reaching not just your throat and nose, but your brain, your heart, and occasionally, your soul."
It is a dirty job in the literal sense, smelly and sticky at times, and just this very week I twisted my ankle so badly in a gopher hole, that I cried in front of my children (shouted a couple of words on my way to the ground they were unfamiliar with as well).
Here's what else it is out here in Willamette Valley in western Oregon, USA…breathtakingly beautiful.
The really funny thing about this bucolic dream, I've found is that when my head and heart come together about any particular aspect of this whole scene, I begin dreaming bigger and bigger about learning more and more about it.
Like I just can't get enough, and if I live to be 120 years old, I still won't.
We're in year four with the raising of vineyard soil scratching, sweet, free-ranging laying hens, for example.
My husband, Bryan, and also I raised our very own turkey, which became our Thanksgiving holiday protein centerpiece.
Our vineyard garden, which has yielded gorgeous, organic fruits, vegetables, herbs, and nuts has been going strong with great successes and some failures for six years now, and this week as I finish up this post, will receive the winter squash seeds the children and I will plant, together, after we water the sweet corn.
If I had only one word to share, that best describes the experience of living this independent life out here, and what it has meant to this dreamer, it is most definitely:
freedom.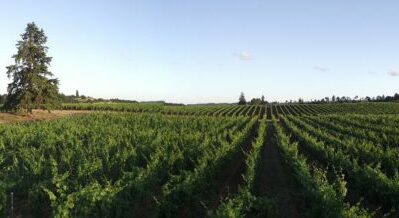 Freedom to create everything from our very own garden into meals that nourish our body and fill my culinary soul.
Freedom to naturally and happily home educate our little son and daughter.
Freedom to wake up every morning when I am not tired anymore, and sleep deeply, peacefully at night when I am.
Freedom to harvest the grapes when they are sweet and ready, age the wine in our favorite oak barrels and share a bottle, when it's time, with the people we love.
Tonight's glass of  Pinot Noir will be raised in loving, grateful memory of actor Andy Griffith who passed away this week, and the 1968 Mayberry R.F.D TV show state-of-mind that has been a cornerstone to living my sweet American dream.
Shellie Croft
Shellie Croft is a lifestyle writer, vineyard farmer, assistant winery manager, enologist, mama, baker, and cook residing in the Willamette Valley Oregon wine region.

Enjoy this special 8WomenDream Guest Contributor story submitted by new and experienced big dreamers throughout the world, edited and published to capture a dream perspective from different points of view. Do you have a personal dream story to share with 8WomenDream readers? Click here to learn how to submit dream big articles for consideration.
Note: Articles by Guest Post Contributors may contain affiliate links and may be compensated if you make a purchase after clicking on an affiliate link.