Last updated on April 11th, 2019 at 01:35 pm
When I defined my publishing dream topic for my first book on toxic mothers and how to survive them—it made me poised to pursue my book publishing dream.
I view myself as pretty brave, but to fully commit to writing the book I'd been carrying around in my head for years meant that I had to embrace fearlessness.
Leaving my newspaper job was scary enough. Learning to trust myself, my husband and the universe to support the launch of a dream was the most challenging part and ultimately rewarding journey of my adult life.
Embracing that I was doing what was right for me was an epiphany.
Of course, I had doubts. I remember wondering what former colleagues and co-workers thought. To some, I was weird, to begin with.
Were they having fun poking fun at my efforts?

Was I too obsessed with my childhood?

Was I propping myself as an expert on a non-topic?

Was I inventing a passion for having something to do?"
The chatter raged in my brain.
But eventually, my demons died down. I opened up to allow myself space for quiet contemplation. I went back and studied my life, the life of my parents and relations and I wrote about it. I already possessed courage. Now, I was ready to tell my readers why.
I signed up to share my dream on 8WomenDream to write my little heart out, which is pretty astounding to me now. I defined my vision, found my focus early on, and I trusted that people got what I was revealing about toxic mothers.
I think to forget about what others believe is crucial to pursuing your big dream.
I imagined my book as a wonderful life form that needed me as its midwife. On days when it was too hard to write about my pain, I worked anyway on blind faith. If I had to tell myself, I could have chocolate afterward, that was okay. I'm sure plenty of surgeons imagine cocktails or golf or other rewards waiting for them when the nurses take over the patient.
As I racked up chapters, I taught myself to embrace the work joyfully even if I'd instead be doing anything else.
When I started by defining my dream book as both a memoir and shared stories of toxic mothers, the last thing I ever thought I'd consider is changing my original working book title to "Toxic Mom Toolkit: Discovering a Happy Life Despite Toxic Parenting." But that's precisely what I did because of my readers who became a big part of my story, and they kept referring to their mothers as toxic.
It's been quite a journey. I've learned to define my dream, visualize it, value it, make room for it, and commit time and energy to it without apologies.
And if the kitchen floor looks terrible, well, so what?
What do I think is the best reason for defining your big dream?
So you'll know when you've made it come true.
Rayne Wolfe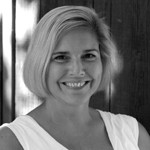 Rayne Wolfe is a freelance writer, and a former New York Times, Seattle Times, San Francisco Chronicle, and Sonoma Media, journalist. Her first book, Toxic Mom Toolkit: Discovering a Happy Life Despite Toxic Parenting (CreateSpace) was released in December 2013 and is available on Amazon. Rayne's non-fiction work is published in the Chicken Soup for the Soul series and Glamour Magazine.
Note: Articles by Rayne may contain affiliate links and may be compensated if you make a purchase after clicking on an affiliate link.