Last updated on November 14th, 2019 at 04:26 pm


While I work on my big dream to be a competitive female triathlete, I also help women become fit on weekday mornings by leading an exercise boot camp at a local fitness center.
Recently, I was invited to instruct fitness center members on foam rolling as a part of a female triathlete's fitness training routine. I am a foam rolling convert, and I preach it to any trainee who complains to me about stiff and sore muscles.
The first conversation I have with my training clients each morning as they walk through the fitness center door is:
"Good morning! How are you feeling?"
"My legs are so sore! All those [squats, burpees, push ups] yesterday killed me!"
"Did you take a few minutes to stretch or use a foam roller?"
"No. I've got to do that more."
"Let me show you a foam roll technique that helps me quickly recover."
Even though I'm often in training for my next marathon, I too struggle with devoting time to stretch my muscles–just ask my massage therapist.
The muscle knots she works on my sore body are the same ones I can improve simply by stretching on a foam roller after a workout.
And if you are a woman training to be a triathlete after the age of 40, you should be foam rolling too.
I'd heard about the benefits of foam rolling, but I always avoided the pile of rollers at my fitness center for fear of looking like an idiot when using one. It took encouragement (nagging, really) from my triathlon coach and my massage therapist to begin rolling out my muscles.
If a muscle is not flexible, it will pull you off balance when you are running.
A foam roller can be a triathlete's friend
There are different types of foam rollers. If you haven't started foam rolling training as part of your triathlete dream, I encourage you to buy one and incorporate it into your workouts.
Start with a smooth foam roller that fits into your price range. It's more important to start foam rolling than not doing it because of the cost of a roller, so buy what you can afford. Once you've developed a rolling habit, then you can incorporate other types of foam rollers based on your specific muscle groups and your needs.
When I am at the local fitness center, I use their smooth, long white foam rollers because I don't want to haul around my different foam rollers in my car. The center's foam rollers work perfectly fine and I use my own at home when I need a deeper massage.
Foam rollers come in various firmness levels and surface types from low-density to bumpy to medium-density rollers. My main go-to roller is the TriggerPoint GRID Foam Roller. I love this roller, even though my husband often asks me if I'm alright while I'm using it. I blame my groaning and grimacing for his concern. Rolling is going to feel uncomfortable, but so are sore muscles past day three. After you foam roll, your sore muscles will feel better, and your workout recovery times will improve.
How I roll
As a midlife female triathlete, I will share my favorite rolls and stretches to encourage you to incorporate a foam roll drill into your triathlete training workouts. Remember, it's hard to foam roll the wrong way as long as you keep these three tips in mind:
1. Always roll both sides of your body. Just like any exercise, work on both sides of your body every time.
2. Stay away from joints and bones. There are too many nerves, and it will be unpleasantly painful, and you risk injury.
3. Uncomfortable soft pain and feeling like a muscle knot is releasing are good, but if something hurts too much–stop! Rolling should feel like a deep tissue massage–not like you're being punched in the muscle.
1. Hamstring Rolling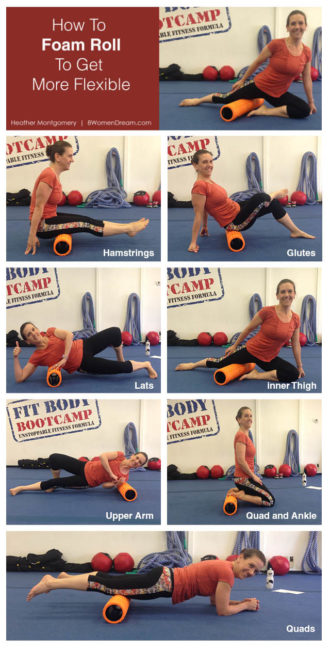 I sit on the roller and roll slowly down toward my knees until I find a spot I didn't know was sore. I then stay there to work the muscle. To get an even amount of pressure, I use my hands behind me to balance and lift my feet off the floor.
2. Glute Rolling
I love this glute rolling technique since I sit for long periods at work. Most of us do sit in chairs for 10+ hours a day, even if it's not in front of a computer screen. This is why this rolling stretch is my best friend.
I sit on the roller with both feet on the ground and my hands behind me for support. I gently roll back and forth to locate a sore spot. I then cross my right leg over my left knee and lean toward my right hip.
I keep the pressure on the spot while taking 4 deep breaths. I roll in small 1-2″ increments to search for other knots and repeat the pressure and breathing technique. Once I have finished my right butt-cheek, I switch to the other butt-cheek.
3. Lat Rolling
Lat rolling can be tricky if the foam roll surface is slippery, so I hold smooth rollers for this exercise with my non-rolling hand to help steady the roller. I lie on one side with the roller under my armpit and press into it. I then raise my hips and roll down to my side, stopping under my pectoralis major or "pecs." For women, this is located about where your bra strap touches your ribs.
I remain on my side, trying not to roll forward or back. I roll in slow, small increments until I find a sore spot and breathe. Don't forget to breathe.
Tip: For women with long hair, take a second and place your hair up in a clip. You wouldn't believe how many times I've caught my hair under a roller during this exercise. OUCH!
4. Inner-thigh Rolling
I roll the inner thigh straight on to loosen up the muscles that tighten up from sitting all day. I keep the roller focused on only the inner thigh to avoid rolling over to the front quadriceps. I get as high into the hip area as I can and repeat the process to above my knees.
5. Upper-arm Rolling
This upper-arm rolling spot is the place that feels great during a massage because you can't get the right angle to massage your upper arms yourself. Adding pressure from the foam roll gets further into the muscle.
6. Ankle Rolling Stretch
I wrap my toes over the foam roller, then I sit back onto my ankles. This stretch is a great way to practice deep breathing. In all seriousness, it will feel great once you try it.
7. Quad Rolling
This rolling technique focuses on the front of the thigh. I place the foam roller right under my hips and walk my hands out, so the roller is mid-thigh straight on my quadricep. I find a sore spot and remain there with the roller while deep breathing.
I then work my way down to just above my knee and start at the top again while rotating my quad the left. I repeat down the side of my left quad, rotate to the right and repeat.
This is a kinder, gentler option of working the side of my leg or iliotibial band.
Keep in mind that each person's body is built differently. Your muscle soreness depends on how much recovery self-care you give yourself, like icing, anti-inflammatory medications, and rest, which can include stretching and foam rolling after your triathlon training workouts.
For those of you who need a video of foam rolling techniques, here's a good, quick one:
As with all exercise programs, please consult your physician before beginning a new training routine. My article on foam rolling is for general information purposes about how I train as an older triathlete and is not intended to diagnose any medical condition or to replace your healthcare professional. Consult with your medical provider to design an appropriate triathlon recovery program that best suits you. If you experience any pain or difficulty with these rolling exercises, stop and consult with your doctor. Note that mild soreness after exercise may be experienced after training, but please talk with your physician if any pain does not improve after 2-3 days.
Heather Montgomery

Heather Montgomery is a fitness writer, triathlete, and serial entrepreneur who is devoted to sharing what she has learned about becoming a triathlete after age 40. She uses her Metabolic Training Certification to help other women struggling to get fit in mid-life. She lives and trains in Santa Rosa, California, the new home of the Ironman triathlon. You can find her biking the Sonoma County wine trails.
Note: Articles by Heather may contain affiliate links and will be compensated if you make a purchase after clicking on an affiliate link.