Last updated on January 22nd, 2019 at 01:58 pm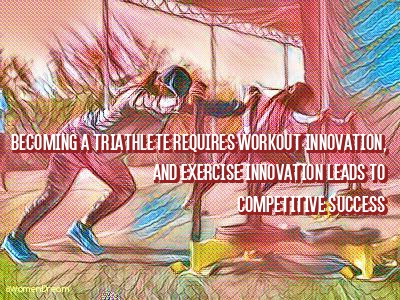 So, your big dream is to become a female triathlete after the age of 40 or 50 or 60? Just so we're clear, a triathlon is a multi-phase event requiring the finish of three uninterrupted and consecutive endurance regimens, such as swimming, bicycling and running.
To accommodate different athletic fitness levels, there are varying distances for sprint triathlon races whereas half, and full distance triathlon races are set to a specific standard.
Right?
In the beginning, you will test the waters (no pun intended) with sprint triathlons. You'll want to come up with a weekly training schedule in anticipation of your first race.
Not sure where to begin?
Well, most budding triathletes set up a training schedule that looks something like this:
√ Monday – rest
√ Tuesday – bicycle and run
√ Wednesday – swim, and sprint
√ Thursday – bicycle and run
√ Friday – swim, and sprint
√ Saturday – bicycle farther and run farther
√ Sunday – swim twice as much
Do you see a pattern?
Besides being routine and boring, after a while, your body will adapt itself to this schedule. Trust me; you want to avoid your body adjusting to your triathlete training schedule and you being bored.
You'll want to mix up your workout schedule with some cross-training to maximize your weekly workout. Yes, do something else on your Saturday or Sunday training.
If I'd opt for one, I'd reduce swimming. I can make up time on my running and cycling abilities.
Adaptation occurs when you repeat a motion.
There are a couple of reasons why changing up your triathlon workout routine helps:
1. Repetition of any exercise can have adverse effects on your body over time, primarily if you are focusing on one muscle group, and
2. Cross-training helps maintain your energy levels and enthusiasm for being a triathlete.
You probably already know that the same workout, even on different days, lets your body adapt to the stresses of triathlete training.
Mixing up types of exercises on different days allows muscles to recover and in the long term improves muscle endurance and strength. Every time you have an active workout your muscles repair and grow larger. Most of this happens within the first 24 hours.
Variety is the spice of life.
When you vary the type of training workout routines, your muscles get a break, and you avoid progress plateaus. Besides, your body is designed to move in different ways.
3 Ways to Mix up Your Triathlon Workout Routine
1. Make each workout a different intensity level.
You can sprint on one running day; distance run to the next. This helps you kick up your endurance levels. Running the same distance or for the same length of time won't get you where you need to be by race day.
2. Join a group fitness class.
I recommend choosing a CrossFit fitness class. CrossFit focuses on total-body strength which includes weightlifting and will help you run more efficiently. My other group fitness class recommendation would be a treadmill class.
3. Play an outdoor sport such as basketball, soccer, surfing, water-skiing, or handball.
To improve your muscular endurance, make sure that when you participate in an outdoor sport, you work at it until you can't perform it anymore. You push yourself to exhaustion.
Remember not to work out the same muscle group two days in a row. Be sure to keep with an alternating-day training schedule. Also, note that rest is as important as your other endurance exercises for your triathlete muscle development.
Heather Montgomery
8WD is excited to be apart of the Organifi Tribe, and we can now offer you 15% off ALL of their products on www.OrganiFiShop.com. An 8WD favorite is their Sunrise to Sunset bundle, as it includes 3 of their best sellers! Use the 8WD code: CATHERINE15 to get 15% off your order! Enjoy!

Heather Montgomery is a fitness writer, triathlete, and serial entrepreneur who is devoted to sharing what she has learned about becoming a triathlete after age 40. She uses her Metabolic Training Certification to help other women struggling to get fit in mid-life. She lives and trains in Santa Rosa, California, the new home of the Ironman triathlon. You can find her biking the Sonoma County wine trails.
Note: Articles by Heather may contain affiliate links and will be compensated if you make a purchase after clicking on an affiliate link.