Last updated on June 19th, 2018 at 01:21 pm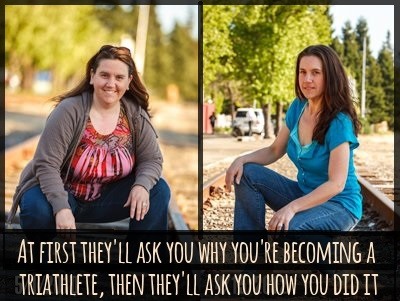 The big dream of becoming a triathlete after age 40 is a lifestyle. It does NOT mean you need matching workout outfits or running shoes that blow up your budget.
Becoming a triathlete does mean a commitment to training, making healthy food decisions, and most of all being thankful for your dream of becoming a triathlete and how it will change your body, and how being fit positively impacts your everyday life.
What's there to be thankful for about spending hours running and sweating?
As a triathlete dreamer myself, I look back on how my life was just two years ago during the holidays. I was preparing to host a 20+ person dinner party; baking pies, pulling out every serving dish I own, and double-checking my food and beverage list to make sure I had all my signature delights ready for the guests.
Then I became a triathlete, and I lost 80+ pounds.
And I can see how much I have changed since that holiday before I got serious about fitness and my dream to be a triathlete.
8 Ways I am Thankful for My Dream of Becoming a Triathlete
1. Better attitude
Training workouts create feelings of happiness which are the gift that keeps on giving! The mood lift that even occasional running will give you helps with anxiety and depression. I can vouch for this in my own life. Being able to easily handle stress is a bonus mentally that I now can't live without. My work colleagues can vouch for how cranky I get if I skip my noon run.
2. Overall healthier (and longer!) life
My Grandmother lived to over the age of 100, but she didn't have a quality life. The odds of my living a very long life are high, and I know that I want to enjoy every moment possible. Fitness research has shown that regular exercise can increase both heart and brain health–keeping you moving and lucid longer in life as you continue to age.
3. Sleep comes easy
I admit that I rarely have issues with falling asleep. Staying asleep used to be a common issue before I lost 80 pounds as I had issues breathing (and as my husband will tell you, snoring) that interrupted my sleep. I now average 7 hours of sleep every night. Working out during the day can definitely help you sleep better at night.
4. Raising healthy children
Granted my son is an adult, but that doesn't mean that my weight loss and triathlon participation hasn't had an impact on him. He has always been an active guy–moving and physical play since he was a child and becoming a top skate-boarder and wrestler made a huge difference in his high school experience. It is still quite satisfying when he talks to me on the phone after a run, "Whoa mom, you're great!" Impressing your kids at any age is a wonderful experience!
5. Reducing fatigue when you sit for a living
I spend at least ten hours a day on my butt working with software programs. This seems to contradict my edict to "move more" in my triathlete fitness goals, but it actually supports the need to incorporate more exercise into my life. My career is computer-based and like most of my fellow cubicle dwellers will confess, the time you spend sitting for prolonged periods increases your risk of death from cardiovascular disease and cancer. It's why I make sure at lunch that I go for a long walk or a run. Some days, I don't get a lot of mileage in, but by simply stepping away from the sitting environment refreshes my energy and mood.
6. Run upstairs without gasping
I have stairs in my house, and at work, so I am typically up and down flights of stairs at least a dozen times a day. The caution that I once approached the stairs has dissipated. I attack each step with confidence and speed. The feeling of being able to run up all of the steps and back down again (not to mention being able to actually see my feet) without gasping for air is wonderful.
7. Standing for long periods of time
Baking for a dinner party is its own marathon. I am usually on my feet, standing in the same place, for hours. In the past, my husband would bring a super thick and cushy floor mat into the kitchen from the garage, just so I could stand in one place without back and knee pain. Since becoming a triathlete, my back pain episode is a rare event–often likely from a very intense workout the day before, rather than simple fatigue from standing.
8. You are in control of your best body
There is nothing that can give you confidence faster than feeling strong and healthy in your own body. Everyday things like carrying in more groceries than you thought you could, or moving a box you're convinced is too heavy to manage. Another perk is the ability to easily pick up and swing around my 80-pound niece!
These eight reasons for being thankful for working hard to achieve my triathlon-running dream are just the tip of the iceberg of why I am now grateful every single day. Practicing gratitude for your healthy body is vital to remain committed to your dream goal. Being physically and mentally strong supports possible opportunities to dream even bigger dreams, to think beyond your daily grind, and to improve your life experiences overall.
"At first they'll ask you why you're becoming a triathlete, then they'll ask you how you did it."
Heather Montgomery
To help you get started becoming a triathlete:

Heather Montgomery is a fitness writer, triathlete, and serial entrepreneur who is devoted to sharing what she has learned about becoming a triathlete after age 40. She uses her Metabolic Training Certification to help other women struggling to get fit in mid-life. She lives and trains in Santa Rosa, California, the new home of the Ironman triathlon. You can find her biking the Sonoma County wine trails.
Note: Articles by Heather may contain affiliate links and will be compensated if you make a purchase after clicking on an affiliate link.