Last updated on April 2nd, 2012 at 01:30 pm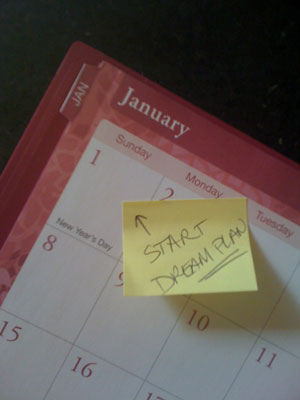 Another give-away for you! Do you need something to keep your dream on track for 2012? Keep reading and you can enter to win a See it Bigger Planner of your very own.
I have a paper addiction. Yes, I'm offering another confession. As a graphic designer this comes in handy. As a product reviewer it makes reviewing a very pretty paper based product really fun.
Get it together
A few weeks back, our fearless 8 Women Dream leader Cath and I were having a meeting about planning. Planning for little things, big things, major things and everything in between. We were struggling with the best way to keep track of all the details.
Just a few hours after that meeting we got an email about this calendar from the perfectly named company, PlanAhead. It was serendipity.
Now I know you have a calendar. I have several, including my digital one that is on my practically 24/7. My kitchen wall calendar is for general info, mostly just to have one in a central area. My office wall calendar is for office stuff like paycheck dates and bill reminders.
But have you thought of one to help you focus solely on your dream?
When was the last time you used a paper planner?
I need to actually write things down, and I know I'm not alone. We are a small group at only 5% of the population, but those of us who are tactile/kinesthetic learners find that the act of writing things down actually makes us remember, not necessarily needing the note we actually wrote it on.
This is why an appointment I made solely in my iPhone may not always stick in my head. Thank god for the alarm option. Of course not all paper based calendars or planners have room to work.
See it Bigger
The line of planners that PlanAhead has this year offer some interesting features that make it perfect for several groups. If you have to slap on those reading glasses more often, you will really appreciate the larger print.
As dreamers, you may need some extra space for those big plans of yours. You've got a plan, right? This tool gives you the room to work it all out.
Big goals are noted easily in the generous monthly view, while the huge spaces in the weekly view let you outline the details and tasks that will get you there.
It's official. January has been declared as National Get Organized Month. Everyone tries to make organization a priority in the New Year.
What the See It Bigger planner offers is a great way to stay on track of your dream goals without advertising to the world that they you may use large print.
Let's face it: New Year's resolutions (especially the more ambitious ones – "I will lose 30 lbs. by July!") are notoriously hard to maintain after the first few weeks of the year. Help yourself out this year and make 'staying organized' a resolution that will last in 2012! The See It Bigger planners come in a variety of sizes and colors with large print and spaces, making them a perfect accompaniment for users of all ages and lifestyles.

Whether you need help staying on track with your new exercise regime, are determined to stay organized in 2012 or just want to stay on top of your hectic schedules, See It Bigger is a great New Year organizational tool for adults and boomers.
IÂ  hadn't thought of incorporating a separate and specific "dream planner" into my world of digital devices until I saw this planner design. Yes, it's pretty – and of course comes in a few different sizes and colors – but it gives me ONE place to keep all my dream tasks together.
In the past, you've heard all of us dreamers talk about how easy it is to forget the accomplishments you achieve throughout the year.
What better way to look back at all those checked off tasks to officially pat yourself on the back?
Enter to win your own 2012 See it Bigger
I'm going to jump on the planning bandwagon we have started as this year rolls to a close here on 8 Women Dream and encourage you to plan your dream. This may sound so daunting to those of us who are on the verge of taking it all on for the first time.
Here's a tip for you: find tools that help.
We all have a lot of goals this next year. I have so many I'm not even going to try and list them here (yet). But I need something from you if you want one of these planners for your very own.
To enter to win, comment on this post with your answer to this question:
Most of us can rattle this off in our head without hesitation. But can you scream it from the rooftops? Take a first step here and share. You have the chance to get a tool that will help get you there.
Comment with your dream and get planning big…Â  we will be choosing a winner on January 6th so you can kick 2012 off right!
– Heather
P.S. – I'm not letting myself off the hook. I'll be sharing my big product launch dreams in detail in January.
Disclaimer: A See it Bigger planner was provided to me by Litzky Public Relations, Inc. Any opinions expressed are my own, and opinions are based solely on my experience with the product and brand reviewed.

Heather Montgomery is a fitness writer, triathlete, and serial entrepreneur who is devoted to sharing what she has learned about becoming a triathlete after age 40. She uses her Metabolic Training Certification to help other women struggling to get fit in mid-life. She lives and trains in Santa Rosa, California, the new home of the Ironman triathlon. You can find her biking the Sonoma County wine trails.
Note: Articles by Heather may contain affiliate links and will be compensated if you make a purchase after clicking on an affiliate link.