Last updated on January 10th, 2019 at 06:00 pm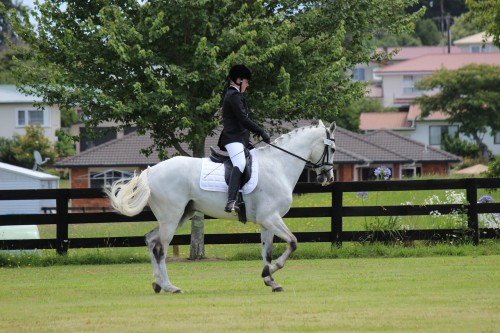 Sometimes when you are pursuing a big dream, you can feel like maybe what you are trying to create is crazy. It can seem as if no one understands the deep yearning you have for one unique idea, like becoming an accomplished equestrian rider.
When I talk to people at work about practicing with my horse and everything that's involved in my equestrian training; I am often left feeling like they think I'm nuts for wanting to achieve (what seems to them) such an unusual dream.
I get the impression they believe I live a charmed life with a secure corporate job, a beautiful home, a husband, and lovely rambunctious children underfoot. Why would I risk it all for the danger of possibly being seriously injured riding my horse?
For those of you who may not be familiar with my big dream story, my horse is a bit spirited, to say the least, and I am not an experienced rider. I have been thrown more than a few times, and my latest brush with serious injury has left me physically bruised and emotionally battered.
But instead of allowing anxiety to rise inside me to easily fuel my sudden dip in confidence and thoughts of quitting my dream, I decided to go on to the Internet and search for other women who are pursuing my same dream and see how they are dealing with their equine blues.
There's nothing like finding your tribe to make you feel better!
The first thing I noticed as I clicked on equestrian websites and equestrian blog links is just how many women are riding and working hard at accomplishing their equine dreams while balancing a rural homesite, full-time work, children, parents, and a loving (and sometimes unsupportive) spouse who also may or may not understand their deep longing to get up on a horse.
I decided that maybe there are also other women like me, just starting out learning Dressage and they too could use some encouraging equestrian websites and blogs to drool over, smile about and enjoy reading other women living the dream. So today I am offering you eight of the many horse-related websites that I discovered. I hope they bring you as much comfort and motivation as they did for me.
Enjoy!
Top 8 Equestrian Blogs & Horse Websites

The Savvy Equestrian is run by Ashley Dudas, a Licensed 2-Star Parelli Professional, educator, horse trainer, personal development coach, clinician, competitor, public speaker, horse advocate, and horse behaviorist. Ashley's big dream is dedicated to helping horses and the humans who love them reach their full potential. Her life's passion is to help individuals develop the habits and skills they need to effectively communicate with their equine partners and achieve their dream level of horsemanship.

Established in 1997, HorsesDaily provides news and information for people with a Life's passion for horses. HorsesDaily, CEO Mary Phelps is a longtime member of the equestrian media and works for the International Alliance of Equestrian Journalists. HorsesDaily is a popular website for the equestrian dreamer.

Horsecity.com is owned and operated by Morris Communications Company, LLC, who publishes award-winning equine magazines like Western Horseman, Barrel Horse News, Quarter Horse News, and Equine Journal (formerly Horsemen's Yankee Pedlar). Each month more than 30,000 people whose life passion is horses visit Horsecity.com, an equine website with two blogs that reflects the deep commitment and dedication to the big dream that involves horses.

Equestrian sports first debuted at the Olympic Games in Paris, France in 1900, with jumping events, and were then withdrawn until the 1912 Games in Stockholm. Since then, this sport has been on the Olympic program with remarkable regularity. The Olympic Games equestrian-dressage section of the Olympic Games website features videos, photos, news, events with Olympic and World Records and results to inspire the dreamer whose big dream is to become an Olympic Games Dressage rider.


U.S. Equestrian is dedicated to uniting the equestrian community, honoring equestrian dream achievement, and serving as guardians of equestrian sport. Since its inception in 1917, U.S. Equestrian has been dedicated to pursuing excellence and promoting growth, all while providing and maintaining a safe and level playing field for both its equine and human athletes. US Equestrian trains, selects, and funds the U.S. Equestrian Team, which consistently wins medals at the highest level of international competition, including the Olympic Games. US Equestrian also licenses equestrian competitions of all levels across the United States each year.


The Confident Rider Project is the brainchild of equestrian life coach, Hannah Freeman's big dream to help horse lovers and dreamers like you from around the world escape from the rat race, release your anxieties and frustrations and achieve a purposeful life around your family, career and love of horses so that you glow with confidence, fulfillment and you are optimistic about your future.

What began as a blog in Noelle Floyd's bedroom in Brussels, Belgium, NoelleFloyd.com has grown into one of the world's leading equestrian sport and lifestyle websites in the industry. What began as a big dream vision to share stories about the sport of show jumping with humanity, Noelle has expanded her reach to include a printed magazine, an online brand shop, and a site subscription model offering fans access to videos, digital clinics, and intimate conversations with the world's best riders.

Equitrekking.com is the website for the Emmy-winning equine travel TV show with host and producer, Darley Newman on PBS. Equitrekking features Darley's travels with locals on their local breed of horses, enjoying riding and eco-friendly trips with a focus on history, culture, and beautiful natural scenery. Talk about living the dream!
The top 8 equestrian blogs and horse websites featured above present a variety of people (especially women) who are living their big dream. I have a feeling their stories, images, and advice is just what I need to inspire me to get back up on my horse and continue my training. I hope they do the same for your dream.
Don't give up!
Danelle Jacobs

Enjoy this special 8WomenDream Guest Contributor story submitted by new and experienced big dreamers throughout the world, edited and published to capture a dream perspective from different points of view. Do you have a personal dream story to share with 8WomenDream readers? Click here to learn how to submit dream big articles for consideration.
Note: Articles by Guest Post Contributors may contain affiliate links and may be compensated if you make a purchase after clicking on an affiliate link.