Last updated on July 27th, 2014 at 09:53 pm
As I sit in m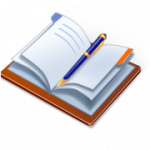 y living room looking at the blank page before me I am reminded how difficult it can be to write.
The page is blank, nothing but white staring back at me. I decided to just start typing; just put letters together into words and see if something made sense.
This technique is called Free Writing.
Free writing is a way to jump start your writing process.  You simply sit down with a piece of paper and pen, or whatever writing implement you use, and then just put down any and all that come to your mind.  You do not stop to think about whether the words go together or if they are spelled correctly or give any consideration to grammar.
The benefits of this process are twofold –
1) It helps you get some of the thoughts that have been kicking around in your head out
2)Â When you can't think of something to write or your "inner voices" are getting in the way, free writing will help you get something on the page
Allow yourself up to but not more than ten minutes to complete this exercise.
Why the time limit?  Too much time spent 'free writing' and it becomes 'focused writing'.
There is a free writing technique that requires you choose a theme and then write anything that comes to mind about that subject.  It is my personal opinion that Themed Free Writing is a great exercise to improve your writing.
However, when you are writing fiction and battling the blank page stare I believe you will have an easier time getting started after a few minutes of True Free Writing.
After you reach your allotted time limit read over what you have written.
It is just possible you have written down a word or phrase that will prompt your creative juices and the battle of the blank page will be won.
Until next week.
Dawnda
(Dawnda's dream was to get some piece of writing published in 2009.  She left the 8 Women Dream group in 2009 to focus on finding full-time employment.  We consider her an accomplished dreamer as she published her thoughts here and began her own scary stories blog at www.killeryarns.com)
https://8womendream.com

Enjoy this special 8WomenDream Guest Contributor story submitted by new and experienced big dreamers throughout the world, edited and published to capture a dream perspective from different points of view. Do you have a personal dream story to share with 8WomenDream readers? Click here to learn how to submit dream big articles for consideration.
Note: Articles by Guest Post Contributors may contain affiliate links and may be compensated if you make a purchase after clicking on an affiliate link.