Last updated on March 3rd, 2010 at 11:18 pm
Do you want it back?
I am living my greatest dream. Giving my children the best childhood I know how. One that I had as a kid. I am the most confident as a mother. They are my passion.
But is that enough? Is it OK just to be known as a good mother? Is all your focus on the kids healthy? Even though you're a mother for life, your daily job is temporary. What happens when they leave the nest?
I try not to think about that! But I must. And I have, slowly. I went back to school. Got a job. That's about it as far as doing something just for me, until 8 Women Dream came into my life. Then I had to think about it even more.
I'm realizing that even my dreams I picked haven't been just for me. They still involve my children. It's very hard to separate my greatest dream of all, (my kids) to something that just involves me. But what happened to my hobbies, my little enjoyments…me? I've been thinking of who I was before kids and what I liked to do. I seem to come back to the same thing. Playing piano.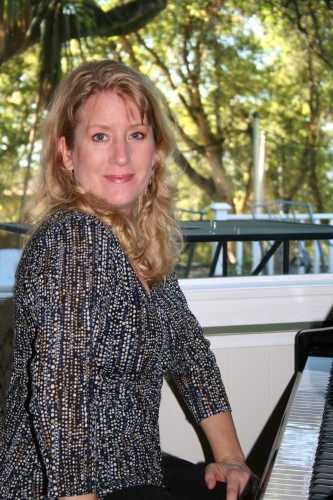 So I am now changing my focus to a new dream. I still want the family to go to Japan within two years. I still have to take my younger daughter to New York. (She'll never let me forget it if I don't, and besides I love New York and can't wait to go back) I still have to focus on a healthy lifestyle which has gone down the tubes this summer. And I have to work on my career. But I have a baby grand that has been sitting in my house for a few years being neglected. Music was my thing in high school. I need to bring it back.
The first job is to get it tuned.
Till next week,

(Kim has already accomplished her first big dream by traveling to New York with her teenage daughter June of 2009. She lost 20 pounds and overcame her intense dislike (do we say fear?) of flying to accomplish that dream. She rotated off the blog in February 2010, but still hangs out with 8 Women Dream.  You can find her in the comments section)

Enjoy this special 8WomenDream Guest Contributor story submitted by new and experienced big dreamers throughout the world, edited and published to capture a dream perspective from different points of view. Do you have a personal dream story to share with 8WomenDream readers? Click here to learn how to submit dream big articles for consideration.
Note: Articles by Guest Post Contributors may contain affiliate links and may be compensated if you make a purchase after clicking on an affiliate link.