Last updated on December 3rd, 2012 at 05:00 pm
Today we have a wonderful guest interview with Jill Knapp, who traded an extra 100 pounds in for beauty pageants.
I think you will find her dream story inspirational –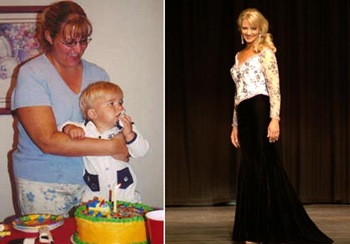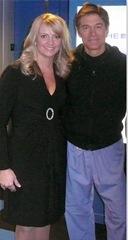 Whether following her personal blog, Get Up And Get Moving; her guest appearances; or simply viewing the photos she shares of her personal journey — Jill Knapp is proof that we can change our lives.
She is a wife and mother of 3 children.
She is a tireless diabetes advocate for the American Diabetes Association.
She also is a motivational speaker helping others get and stay motivated on their weight loss journey.
Jill has appeared on the Dr. OZ show and is a mentor to 3 former beauty queens who have gained weight.
Jill Knapp loves sharing her personal journey . . .
Q.  What keeps you from getting discouraged?
A.  Knowing I never want to feel as I did when I was overweight. Life was so depressing and I know I never want to live like that again.
Q.  Do you still follow a diabetic diet?
A.  Yes, I watch my carbohydrates, but I don't do a total diabetic diet. I believe in the principle of eating 6 small meals a day. I did that through my whole journey and still do.I don't like the word diet. Lifestyle change is what I did.
Q.  Being an emotional eater made it hard for you to change, what helped you to control that?
A.  Getting to the bottom of what was causing me to eat over emotions. I dug deep and realized that pain from life and childhood was part of the whole picture. I did a lot of soul searching and used my journal to write down my feelings.
I still journal my feelings instead of eating them.
Q.  The doctor told you that you had to do some type of aerobic program, walking — either on a treadmill or outdoors and needed to do it faithfully 5 days a week; do you recommend this for others?
A.  Yes! It's not only good for weight control but good for depression. It's also good to get some time to yourself. Exercise is a great way to get some time away from the daily grind of life.
Q.  Do you recommend joining a gym and working out with an instructor from the start?
A.  You can join a gym or work out at home. Brisk walks are great. Trainers are nice but not a must. It's up to you and what your goals are. Workout DVD's can be useful if you can't afford a gym and they work well as long as you do them. I do believe in weight training.
Q.  After losing the first 20 pounds you were thrilled, did the diet and lifestyle change get easier from that point?
A.  I did feel better. Losing weight is hard work. The pay off is once you are on a program and stick to it. It does get easier with time. YOU must be consistent. You really start feeling great when the results from hard work start to show.
Q.  Being diabetic motivated you, what suggestion do you have for those that cannot seem to stay with a diet plan?
A.  My hope is by sharing my story I can help others not have to get a wake up call like a diagnosis of type 2 diabetes. If you are really ready to lose weight. Be consistent. Set and keep goals.
If it's emotional eating that is keeping you from moving forward find out the root of the cause and walk though what ever pain you need to so you can move on and start living life.
Make a life style change don't call it a diet!
Q.  You said "that a good work out should feel a lot like work, and a little like recess." How do you accomplish that?
A.  It would be hard but rewarding… When you are done I feel it should be something you want to go back to and do again. You have to find out what you like. Walking, jogging, running, rock climbing? Biking?
Exercise should be something you enjoy. It takes time to find out what is best for you.
For me, it's the elliptical or fast walking along with weight training.
Here are a few reasons why:
1. Weight training tones your muscles which looks great and raises your basal metabolism…which causes you to burn more calories 24 hours a day. You'll even burn more calories while you're sleeping.
2. Weight training can reverse the natural decline in your metabolism which begins around age 30.
3. Weight training strengthens your bones reducing your risk of developing osteoporosis.
4. Weight training energizes you.
5. Weight training can make you strong. strength gives you the confidence and makes daily activities much easier.
6. Weight training improves your posture
7. Weight training lowers your resting heart rate, a sign of a more efficient heart.
8. Weight training elevates your mood.
Q.  What suggestions do you have for those of us that are so down on ourselves that it is hard to get motivated?
A.  Stop pounding away at your short-comings. We all have them. Look at the good in your life and start living. Dig deep to pull forward and become a better you. You have to believe in you!
YOU are not your weight.

You are wonderful and need to feel that way. Getting healthy is an amazing thing and living that way for the rest of your life can do wonders for the soul.
Don't Forget to "Get Up and Get Moving"!
Here's Jill on the Dr Oz show –
Thank you Jill for being such an inspiration for us all – and thank you for being a guest interview on 8 Women Dream.
You can read more about Jill on her blog, Get Up And Get Moving!

Enjoy this special 8WomenDream Guest Contributor story submitted by new and experienced big dreamers throughout the world, edited and published to capture a dream perspective from different points of view. Do you have a personal dream story to share with 8WomenDream readers? Click here to learn how to submit dream big articles for consideration.
Note: Articles by Guest Post Contributors may contain affiliate links and may be compensated if you make a purchase after clicking on an affiliate link.