Last updated on June 23rd, 2011 at 11:00 am
I was at an outdoor café in San Francisco with my friend Lynn when curbside a mini-van parked and a nice little family piled out.
Mama, papa and a tiny little girl stood near an open door deciding whether to take or leave sweaters; take or leave umbrellas; take or leave toys.
Everything was moving along and the door of the van was being sloshed shut when the little girl let out a shriek,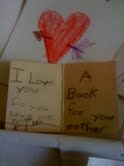 hopping from foot to foot and pointing at the door.
"What's her problem?" Lynn said.
"Guess they forgot something," I said, stirring my drink.
The father reopened the door and fished around in the back seat, finally standing up and turning around to hand her a stuffed Oscar Muppet doll. Only this Oscar was bright red, not green like on Sesame Street.
We watched this little girl turn from a testy, crying little brat into a smiling angel. She was face to face with her Oscar, talking into his big plastic eyeball and clutching him full body to her little three foot frame.
"Isn't it funny how little kids are so comforted by stuffed animals or blankets?" I said to Lynn.
She was reminded that when she was that little she was obsessed with her baby blanket.
"Not only was I obsessed with having it with me always, but I would pick the little nits off it, endlessly, until I had my whole hand full of sweaty lint and my mother used to have to fight me to pry my hand open and take it away from me," she remembered aloud.
"You were comforted by lint?" I asked.
Yeah, I know, it's weird, but it's true. My mother said she never wanted to wash it because it would be too much work for me," she said, adding "What did you carry around?"
I had a stuffed black and brown hound dog. So beloved that it's stuffing was flattened, its tail hitting my knees, his swooping ears long enough to wrap around my neck.
While we socialized, internally I was remembering all the stuff that used to make me feel safe. I had another long-term drag-along; a hard plastic skunk that I couldn't live without. And it occurred to me that the wish to hold onto something is a good solid instinct.
Of course, the first thing most children hold onto are their mothers. Like orphaned ducks chasing the first thing they see even if it's an ass or snake or Billy goat, little kids seem to be hardwired to adore their mothers.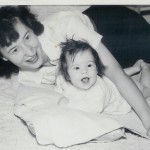 My mother was the prettiest mother. My mother was the best cook on the block (so not really.)
My mother smelled the best and dressed the best and did my hair the best and did everything the way that I liked best. Of course, what does a six year old know about the best?
When I was a newspaper reporter we had this annual holiday campaign to raise money for charities. One year I interviewed over a dozen children at a children's shelter.
What became clear very quickly is that no matter the circumstances, whether the children were in protective custody for physical abuse or neglect, they counted the hours until a visit from their mothers.
Many were granted weekend passes on holidays and they constructed elaborate fantasies about how lovely their visit would be. Older children often ran away from the home to get back to one bedroom apartments in bad neighborhoods where bad things had happened to them.
I'd walk out, get in my car and hit my forehead on my steering wheel for a couple of minutes.
I visited that shelter for years afterward penning many news stories and during all that time only one kid told me he ever ran away from home, hitching it back to the children's shelter.
He was the only kid I ever met that had grave reservations about the quality of parenting he received.
These kids would often show me things their mothers gave them during visits; a pale lipstick, a cube of chewing gum. It was their proof that they were loved.
A couple of years ago a small parcel landed in my mailbox. It was a vintage I. Magnin's box about the size of a bestseller. My mothers return address struck dread in my heart.
Now what?
Inside that silver and gold foil box my mother had stuffed every single little note I'd ever penned to her thanking her for being such a wonderful mother, thanking her for tooth money and for making Swedish meatballs.
A born reporter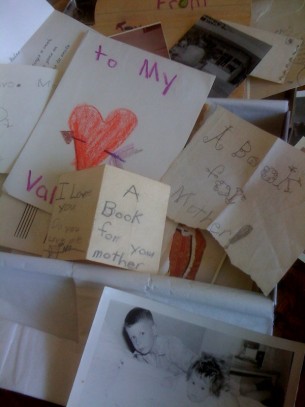 I documented her daily kindnesses of Band-Aids in crayon and pencil scrawls. It's what she held onto, I guess. Mailing it to me meant something, but what?
I've illustrated this column with peeks at the box. Amazing to me is the repetitive theme of my writing books for my mother.
Turns out any book I do write about my mother will not be for her eyes, but for yours on the topic of imperfect mother/daughter relationships.
Mother's Day isn't joyful for everyone.
Some of us are reminded of flawed relationships and wonder if things could have been better.
There's no rewriting the past only planning a happier future. Today could be a day to honor the things that comfort you.
If you're struggling today reach for family, friends, pets, comfort foods, hobbies, exercise even an old rag doll.
And if you'd like a belly augh, check out Scary Dave's Happy Dysfunctional Mother's Day song.
This thing should go viral today, I swear.
Rayne Wolfe's dream is to write her first book Confessions of an Undutiful Daughter by the end of 2011. She completed her dream journey May of 2011 on 8WD after a year living her dream. You can find her at Toxic Mom Toolkit on Facebook.

Enjoy this special 8WomenDream Guest Contributor story submitted by new and experienced big dreamers throughout the world, edited and published to capture a dream perspective from different points of view. Do you have a personal dream story to share with 8WomenDream readers? Click here to learn how to submit dream big articles for consideration.
Note: Articles by Guest Post Contributors may contain affiliate links and may be compensated if you make a purchase after clicking on an affiliate link.