Last updated on January 22nd, 2019 at 01:58 pm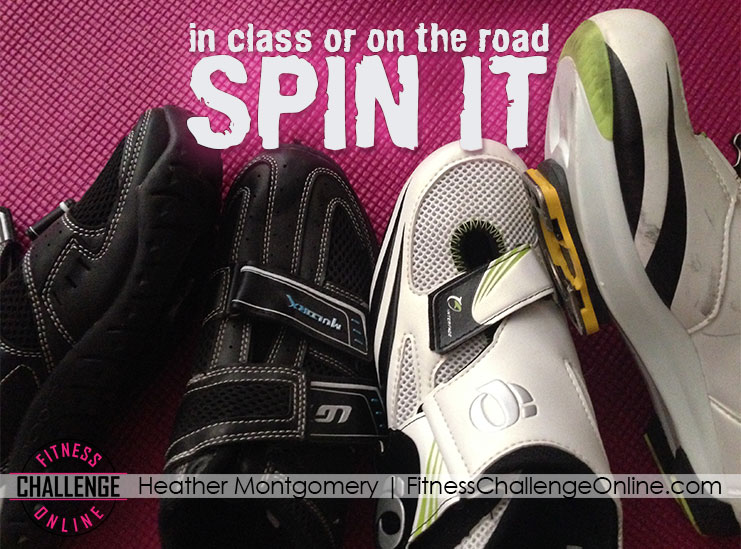 Getting up and working out at the same time every day is a habit I can't afford to break. One day missed and I am whooshing down the slide of laziness.
I recently joined my local YMCA for one of their perks. The pool is super clean, has great lap times, and is not packed during peak times.
The pool is closed for the next 3 weeks for upgrades.
Time try something I haven't done in a while: spin class.
Taking it up a notch with spin class.
I've been spinning at home with my bike in the trainer a few times a week. To my serious biking friends this is sacrilegious. To my schedule, it's a quick easy way to get in a workout.
I've got endurance workouts, HIIT – High Intensity Interval Training, speed work, you name it.
Sweat happens, but there is something about having a whole room full of like minded pedal maniacs pushing the pace a little more.
The last spin class I took was at 24 hour fitness and was a dynamic fast paced class. I liked it but the class time was tough to make so it was hit and miss. It's been about 9 months since I took this class.
Walking into a new environment took some convincing.
Check out a spin class for the first time… or the 50th.
One of the things about spin is that you are in control of your own bike. That means the speed, intensity and resistance level is up to you.
When you are first starting out, it's easy to forget this when you are surrounded by people who are keeping up with the instructor at every turn.
A really good instructor will remind the class regularly that safety and comfort are priority. There's no reason to try something that doesn't feel good to you, just because the rest of the class is doing it.
Trust me, if you are challenging yourself you will get out of your spin workout everything you put into it.
What to expect at spin class.
Spinning class is indoor cycling used as a cardio aerobic workout set to music and led by an instructor.
Every spin class I've taken is between 45-60 minutes and include a warm up along with stretching at the end. Stick around for that, especially with your first few classes.
Spinning is good for anyone who wants a workout to motivate them. You don't have to enjoy choreographed fitness classes to really love spin class. Having two left feet and complete lack of coordination won't slow you down here.
The low impact nature of spin class gives your joints a break from running or jumping exercises you might find in other group fitness classes.
Spin class can make an old workout feel new again.
It's as easy as riding a bike. Actually it's much easier as there is no traffic, no need for a helmet, and no special equipment required.
Dress like you would for any fitness class, take some water with you, and go check it out.
Tip: If you've never been before, go 10 minutes early so you can get help setting up your bike correctly. Riding with the wrong seat height can ruin the good workout feeling later.
When's the next spin class at your gym? Are you already have a spin class you love?
Share in the comments!
Heather Montgomery
Go get your fit on

[fbcomments]

Heather Montgomery is a fitness writer, triathlete, and serial entrepreneur who is devoted to sharing what she has learned about becoming a triathlete after age 40. She uses her Metabolic Training Certification to help other women struggling to get fit in mid-life. She lives and trains in Santa Rosa, California, the new home of the Ironman triathlon. You can find her biking the Sonoma County wine trails.
Note: Articles by Heather may contain affiliate links and will be compensated if you make a purchase after clicking on an affiliate link.