Last updated on May 23rd, 2012 at 02:59 pm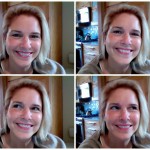 Why does the idea of old dreams inspiring new dreams surprise me every darned time?
This is how it goes. You are focused on a dream project — whether it a passion, or a research project, or whatever, and you commit to do the work, you burn the shoe leather and you are proud of the progress you're making.
And then you have lunch with a friend and suddenly their take on your memoir-writing dream project is quickly summarized into an obvious fact or compelling next step that you never thought of before despite all the effort and focus you've devoted to the effort.
For example…
My friend Jen the teacher and I were having brunch at our favorite patio place in Sonoma and (bless her) she wanted to know all about what my trip to Iowa would entail, so we chatted, laughed, and debated what to pack. I thought my best bet would be to blend in with the grey-haired Lutheran landscape by leaving the red polka dot platform espadrilles and liquor tag necklaces at home. She insisted that I have to be my authentic self.
Then before I could say Eggs Benedict SHE was focused on my NEXT trip to Oklahoma to meet my birth mother, or as Jen insists on calling her "the vagina" to distinguish her from my adoptive mother and step-mother.
"Rayne, talking about your mothers is SO confusing sometimes," she said insisting that her pseudo-medical nickname for my birth mother would at least eliminate one opportunity for confusion in future discussions.
What Jen didn't realize was that I had already considered visiting my mother, which would take me to a state even less likely to charm me than Iowa. Truth be told, from what I know of my mother, from the couple of conversations, the few letters exchanged, I don't really care to meet her. That decision made me feel very grown up, as a matter of fact.
And yet…
Jen insists that it's really a Bucket List item. A must do.
"Rayne, you came outta' her!" she said as the Wine County sun warmed our golden shoulders. "I'll go with you. A one-day shot there and back. I'll be your videographer!"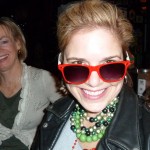 (FYI: When Jen wants to fly with you and film you doing something weird, that sort of proves it's a bad idea… And part of why we're best friends.)
This might be an example of one dream leading the way to the next dream. If I decide that being rejected to my face on a sagging porch in Oklahoma is a great good time — even with Jen as videographer and every bar within 10 miles coded into our Tom-Tom — I'll get back to you 'all.
Right now, I'm thinking probably not.
But who knows?
That's the thing about following your dreams. If you're brave enough to think it, say it out loud, own it, pursue it, write about it and invite others along with you on the journey, then you have to stay open to new dreams. Who knows? Maybe Jen's idea will begin to sound logical.
But first, I'm off to Iowa, the land that gave us newsman Harry Reasoner, ethanol and the one and only Rayne Wolfe.
Rayne Wolfe's dream is to write her first book Confessions of an Undutiful Daughter by the end of 2011. She completed her dream journey May of 2011 on 8WD after a year living her dream. You can find her at Toxic Mom Toolkit on Facebook.

Enjoy this special 8WomenDream Guest Contributor story submitted by new and experienced big dreamers throughout the world, edited and published to capture a dream perspective from different points of view. Do you have a personal dream story to share with 8WomenDream readers? Click here to learn how to submit dream big articles for consideration.
Note: Articles by Guest Post Contributors may contain affiliate links and may be compensated if you make a purchase after clicking on an affiliate link.