Last updated on June 28th, 2014 at 01:09 pm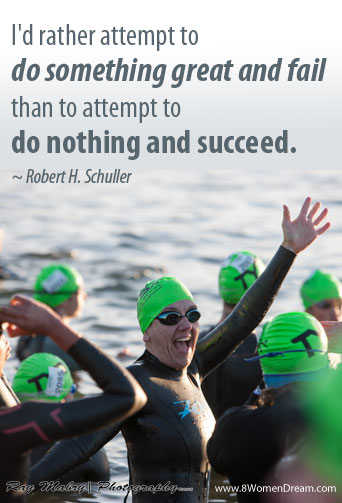 You watch from the sidelines, waiting to jump into the game, but something stops every time. If you've had this feeling, whether it's trying a new fitness genre or walking into a new gym, keep reading.
Into all dreams, fear must tread. Myself and many of the dreamers believe that if you aren't a little scared while working on your dream goals, you might be holding back.
I know the feeling of feeling afraid to try a new situation.
It could be that job interview, which anyone will tell you are the perfect stress vortex. It could be joining a new group and that first step in through the door to meet new people. Or it's walking into that fitness class at the gym you've always meant to take, but put off. Until now.
I've been through all of the above situations in the last 12 months and they each offer their own special brand of hell. The fear of rejection and in my case, looking like a total dufus, is at an all time high.
In my post last week I challenged you, my fellow dreamers, to step outside your comfort zone.
What if no one talks to you? What if you can't remember the next move in the workout routine? What if you trip over your own feet?
And what if you never try that new fitness class?
We all know that the "what-if's" in life can be seriously debilitating. We can each take turns going around the circle and sharing at least one time, maybe even in the last week, where a "what-if" kept us from taking a step toward our dream.
The world will not stop spinning if we choose not to go after our dreams. But our OWN world, the one we live in and try to make better and more fulfilling every day, just may stop spinning.
So what do we do?
When it comes to new fitness goals I've noticed several issues with taking the next step in my own training.
1. I already do ______. That's plenty.
Insert your favorite go-to excercise in the blank space above. I agree that excercise, any exercise, is better than none. Our bodies are very tricky though and they like to adapt to fitness, and quick.
Is the time you spend on the treadmill easier than it was 6 months ago? Are you still lifting the same weight as last year?
Mixing it up, and continuing to challenge ourselves in our fitness is what lets us reap the benefits long into the future.
2. The people in that class look too cliquey.
I can't speak for you dear dreamer, but I am WAY past high school. That doesn't mean I don't remember that crap that comes up when you see a group of people, especially women, glance your way as you step into a new environment.
You have two simple choices. Worry about some strangers opinion of you, an opinion which has zero impact on your life and walk out, or stay and enjoy what may be a wonderful growth opportunity.
3. That class is too advanced for me.
There are many levels of fitness out there. For example, I would not hop into the 6 minute mile group at a running event. I admire that group of runners, but it's usually from farther back in the pack.
That doesn't mean I skip the event!
Same principle applies to that class. Having been the newbie in several classes –  yoga, indoor cycle, and bootcamp – in different gyms in the past year I will tell you one thing.
Those instructors are there to help you out! I have yet to meet a fitness instructor that isn't thrilled there is someone new in the class.
A little tip, just get there a few minutes early so you can let them know you are checking out the class. Fitness instructor will typically offer suggestions on how to modify an exercise if needed and in some cases, assist you in setting up your equipment so you get the most out of your workout.
It makes all the difference in how your first class goes when you start out on the right foot.
New fitness takes being brave
Bravery is kind of a theme here at 8 Women Dream, and new fitness might need you to be a little brave. So what will it take for you to be brave and try some new fitness this week?
Tell me your plans. I love cheering you on!
Go get your fit on – Heather

Heather Montgomery is a fitness writer, triathlete, and serial entrepreneur who is devoted to sharing what she has learned about becoming a triathlete after age 40. She uses her Metabolic Training Certification to help other women struggling to get fit in mid-life. She lives and trains in Santa Rosa, California, the new home of the Ironman triathlon. You can find her biking the Sonoma County wine trails.
Note: Articles by Heather may contain affiliate links and will be compensated if you make a purchase after clicking on an affiliate link.