Last updated on January 22nd, 2019 at 02:08 pm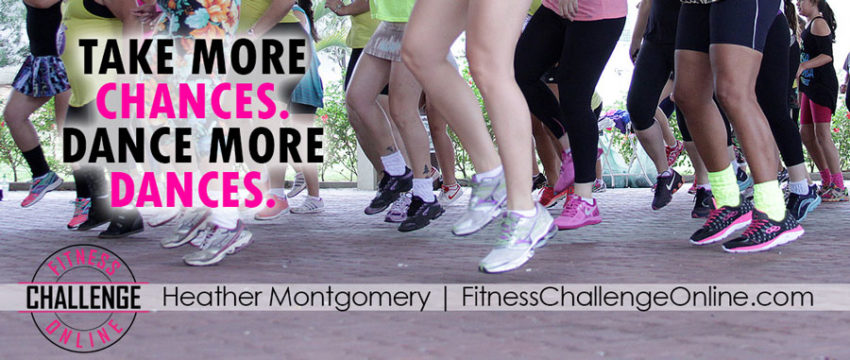 It took three years of hearing about it, one year of my fellow dreamers Cath telling me about it. Add on one extremely stressful month to finally give in.
I tried a Zumba class for the first time.
Fumbling to the Latin Beat
Cath had talked (reminded, pestered, cajoled) about my joining her for Zumba class. For two years Tuesday nights were never good. Jobs changed, cities I worked changed, but finally the stars aligned. I met her at the local YMCA last Tuesday night after one of those days where you start wondering if there is enough wine at the house.
I knew enough about the workout to know it was some serious moving around, and as an ex-dancer I was looking forward to trying it out. Sort of.
No matter how many years pass, the confident feeling of being in a dance class never wears off. I had to shake off the fear of the unknown to walk into the class.
The large gymnasium floor felt exposed until more people filtered into the room. You could tell who were long time Zumba enthusiasts as they filled out the front row. Cath pointed out the two women she could count on to know the moves, every time. I showed up just in time to get a quick hello from the bouncy and adorable instructor as the music started pounding.
Getting into my first Zumba class groove
Soon I was trying to follow which arm was where and determine why my feet seemed to be two beats behind. The hesitation in moves made my attempts more flailing than strong, but that's what a first class feels like.
A lot of "What are we doing now?" mixed with "Oh! I think I got it!"
The scariest part for me was when the routine took us in different directions. First facing front, then facing to the side, no problem. There were still people in my eyesight I could cheat off of. Then facing the back of the room, crap. Being in the back row means you are in the front row when everyone turns around. A quick glance around and everyone is looking to each other for clues on keeping up.
A few songs in, the pattern of the routine started to clear up for me and the cues from the instructor began to make sense. Its been years since I was in a dance class, but the familiar rhythm creeped back in. I was keeping up enough to get sweaty and glanced at the clock. Only half way through, but the time had flown by.
My only exposure to Latin dancing was formal flamenco training for a short time. Let me tell you, that small exposure did not help me one tiny bit. The hip swivels and quick back and forth tapped into the little jazz background I had, but no real help there.
Are my hips supposed to be able to move that much? I need to stretch more.
By the end of the session, I realized that I had been smiling most of my first Zumba class. I had no idea which hand was up, or that I spent about a quarter of the time trying not to trip myself. I stopped caring anymore about knowing, and just went with it
What to expect at your first Zumba class
I am usually a research freak, but for some reason this time I had heard enough from friends to not worry about what I was getting into. Until I got there of course. Here are some concerns that went through my head before deciding to go.
Have the right stuff
Zumba is a fitness class, and there's a lot of movement so wear shoes. There are shoes specific to Zumba
, but I got along just fine with my regular workout sneakers.
Dress like you would for a trip to the gym or a long walk. Clothing that breathes, moves and stretches. And yes, there is enough movement to warrant going with a workout bra.
I know you will sweat so bring water and a small towel. Not only will you have water when you need it, but if you are completely lost, it's a great excuse to take a break and just watch for a few moves.
Fear #1: You have no coordination for Zumba
When I was coaching boot camp I ran into people all the time concerned about the same thing. I highly doubt you are completely lacking in coordination. If you managed to make it to class, you're just fine. If you can feel the beat of music and step in time to it, you are all set.
Like any fitness aspect, coordination is something you need to work at. Just like flexibility, strength or cardio. If you don't use it, you lose it. And if you think it's gone, trust me that coordination comes back quick.
You are going to feel like you are flailing around. That's more about having new moves thrown at you than having coordination issues.
Fear #2: You won't have any idea of what to do
You are right, you won't. No one does when with their first Zumba class. That is part of the fun and potential frustration. A good Zumba instructor's cues will help you figure out directions. If they point right, you are heading that direction next. They aren't hard to figure out within the first 15 minutes or so, and repeat them through the entire session.
Anytime you feel completely lost, remember this is your class at your fitness level. Grab a sip of water or just march in place until you are ready to jump back in. Zumba is a fun stress reliever, so no stressing over the details!
Fear #3: You are going to get laughed at
Trust me, there is just too much going on to pay attention to anyone else. Most likely any laughter will be coming from you as you laugh at yourself! Everyone is there to keep up, figure out what's next, and try not to step on each other.
Fear #4: You are too out of shape
And you will not die at your first Zumba class. That's why I like this style of fitness because you only work as hard as you want to. Your instructor will be able to show high and low impact options, and just look around. You will see the "regulars" going to town on a move that you just thought was a step to the left.
Go at your own pace and let your fitness level determine how much you will take on. As you improve, so will the intensity of the workout.
Shake it off with your first Zumba class
It does not matter if you have ever danced in any form previously in your life. If you love moving around to music, sharing an energetic hour with a group of women of all ages and coordination levels is worth a try. Trust me, you will enjoy your first Zumba class enough to go back.
Heather Montgomery
Go get your fit on
Photo credit with modification
[fbcomments]

Heather Montgomery is a fitness writer, triathlete, and serial entrepreneur who is devoted to sharing what she has learned about becoming a triathlete after age 40. She uses her Metabolic Training Certification to help other women struggling to get fit in mid-life. She lives and trains in Santa Rosa, California, the new home of the Ironman triathlon. You can find her biking the Sonoma County wine trails.
Note: Articles by Heather may contain affiliate links and will be compensated if you make a purchase after clicking on an affiliate link.