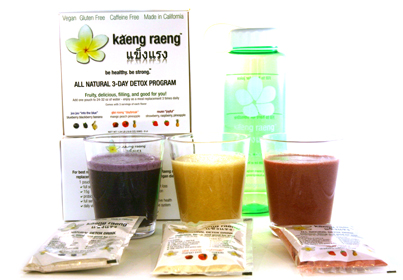 Fitness dreaming can take some interesting turns when testing a product. We were contacted a few months ago from a company who offers one of the hottest new detox cleanse on the market.
Kaeng Raeng is an all natural detox meal replacement designed to help you lose weight, remove toxins, bolster your immune system, and improve digestive health.
Source: Kaeng Raeng: How Does A Detox Work?
I offered to review it for a couple reasons. I have a very strong opinion about the concept of cleansing as a practice, but having not tried one in over 20 years, was honestly curious.I do believe that if you feed your body with whole foods and focus on eating "less toxic" your body naturally takes care of eliminating whatever it doesn't need. If your system is truly toxic, it probably took a while to get in that state and in my opinion would take more than 3 days of cleansing to clear it up.
You will be getting a very honest review of my experience with this product.
The right timing for detox cleansing
The fitness training I am undertaking does not involve light workouts. My first concern about testing this product was the timing. There was no way I was going to attempt a major eating change while training for my first triathlon and needing to eat to sustain enough energy for twice a day workouts.
Initially I had planned on trying this cleanse with about a month of training to go. After reading some of the side effects, and how others do plan to "take it easy" during a cleanse, I postponed the experience to a less active timing.
Their product information that is included with the detox cleanse suggests keeping to your regular daily routine and light exercise. No mention of aerobic workouts so I planned on a very light weekend.
Kaeng Raeng is meant to be an empowering and strengthening tool to revisit your eating habits. Most of our customers express being more in tune with their bodies, cognizant of eating habits, and fuller and more energized with fewer cravings for salty and sugary foods. As you abstain from conventional foods, you will no longer crave them. While you can achieve some of this with a raw food diet, Kaeng Raeng is a satisfying tool to help you complete this diet safely while providing you powerful cleansing ingredients to expedite the healing process. Kaeng Raeng is nutritional, containing a full serving of fruit and fiber, 15g of protein, 2 billion live probiotic cultures, and daily vitamins in each serving. For best results, drink three per day.
The lowest calorie intake if you consumed only the shakes with water would be 600 calories. This number alone made me hesitate.
The Kaeng Raeng site does recommend that if you've never done a cleanse before to mix the shake with juice and greek yogurt. With this option, depending on what you add, your calories may be closer to the minimum recommended calorie limit for women at 1200 calories per day. Keeping to a raw vegan diet with the shakes is highly recommended, but I do have to give them a hand in adding protein into the mix. You won't find this in every detox cleanse option.
You can get an idea of a few of the recipes available on the Kaeng Raeng site.
Starting the detox cleanse
Day one:
I kept to my schedule and my bootcamp workout Friday morning was my last workout planned for the weekend. I prepared my first two shakes with 2% milk and 2 ounces of greek yogurt. Lots of ice and the shake was more like a smoothie.
Just like they promised, the shake was not sweet. It's really amazing how much we are used to sweetness in everything we eat.
By mid morning, the shake was warming up and getting really thick, so I added water to make it drinkable.It takes me forever to drink a really cold shake. The 24-32 ounce suggested size is definitely a lot of liquid and does take a while to consume. The lack of sweetness and bland taste made it tough to finish.
About noon my stomach was in knots so I snacked on a carrot, celery sticks and clementine. I started to get a mild headache, but I'm pretty sure it was from not having coffee that morning. I grabbed an iced black tea to kick a little caffeine into my system.
I started in on the second shake at 2:00 p.m. that afternoon. This one was their blueberry shake that I blended up with milk and greek yogurt. The shake has a little more flavor but letting them get warm is a bad idea.
That evening I tried a little juice and a banana in the shake with lots of ice, instead of using milk. This was a delicious combination and although I was hungry, it was 7:30 at night and I only managed to finish half of it. I was super sleepy, and skipping my usual vitamin supplements and coffee for the day was catching up with me. I gave in and took a few ibuprofen to help with the nagging headache.
My stomach was aching and I couldn't stay awake after 9:00, literally feeling like I took a tranquilizer. One benefit is that sleeping is a great way to ignore being hungry, and is makes it easy to ignore the amazing smell of the BBQ dinner my husband made.
Day two:
I woke up not feeling hungry, which freaked me out a little. Shouldn't I be ravenous? I really wanted some texture, actual chewing, but I stuck to the plan and mixed up my first shake. I kept this mornings blender concoction  fruity with orange juice and a banana once again.
I sipped on this for a couple hours while cleaning the house and getting laundry done. I had already planned on postponing any of my typical workouts for the weekend while I was trying this detox cleanse. If I'm cutting calories and changing my food intake, that is one stress on my body. Intense workouts are another stress, but not one I thought would be beneficial.
I was very hungry by lunchtime and I added milk with some frozen peaches to the shake mix. I wanted to add a few more calories and protein to my day. I needed something with substance by mid-afternoon so an apple did the trick.
Evening shake was a treat since I had fresh pineapple in the house. Although the blueberry shake is not my favorite, I mixed up the 4oz orange juice, 30 ounces of water, ice and about a half cup of fresh pineapple in the blender. Not bad!
I won't lie… I really wanted some of the BBQ my husband was enjoying.
Day three:
This morning I felt I had a rock in my stomach. I felt like I hadn't slept well and know I wasn't fun to be around. I started to gather the ingredients for the shake and made a decision.
I needed to eat protein. I needed to eat whole foods, just like I had been eating through my weight loss and fitness journey. I couldn't have another shake.
Instead I made breakfast and enjoyed it with my husband.
Cleansing toxins from your body? I don't think it's an overnight fix.
We recommend conducting a detox once per month or whenever you start to feel fatigued, bloated, or just plain gross.

Kaeng Raeng's 3 or 6 day programs help to:

remove toxins and chemicals from the body
jumpstart weight loss
improve overall digestive health
improve clarity of mind
improve mood and decrease irritability
clear skin
repair damaged hair
decrease flatulence, constipation, bloating, or excess water weight
decrease cravings for salty and sugary foods
make you feel better!
Some would say I gave up on this cleanse. Others would say I'm crazy for even attempting it. I didn't feel that I could tell you about this product without experiencing myself.
My main concern with these types of cleanses is the illusion of the scale. Yes, it will be lighter. No, it probably won't stay that way.
Liquid pounds can be easy to lose and quick to return. They usually bring a few extra pounds with them to compensate for overly quick weight loss. This is where the term "yo-yo" diet comes from.This is not a diet, but rather a "temporary" break in your current eating.
On the other hand, this may be the perfect door for you to walk through in order to start a whole new way of eating. Have you been wanting to commit to healthier eating? Ready to officially be a vegetarian? Then a product like this may make the transition a momentous event. I just don't feel like a test of courage is needed in order to make new healthier choices in your eating plan.
Go get your fit on – Heather
Disclaimer: A sample of Kaeng Raeng's 3-day detox cleanse was provided to me by Blink LA. Any opinions expressed in this review are my own, and opinions are based solely on my experience with the Kaeng Raeng  product and brand.

Heather Montgomery is a fitness writer, triathlete, and serial entrepreneur who is devoted to sharing what she has learned about becoming a triathlete after age 40. She uses her Metabolic Training Certification to help other women struggling to get fit in mid-life. She lives and trains in Santa Rosa, California, the new home of the Ironman triathlon. You can find her biking the Sonoma County wine trails.
Note: Articles by Heather may contain affiliate links and will be compensated if you make a purchase after clicking on an affiliate link.