Fitness achievements are fleeting and rarely captured the way you remember them. With the Samsung Galaxy Camera the concept of having a fully functional camera to capture amazing images and video is here. I've got the latest on the pros and cons of this brand new offering from Samsung.
Perfect for the blogger
This camera is a solution for social media and bloggers for one reason. You take a photo and everything you need to share that image to social networking is built directly into the camera, including editing on the fly
Get ready, because photography will never be the same again. The Samsung GALAXY Camera gives you the magic of professional digital photography with the powerful intelligence of the Android 4.1 Jelly Bean™ OS.

It's the smartest camera ever, with stunning photographic output and a range of exceptionally rich professional shooting modes, editing features and various apps. Going pro has never been this easy or this fun.
The queue for reviewing this product was pretty long and when I finally got my hands on it.
I admit I held onto this camera for reviewing a very long time. Long enough to use it to capture my fitness events in video, and lots of stills to include in blog posts. My son was in charge of using the Galaxy Camera to grab video of my first triathlon.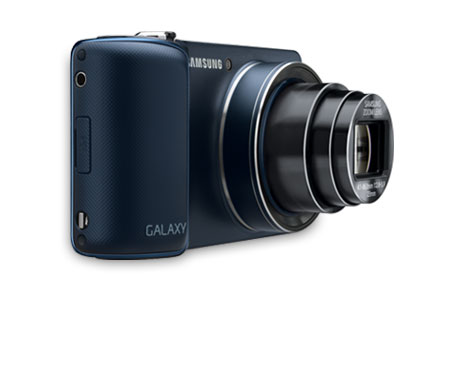 We took it on outings, kept it handy for events, and played with it in every lighting scenario imaginable.
The marriage of immediate access to social media with amazing quality photos was something I had been looking forward to testing before the camera was even released. The whole concept of being able to immediately share your photos and video via any social network is very cool. At least from a camera.
The zoom and photo options is what separates this camera from your phone. Quality and photo options like portrait, action, and landscape set up the camera for your ideal shot.
If you really know what you are doing, the best part of this camera is that you can go completely manual. Treat it like a digital SLR and you are good to go.
I handed it over to my photographer husband to test the manual features and he had some great notes. With each change to the aperture, ISO, or f-stop the display would give you immediate feedback on the shot. This would be a great teaching tool to understand how manual settings impact a shot.
Love the video capabilities and quality of the image.
The quality and features that the video supports turn a quick fitness video into a clear HD solution to capturing what you need. We used the video to capture 90% of the video at my first triathlon. The quality and results were great, and my son loved the huge display that made it easy to target and keep focusing on what you want to capture.
Not as thrilled with the camera response.
As a camera, I must be too comfortable with SLR reaction time. The camera features are amazing and offer control for every level of photographer, but the photo lag time was very annoying. It reminded me I was using a smart phone based camera, as opposed to a camera with smart phone capabilities.
Looking for a great camera to take on your next adventure? I would recommend trying the Samsung Galaxy Camera to capture the fun and be ready to share it.
Heather
Disclosure of Material Connection: I received the Samsung Galaxy Camera from Samsung as part of their test, review and return bloggers program. Any opinions expressed in this review are my own, and opinions are based solely on my experience with the Samsung Galaxy Camera. I am disclosing this in accordance with the Federal Trade Commission's 16 CFR, Part 255 : "Guides Concerning the Use of Endorsements and Testimonials in Advertising."

Heather Montgomery is a fitness writer, triathlete, and serial entrepreneur who is devoted to sharing what she has learned about becoming a triathlete after age 40. She uses her Metabolic Training Certification to help other women struggling to get fit in mid-life. She lives and trains in Santa Rosa, California, the new home of the Ironman triathlon. You can find her biking the Sonoma County wine trails.
Note: Articles by Heather may contain affiliate links and will be compensated if you make a purchase after clicking on an affiliate link.