Last updated on April 27th, 2014 at 12:47 pm
As a private chef,  I continue to live my dream of cooking for new people in new places all of the time.   It's exciting and different than the monotony of being a chef with a set menu who turns out the food but basically goes through the motions.
What all chefs have in common is the challenge of adjusting menu items to accommodate people who choose to focus on gluten free eating.
But is it a choice or a necessity?
Food manufacturers are capitalizing on the " gluten free" craze amongst Americans.  Why?  Because most of us are stupid and they are smart enough to cash in on people known as followers.
I had a relative who visited San Francisco, CA. recently and we wanted to spend time together.    I drove to San Francisco and we planned our day which of course included dining together.    My relative Adele,  came to me years ago when I had my business in New Orleans and was very distraught.   She was sick and doctors were trying to find the cause.   Low and behold, she was diagnosed with celiac disease.
She was devastated because after all, she was a native New Orleanian where flour and breadcrumbs are king.    The thing is, it was beyond that.    Red meat was making her sick,  chicken made her sick.    She asked me help her as a chef and as a close relative.   She gave me the " diet guidelines" from the doctor and I did additional reading.   I thought "Holy crap.  No wonder she's crying all of the time. She might as well eat cardboard."
So here we are in San Francisco, CA.  One of the best cities in the world for dining and we know that we have to find a restaurant who will accommodate a person eating gluten free. We went to one of the oldest restaurants in the city who has a solid reputation of ambiance, incredible food and old school waiters.
We were both very excited.  We opened the menu and it had millions of choices.  We wanted it all but we narrowed it down because we didn't want to have to mortgage a house to eat lunch.  Oysters Rockefeller was one thing we would share but there was already the red flag of – breadcrumbs and possibly flour.
When the server approached, she explained to him that she had celiac disease and had to ask questions before she ordered anything.   He immediately looked annoyed.  She asked if the chef could prepare the oysters rockefeller without breadcrumbs or flour.   The server replied " I'll ask but I doubt he will". Sure enough, the answer was no.   The server then added, " I have to tell you, you're going to have a really hard time eating gluten free with an old school menu.  It's not gonna happen."
We left
We went to another San Francisco long time dining establishment and the servers could not have been more accommodating and fun. The next day we had lunch at an authentic Peruvian restaurant in Santa Rosa, CA.   When Adele told the server immediately that she had celiac disease, the server said nicely but with a tone of  here we go again ,  Oh, gluten free eating?  My cousin said "No, this is more than just the fad of gluten free eating".    The server was attentive and kind and we again had a great time with great food.
Both restaurant visits were actually two of the best dining experiences all around that we've both had in a long time.
Let's get down to it here – if a person wants to eat gluten free and meatless when dining in some restaurants, here are your options:   fish, fresh cut potatoes, rice and veggies or salad from real head lettuce, not bagged lettuce and housemade dressing or oil and vinegar.   There's a bit of wiggle room but that's the staple for people who have a serious case of celiac disease, not who choose to eat gluten free because "they heard" it's healthier and will help them lose weight.
You'd be shocked at where gluten lives. Do you know why shredded cheese in a bag doesn't clump together?  Because it has gluten in it to keep it separated. Frozen french fries?  Gluten city.
People who have no choice but to eat this way or end up in the hospital know these things and study food ingredients with a fine toothed comb.  ESPECIALLY when dining out.
I wrote this blog post because I would love to hear my audience's input on gluten free eating as a choice versus a necessity. I understand there is also gluten sensitivity which is different than celiac disease.   I have no biased and I am sensitive (pun intended) to anyone with food allergies and sensitivities.    God knows, no one in their right mind would opt for these things.   It's like being gay.   It's not a choice.
I leave you with 2 things this week: A video from The Wall Street Journal.com. Health food columnist Melinda Beck educates us in just over 1 minute.
http://http://live.wsj.com/video/why-gluten-free-isnt-for-everyone/7146AE28-83CE-4EE2-8CC0-211C667E5357.html#!7146AE28-83CE-4EE2-8CC0-211C667E5357
This week's recipe is for Sauteed Giant Shrimp in Brandied Cream. It may be screaming with fat grams but hey, there ain't no gluten in it…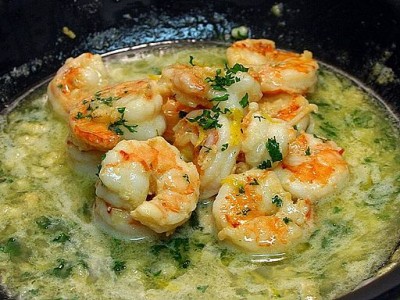 Pan Sauteed Giant Shrimp in Brandied Cream
Serves 4  or 1 person with PMS
20-24  U 15 or 16-20 count Shrimp, peeled, tails on
Butter
Decent to good Brandy
Heavy Cream
Salt
White Pepper
Black Pepper
Fresh Rosemary
Olive Oil
Fresh Lemon Juice
Marinate shrimp in a little bit of olive oil, lemon juice, garlic, salt, rosemary and black pepper.   Make sure all the shrimp are coated well with the marinade.  Refrigerate and let marinate for about an hour.   Heat a heavy bottomed skillet and add enough butter to saute shrimp ( about a 1/4 of a stick ).    Add shrimp to hot skillet and saute quickly until they just turn pink.   Remove from skillet.
Add brandy and either stand back or get a free eyebrow removal as the brandy will flame in the skillet.   After the flame dies, turn down the fire to medium and add about a cup of heavy cream.   Add salt and white pepper to taste and whisk it till mixed well.   Let the brandied cream reduce until there is half the amount.   Add the shrimp to the cream to finish cooking.    Eat with a nice tossed salad.
If you don't care about the gluten,  eat this over angel hair pasta and get a good crisp french baguette to soak up the sauce. If you wish to stay gluten free, dip a shoe in the sauce. It's just as good.
See you next week,
Maria