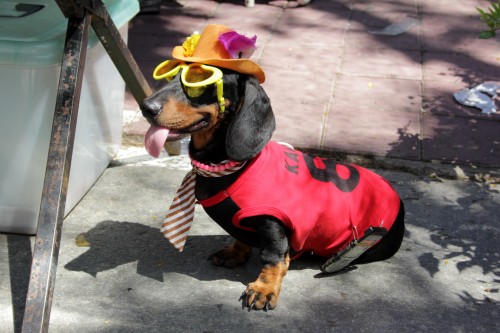 I love visiting local street markets on my travels and the Gaya Street Market on Sundays is the best known and most popular market in Kota Kinabalu, the capital of the Sabah province in Malaysian Borneo.
Colourful umbrellas shade a multitude of stalls selling fresh produce, crafts and more. The most popular stalls include an old man writing people's names in exquisite calligraphy and the fresh coffee sellers, each with a little generator running a grinder and bagging up the fragrant coffee on the spot.
My daughter loved the hair clips, the fake Hello Kitty bags and the animals. At first I was hesitant, thinking these may be sold for food as you see often elsewhere in Asia. But no, the fluffy bunnies, kittens, puppies, birds and fish are all at pop-up pet stalls.
Against the side of the street a line of blind people sits, providing massages on low stools. The air is bright in Kota Kinabalu, the sky blue all morning, the sea glitters and the enclosing jungle is emerald green. I just wish the masseuses could see it.
Here are a few of my favourite photographs of the Sunday Gaya Street Market in Kota Kinabalu: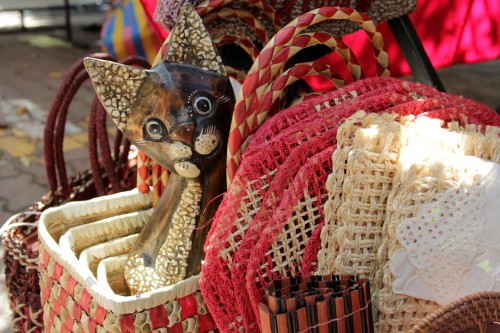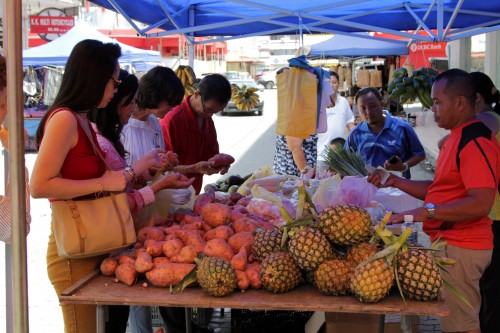 Happy travel dreams!
Natasha
Natasha von Geldern is a travel writer, editor, and blogger who is passionate about making the pages of the atlas real by traveling the world. She is a contributor to Travel Wire Asia, Wild Junket Magazine, Yahoo! Total Travel, and Travelbite. You can find her on her travel website and blog, WorldWanderingKiwi.
Note: Articles by Natasha may contain affiliate links and may be compensated if you make a purchase after clicking on an affiliate link.