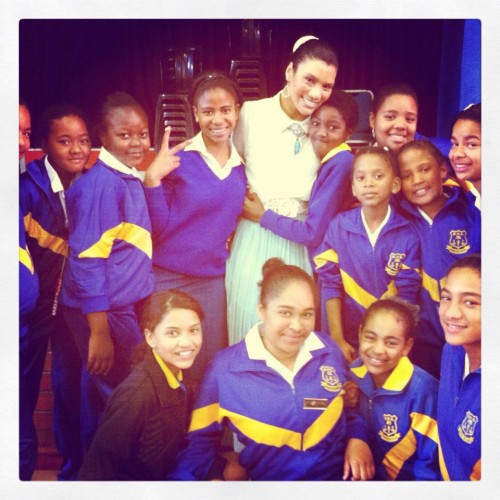 Motivational speaking, especially to young girls, is a dream come true.
It's been six days since my family and I relocated from our home in the mother city, Cape Town, South Africa to the city of Pretoria, which is a two-hour flight and 40 minute drive from Oliver Tambo International Airport. I can honestly say that it's been a hectic adjustment for me.  I have no support system or family that lives here (with the exception of my husband and our daughter).
This move to another city is opening new doors for my husband (and myself) and once I'm settled in I plan to pursue my international public speaking dream full-time.  It is my dream plan to touch the many lives of young women in my country, and one day, internationally.
In the last week just before I left Cape Town, I was invited to do a talk at a school nestled in one of Cape Town's underprivileged communities. I delivered a speech to almost 200 girls ranging in grades from 4-7 along with their teachers at The Bridegville Primary School.
My good friend Nicole, who was also a student at this primary school, decided to join me and introduced me to the  polite principal of the school, Mr Albert Arendse.
We both agreed that inspiring young girls was imperative in these times, especially if they come from an underprivileged community with a high percentage of gangs and drugs.
While sitting and speaking to the principal I also realized that my dream was coming true. I cannot describe the feeling I had at the moment when the principal kindly thanked me for speaking to the girls.  It's like you become two people when you see your dream coming true — the person living the dream and the person observing you living your dream.
It's so surreal.
Fulfilling my dream is a goal, but touching the lives of many is my destiny.
My dream is really so much more than simply achieving my goals — it's a true passion of mine.
When I arrived at the school I was escorted to the school hall, where the students and teachers were seated. When I entered the hall, I could feel all the stares from the girls on me as they were trying to sum me up in the first five minutes.
To break the ice I usually wave and smile and get some back in return. I was introduced by the principal and within 5 minutes of arriving I took the stage.
The talk went well. I presented my "Wear Your Invisible Crown" talk which consists of the following lessons for girls:
Respect yourself
Understand that you are precious, no matter what your size or shape
Appreciate friends and family
Dream big
Good manners and respect for others
Protecting yourself from people who hurt you
How Bullying does not contribute to something positive
Upholding a good self image in your community and work hard to achieve your goals
The Q and A session was a heated one. I always look forward to this few minutes as kids aren't afraid to ask questions. I answered questions about family politics, bullying, why respect is important — even when people treat them bad. It was very intense, but I loved that they asked difficult and challenging questions.
Some even asked very personal questions, which proved to me that I had gained their trust.
We had a photo session afterwards and before I knew it, it was over. I had taken one more step closer to achieving my dream of being an international women empowerment speaker.
Even though it was my last talk at a school in CPT I am so happy that I left my own personal mark in a positive way.
Now I continue my dream in a new city, with a new audience.
I am excited to speak at many schools and empower young girls and women from all over.
Until then I leave you with this:
When obstacles arise, you change your direction to reach your goal, you do not change your decision to get there."

-Zig Ziglar
Just pursue your dream, even if it requires you to move to another city.
Sue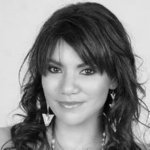 Sue Levy is the founder of the South African Just Pursue It Blog and Inspirational Women Initiative. She's a motivational writer and media designer, who is obsessed with everything inspirational with a hint of geek. She thrives on teaching women how to be brave and take big chances on themselves. You can find Sue on her Twitter page @Sue_Levy.
Note: Articles by Sue may contain affiliate links and may be compensated if you make a purchase after clicking on an affiliate link.