Last updated on July 13th, 2022 at 03:36 pm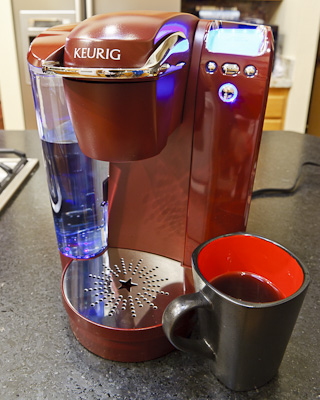 Before I dive into this week's product review, I have a confession to make.
I am a coffee snob
I blame my husband for weaning me off of lattes and over-roasted cups that required cream and sugar. His own addiction to really good coffee took a while to rub off on me, but we are pushing 13 years together and that tends to happen eventually.
When I was approached to review the single cup brewing system by Keurig I jumped at the chance for 2 reasons:
I wanted to see just how convenient it was to have a fresh, hot cup of coffee anytime I want
I wanted to give one away!
Yes, you read right. We had the opportunity to give a brand new Keurig Platinum Brewing System away to a lucky reader and we did!
Pretty shiny things
Those who have been keeping up with my product launch reviews and product launch dream know I have a desire for well-designed things. It can be packaging, the interaction of an online interface, or just well thought-out product design. When done right, design makes me happy.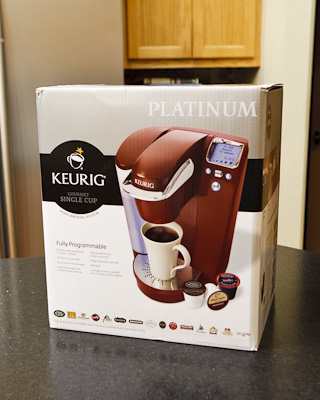 Keurig does it right as soon as you open the box. Clear photography and clean design make you want to tear open everything and get to the product as soon as possible. The simple illustrations in the user manual and getting started guide keep the easy experience going.
The set-up and prep for getting ready to brew the first cup took a whopping 5 minutes. I knew the concept of single-cup brewers, but having never played with one before, I had to take a few moments to push all the buttons.
After spreading out a dozen varieties that come with the Keurig Platinum Brewing System we chose "Emeril's Big Easy Bold Coffee" for the first cup to taste test. It was a decent cup, not as bold as I was expecting, but with great color and flavor.
The machine had a super quick response and quiet brewing. For those of us who occasionally burn the midnight oil, having a way to get a caffeine boost without waking the house is a bonus. Overall a pretty good result for such a quick process.
Add some flavor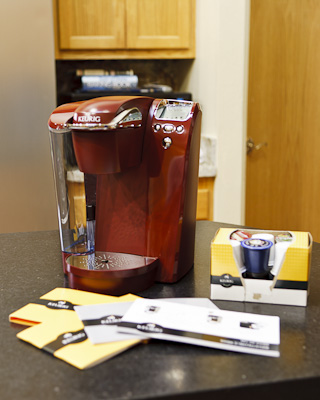 I had to try a flavored coffee for a change of pace. Disclaimer: I'm not a huge fan of flavored coffees. We never brew them in our big coffee maker after having a bad experience with a flavor that lingered far after the pot was gone.
This is the perfect way to try something new. The "Van Houtte French Vanilla Coffee" smelled great while brewing and had a light vanilla note in a mild city brew.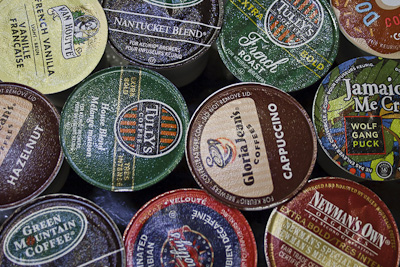 Everyone in the house wanted to play with the new shiny object. We looked at the over 240 K-Cup varieties available, including some of my favorites like Chai Tea and several hot chocolate options to keep my son happy.
The Keurig Platinum Brewing System is quite a pretty, shiny appliance. And the "Gloss Cinnamon" color looks great in my kitchen.
What is the best coffee?
If you are looking for a quick easy coffee experience, this just may be the perfect solution for you. Is it the best coffee? Not having tried all 249 varieties I have to say my jury is still out. But I can tell you for our crazy mornings around here, a quick cup can make the difference between an on-time school drop-off or hearing the tardy bell as you pull up.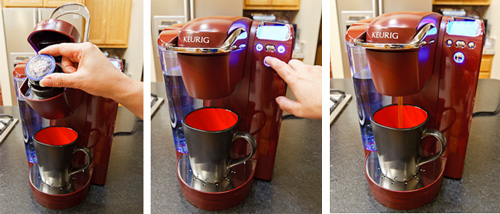 You want one of your own now, don't you?