Last updated on July 12th, 2022 at 02:46 pm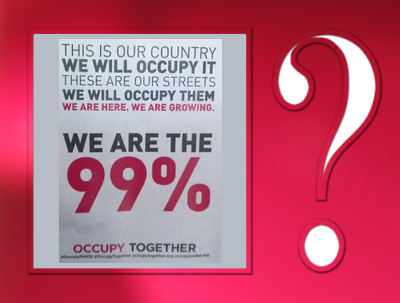 When a dreamer thinks of a life of activism, several recent protest movements probably come to mind. There's the Women's March, the Hong Kong protests, and, of course, Occupy Wall Street.
Occupy Wall Street was a protest movement that began on September 17, 2011, in Zuccotti Park, New York City against economic inequality. You remember–the 1%–the percent of the world's population who holds over 47% of the global wealth.
Yeah, that one.
In my youth, I did some "sitting-in" protests on several issues that mattered to me, like nuclear weapons research in public universities and the investment of public and corporate money in the then-Apartheid state of South Africa.
My sitting-in was brief for two main reasons.
One, I had stuff to do, and I couldn't be sitting-in when I had three essays to write, two jobs to get to, no clean clothes to wear, and midterms. Two, I always had this doubt floating around in my head: Okay, we're all sitting-in, and we're being noticed. But is this protest going to change anything? Is there something else we should be doing besides sitting in?
Usually, my doubts would bubble to the surface when I'd notice that sitting-in was beginning to attract participants who really knew nothing at all about the issue at hand, but who wanted the attention of sitting-in and being uncooperative. By and large, it was the anarchists who showed up at that point. It happens in any and all protests. The original protest gains a certain amount of momentum and then you start to get an element that wants to co-opt the movement for their own agenda.
Co-opt is a word I have not used since about 1978. It makes me feel all warm and fuzzy inside.
The Occupy movement was doomed as soon as the anarchists got the upper hand at Occupy Oakland and began to destroy private property. It got ugly, and it would have been so much better if 99 percenters had noticed the anarchists were circling. Anarchists showing up is the universal signal that whatever you have been doing in protest has reached its peak and is about to enter an intense, downward spiral, culminating in fragmentation and loss of power.
When you spot the anarchists, don't wait! Move on and figure out what to do next.
Back in the day, we used our sitting-in time to strategize what concrete actions we could take to move the great wheels of the University and corporate America in our direction. This way, when the anarchists showed up, we had a next step to take, and we'd be long gone by the time the campus police started nosing around. ("Nosing around" is a polite euphemism. This was the tail end of the protest era. "Nosing around" was done with helmets on, plastic eye protection in place, and pop cans of tear gas).
In our strategizing, we started not by focusing on the power we didn't have, but rather by focusing on the power we did have.
Take South African investments, for example.
One of the largest corporate offenders was (drum roll, please) Bank of America. You know what they say, the more things change, the more things stay the same. Back in the day, most university students had their meager cash in Bank of America accounts, because Bank of America targeted university students as the perfect customer. It wasn't for our $50 checking accounts; it was for our future white-collar salaries, mortgages, car loans, and credit card debt. Our $50 checking accounts were the power we didn't have.
Our future consumer behavior was the power we did have.
We decided to take our future consumer behavior and give it a new home in a credit union or small local bank with responsible investment policies. It was a major pain for us because this was before ATMs and debit cards and Saturday branch hours. If you needed money, you wrote a check for $10 over your grocery bill, or you went to the actual bank branch (rushing to get there before 3 pm, the traditional witching hour for banks). You had to do some real thinking and plotting to figure out how to get cash from a credit union that was across town, or maybe even out of town.
But we decided to do it anyway. And it worked. It took a while, but eventually, enough of us moved that Bank of America finally realized they were trading their future profitability for a current profit-making expedient. They stopped investing in South African Apartheid.
And after that, they fell like dominoes: all the other corporate investors in South Africa came out and announced divestment. And you know what happened next? Apartheid, choked of its source of financial stability and shamed by the eyes of the world, fell.
It was great. We changed the world. It started with sitting-in, but we used our sitting-in time wisely, and then we actually did something meaningful.
I am 99%. What now?
I propose that we, the 99%, become mindful of how and where we are spending our money. Because in fact, we created the 1%, one dollar at a time. There were so many of us that the dollars added up really, really fast. Many corporations who gladly took our money $1 at a time did stuff with it that now we wish they hadn't done.
Like, ship jobs to India instead of hiring people here. Like, buying stuff from China instead of manufacturing it here. Like, as accumulating big pools of cash and hoarding it offshore instead of
(a) paying taxes on it so we could get some damn potholes on the roadways filled, or
(b) re-investing it toward the health of the economy.
I'm not saying it's our fault. But it is our accountability. We created the 1%. What are we going to do to un-create it?
Here are 3 steps I take in Support of 99% Activism:
1. Bank with a credit union, which doesn't make a profit and at least makes a show of serving its members.
2. Buy my groceries seasonally and locally. Not always the cheapest or most convenient solution, but one that is worth the effort.
3. Remain conscious at all times that where I put my dollars is what I de facto support, and ask myself what I am supporting.
These are tiny steps, and if I do them all by myself no big corporation is likely to notice me. But I have to do something, and the only behavior I can control is my own. So here's where I plant my stake.
What activities are you participating in to make the world a better place? How are you dealing with the 1%?
Jayne Speich
Jayne Speich is an online instructional designer, Associate Teacher, and a small business E-Myth coach residing in the beautiful Northern California Wine County.
[table id=107 /]