Last updated on May 17th, 2012 at 07:51 am
This past weekend was my birthday. Instead of focusing on my aging days, I decided that life is too short to nag about getting older. Life is too short to pass on the sugary sweets. Life is too short not to make every wish come true before you blow out the birthday candles.
And, above all, life is too short to not swap out your birthday cake for cake batter martinis.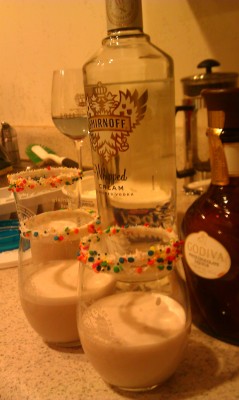 (I posted the recipe for Cake Batter Martinis at the end of the post–you'll thank me later.)
1. Have my birthday cake in the form of liquid–the cake batter martini.
Best of all, a liquid "cake" won't sit in my kitchen all week for me to munch on. It's just one–or two–rush(es) of sugary sweetness and alcohol to make you feel good, not guilty.
For the record, these were delish! I am still thinking about them and when I can shake them up in my martini shaker again. The perfect garnish, if you will, is to rim the glass with frosting and dip it into sprinkles that same way you salt a rim for a margarita.
2. To get something for free. 
(See below)
3. To go skiing.
Both dreams 2 & 3 came true at Arizona Snowbowl.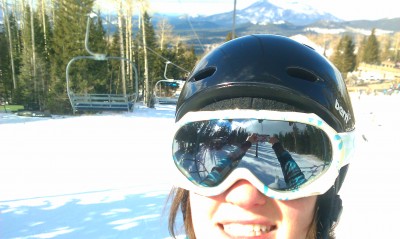 Yes, you can ski in Arizona–we've had 65 inches of snowfall this season so far. (Letting people in on the lesser-known amenities of Arizona is kinda like my previous post about Wine Travel in Arizona.) Just like these fine varietals grow in the high desert altitudes surrounded by Arizona mountains, the skiing in the Grand Canyon state sets the stage for some of the best in US.
Where else in the world can you ski with no-wait lift lines that carry you up to snowy summits that offer visibility of the Grand Canyon on a clear day and then allow you ski down to sunny, t-shirt weather below?
My favorite part about skiing in Arizona was that they let me ski for free on my birthday. I will take that lift pass over a restaurant slice of cake any day!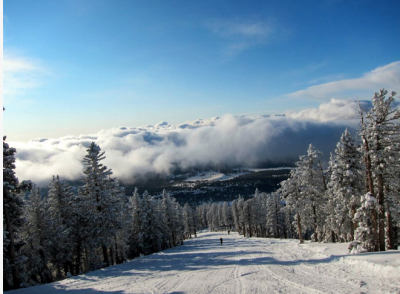 During the summer, Â Arizona Snowbowl keeps the lift open to do a scenic skyride. This picture below was taken at almost the exact place as the snowy ski scene above.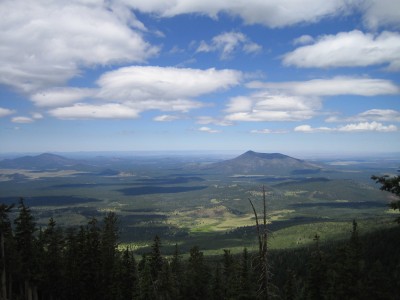 4. Find a holiday party to piggyback onto my birthday celebration.
That's easy this time of year. Â Holiday parties are all over the place. Lucky for me, there was one in my own (neighbor's) backyard.
Making the most of your birthday is all about making the most of what you have. Like my three engineer neighbors making the most out of the mounds of snow in their backyard. Snow cooler genius!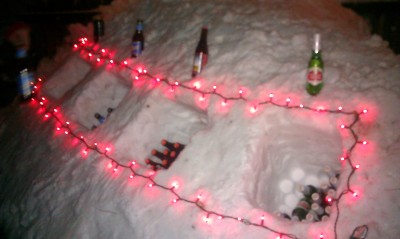 As for making the most of my day, I knew I wanted to spend the day skiing alongside Ponderosa pines and sunny blue skies, so I did. I had the vision, I made the plans, I called the place and found out if they had birthday deals.
Just like with our dreams, you have to go for it.
I would have regretted not going. And, if I didn't have the drive to investigate, I would have never known I could have my lift ticket paid for. Morals of the story? Turn your dreams into actions–and it never hurts to ask.
5. Make a wish for the upcoming year. 
I can't share everything I whisper to myself before I blow out the candles, but I can share this: I have been very fortunate in my life, work and travels that this upcoming year, I want to use my life to help others travel out into the world to find an experience that changes them forever. I don't have any of the details worked out on this wish so far, but I feel called to do this–however big or small it may become.
As my favorite birthday card told me:
May the year you are about to enter grant you the promise of success that knows no bounds,

friendship, love and blessings from above

and dreams you never imagined would come true.
Here's hoping my next year–and yours–will hold the pleasant surprises of possibilities beyond our imaginations. Cheers!
How to make your own Cake Batter Martinis
This is my recipe–one that comes from being to antsy to measure everything out. Life's too short to make exact measurements on your taste preferences.
–Whipped Cream vodka
–Godiva White Chocolate Liquer
–Creme de Cacao
–Whipped Cream
For more exact measurements, check out the recipes on How Sweet it Is and Grin and Bake It. 
If you are wondering what culinary act of absolute wrongness and deliciousness could possibly follow a cake batter martini, it's the mac-and-cheese pizza to kill the hangover.
Katie

Enjoy this special 8WomenDream Guest Contributor story submitted by new and experienced big dreamers throughout the world, edited and published to capture a dream perspective from different points of view. Do you have a personal dream story to share with 8WomenDream readers? Click here to learn how to submit dream big articles for consideration.
Note: Articles by Guest Post Contributors may contain affiliate links and may be compensated if you make a purchase after clicking on an affiliate link.