Last updated on July 14th, 2022 at 04:44 pm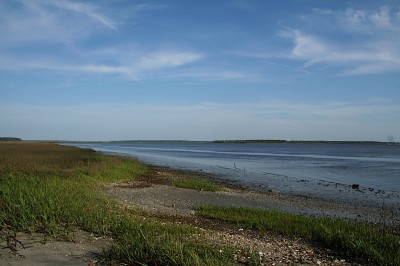 We had 1,400+ miles to cover in two days, on a drive-by tour spanning the eastern coast of the U.S., from Western Massachusetts to Southern Florida.
My brother Shanti and I were driving from Longmeadow, MA to Fort Myers, FL in my dad's Toyota Highlander, which was crammed full of suitcases, backpacks, a fake Christmas tree, bags of food and coffee, gifts, and snacks.
My dad had asked us to drive the car down, rather than fly since he and my mom would be spending four weeks at their condo in Fort Myers.
My sister Margaret and her boyfriend Nick would then drive the car back to Western MA in mid-January.
Road Trip
We were all set up with snacks, CDs to listen to, plenty of beverages, and good company. My brother and I took turns driving, in three-hour shifts. We drove from 9:30 a.m. to 1 a.m. on Saturday, and then from 10 a.m. to 11 a.m. on Sunday.
Whew.
Luckily, we enjoy each other's company and were well-fed and hydrated. We listened to a CD set on how to make a million dollars and manifest your dreams. We followed a countdown of the top songs from 1987 on a Satellite radio 1980s station, featuring a "Veejay" 1980s countdown with Martha Quinn and Nina Blackwood, originally MTV "VJs" from the 1980s.
Shanti cheered the Patriots on during a Sunday match broadcast on Satellite radio. We Facebooked and emailed on our iPhones (I wrote new status updates as we crossed state lines), talked to friends, and discussed Buddhism, philosophy, and the meaning of life.
We passed by NYC and Washington, D.C.; cruised through Delaware and North Carolina; passed the Coosawhatchie River in South Carolina; drove by Tampa, Port Charlotte, and Sarasota. Finally, finally, after two full days of driving, we made it to Fort Myers.
Overall it was an outstanding road trip.
Christmas in the Sunshine State
It would not be a white Christmas for us, and that was OK with me. Over the years, my family and I have essentially become "snowbirds," fleeing the Northeast for warmer climates during the most bitterly cold weeks of winter.
I have managed over the past several years to spend my winters in all of the above: Argentina multiple times, Hawaii twice (including this coming January), India, Florida, and New Jersey (which is at least slightly warmer than New York, with less snow), San Francisco, and San Diego. When the temperature is dropping into the zeros and teens, I am generally hopping on a plane and flying south.
I have gotten used to spending Christmas somewhere where there is no snow, and preferably, where there are palm trees. Although I think the four seasons are beautiful, and I enjoy spending some time outside in the cold winter air which makes you feel incredibly alive, I am also fine with spending my holiday season somewhere sunny and warm.
Spending Christmas-Week Poolside
Shanti and I finally arrived at my parents' condo in Fort Myers and settled in for the night. Yesterday, Monday, turned out to be a perfect day: sunny and 80 degrees, with a slight breeze.
I had coaching calls in the morning with clients from Estonia and upstate New York and then enjoyed a delicious lunch with my dad and brother at Chef Brooke's Natural Cafe in Fort Myers, which serves organic food with lots of vegetarian options. I had a tempeh Reuben with purple cabbage slaw and sweet potato salad, along with a Green Goddess drink (celery, kale, spinach, lemon, ginger, and Spirulina).
By the time we finished lunch, the temperature was up to 80 and I decided I wanted to sun myself poolside before doing any more work. I put on my green peace bikini (one that features silver hearts and peace signs) to match my rhinestone peace sign necklace that I was already wearing, put on my big fake movie star shades, and headed to the pool that is just a few hundred feet from my parent's condo.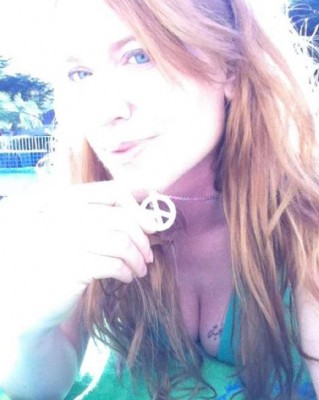 I spent an hour sunning myself on a chaise lounge with SPF 8 sunscreen, which meant that by the end of the day I had turned a bit pink. I am apparently one of the palest people on the planet, or at least seem to be the whitest person around just about everywhere I go, so "tanning" really is a foreign concept to me.
I just like the feeling of the sun on my skin, especially knowing that had I been back home in New York, I would have been freezing my butt off.
Working On the Dreams for Next Year
The rest of the day was wonderful as well. I got some work done, headed to Planet Fitness for a brief workout, and then met up with my brother, dad, and mom, who had just flown in, to dine at Il Pomodoro, a family-style Italian restaurant located nearby.
The food was garlicky and divine, and I had a few glasses of red wine with my cavatelli with spinach and broccoli and my gorgonzola salad. We headed back to the condo at about 8:30, everybody sated, and with plenty of leftovers in carry-out boxes for lunch the next day.
I sat in front of the TV with my laptop to finish this blog post. Two glasses of pinot noir had made me such a sleepy girl, however, that I was soon under the covers in bed with my laptop, attempting to finish this. Soon enough, I conked out, and awoke suddenly at 3 a.m. again and have been up ever since. Ah, what peace and silence there are when we wake up before sunrise. What a tired girl I will be later too, I'm sure, but there is always the option of taking a nap poolside, so I'm not complaining.
My Top Three Wishes
When I woke up at 3 a.m., I promised myself that if I was still awake by five I would work on my goals for 2012.
5 a.m. came and went and I decided that I'd write down my "top three wishes" for 2012 along with the list of my top ten goals overall for the year. The "top three wishes" are simply those heart's desires or dreams that are most important to me in the coming year.
My top three wishes for this year are as follows:
1. Finally complete and publish my first book (a project launched here on 8womendream) with the hope and intent of touching, moving and inspiring thousands and someday millions with my words.
2. Grow my life coaching, public speaking, and teaching business so that it is sustainable and profitable, allowing me to generate great abundance while having tons of fun and positively impacting as many lives as possible (helping others to make their dreams come true).
3. Create a fun, sexy, happy, loving, committed love relationship with one very lucky guy.
Being the Genie
After all the magical, miraculous adventures that I have had lately, I have the sense that I have "found the genie," or stumbled onto Aladdin's magic lamp, and that I can manifest my top three wishes, and help make the wishes of others come true. Really, for me, "being the Genie" is about believing 1000% in your dreams, and in the power of the universe to help make them happen.
Of course, once we commit to our dreams, we need to take continuous and inspired action to make them happen. I don't believe that we will get everything we want if we just sit on the couch and hope and wish and pray that it comes our way. I think we are instrumental in making our own dreams come true. Seems obvious, right? But this is sometimes forgotten in an era of "The Secret" book and movie, Law of Attraction teachings, and of course the "American way" of wanting instant gratification, or something for nothing.
I think that we can "be our own genies" by being clear about what our wishes are, and then getting in motion to make those dreams come true while trusting completely that the universe will support us on the path, and that "this or something better" is always coming our way.
I get it that for many people trust and surrender to the universe can be challenging at times since we've all been hurt once or twice in this lifetime (at the very least) and been disappointed sometimes when our fondest hopes don't map out. I get that.
However, I feel crystal-clear that life is always supporting us in creating what serves our highest purpose in the world, what will bring us the most joy and allow us to best serve humanity on this planet. If you can't find it in yourself yet to trust in this, read my miracle story here for more evidence, and be open to the possibilities.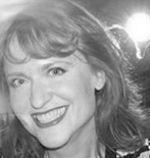 Lisa P. Graham is an inspirational writer, life coach, TED motivational speaker, and globe-trotter whose passion is to help others to find happiness and meaning in their daily lives. A political activist at heart, Lisa would like to empower more women to run for political office as a way to create positive change in the world. You can find her on her website or watch her TEDx speech on YouTube.
Note: Articles by Lisa may contain affiliate links and may be compensated if you make a purchase after clicking on an affiliate link.