Last updated on March 26th, 2013 at 09:59 am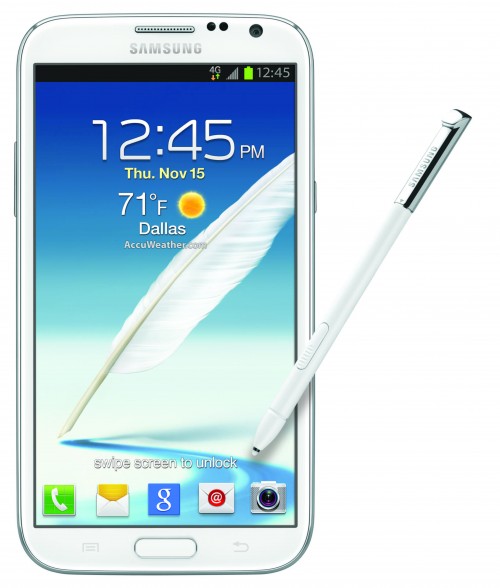 A drizzling morning in San Francisco a few months ago, fellow dreamer Catherine and I attended an event with the Samsung product team. All the new technology was on display for us to get to know. With our tech background, the opportunity to play with all the Samsung toys in one place made for a great way to spend the morning!
As part of the launch program, we had an opportunity to borrow a device to test and use in real life. Little did I know that having this device with us over the holidays would make my iPhone addicted husband willing to trade it in for the Samsung Note II.
Reasons the Samsung Note II is on my upgrade list
1. Weight
For it's size the Samsung Note II packs a lot into 6.34 oz. The larger 5.5″ display and super thin profile don't add the weight you would expect. All the iPhone users wanted to compare how it felt and fit in their pockets. Let's just say the larger format made everyone with failing eyesight super excited when the could read everything so well without having to find the reading glasses.
2. Screen clarity
Clear, shiny and saying this beautiful display is HD doesn't quite tell the whole story. The size and clarity of the screen makes it so true to life. Watching videos is a dream on Samsung Note II and the bigger screen makes it easy watch shows without feeling like you're squinting to see the details.
Popup Video lets you take a look at a video without leaving the screen you are on, while resizing and moving it wherever you need. This lets you keep reading an article while watching a video at the same time. Very handy!
3. Camera
Taking a group photo just got a whole lot easier. One of the features of the camera is "Best faces" that lets you pick the best face for everyone in a group shot. It takes a few photos of the group and lets you pick the best face of each person from different images, and puts it all together in one ideal photo.
Another option is the ability to write on the back of the photo – just like we used to when we had piles of printed photos. A great way to keep track of events or names on the photos you take.
4. S Pen
Getting back to using a stylus is interesting after years of touch screens. At first you forget the option is there, but this tool can't be classified as just a stylus. The S Pen allows pressure sensitivity that you can take advantage of in the Idea Sketch. It knows that more pressure makes a thicker line and is precise enough for detailed handwritten notes. Need to clip out part of any image? The S Pen clipping features lets you grab pieces of images without having to grab a screen shot.
Quick commands let you configure just what you want to pop up with a button push on the pen, or a swipe up the screen. Keep your most used features just a click away.
5. Functionality
There are so many unique features to the Samsung Note II that just make it easy to use. Got a phone call? Just cover the screen with your hand and the Palm Mute feature turns off the ring and vibrate. In a meeting? Put the Samsung Note II face down and all your notifications will be muted until you turn it back over.
The ability to configure all the interactions with the interface – from custom vibrate patterns to how you can interact with the screen with only one hand make it an amazing tool for business.
Save your upgrade
I've had this conversation with 3 people in the last week. If you have an upgrade coming up on your phone plan, and you haven't had a chance to play with the Samsung devices, I really recommend trying them out.
– Heather
Disclosure of Material Connection: I received this product free from Samsung as part of their test, review and return bloggers program. I was not required to write a positive review. The opinions I have expressed are my own. I am disclosing this in accordance with the Federal Trade Commission's 16 CFR, Part 255 : "Guides Concerning the Use of Endorsements and Testimonials in Advertising."

Heather Montgomery is a fitness writer, triathlete, and serial entrepreneur who is devoted to sharing what she has learned about becoming a triathlete after age 40. She uses her Metabolic Training Certification to help other women struggling to get fit in mid-life. She lives and trains in Santa Rosa, California, the new home of the Ironman triathlon. You can find her biking the Sonoma County wine trails.
Note: Articles by Heather may contain affiliate links and will be compensated if you make a purchase after clicking on an affiliate link.