Last updated on April 27th, 2014 at 12:49 pm

I have a friend whose mom is sick. Doctors are not able to figure out what is wrong with her mom, so they have been enduring test after test within the current medical system, which just sends them from one facility to another with no end seemingly in sight.
"It's exhausting, frustrating, and heart-breaking," she tells me.
We chat on the phone when it's more than she can handle. The other night she seemed unusually exhausted so I asked her what days are the hardest. "Mondays and Fridays" she quickly replied. She's a single mom with a family of her own. I nonchalantly asked what foods her mother missed cooking and eating because when people get sick, the first thing they do is give up making "meals."
You simply don't have the time or energy.
Monday morning I walked into my kitchen and immediately turned on some New Age music featuring violin and piano. These two musical instruments transcend me. I thought of her mom as I removed veal shanks from the fridge. I looked at my "mise en place" (prep, set up) and I smiled as I closed my eyes.
I heated the pan to ridiculously hot and I seared the shanks. I released the frustration and fear that my friend and her mother are experiencing through the meat. I then put the shanks in a pan with red wine, beef stock and seasonings and put them in the oven to slowly become mellow and tender.
I cooked polenta because it's one of her mother's favorite foods. I made it rich with butter, cream and cheese. I tasted it. It was perfect and even gave me comfort. I dropped the dinner by to my friend to take down to her mother.  The gesture makes her cry.
As a chef, cooking is something that is second nature to me. Sometimes it has to be done so quickly, there isn't enough time to pour love or fun into each step. Those of you who aren't chefs can relate perfectly because the world is so fast-paced. We lose so much along the way like the things that really matter: love and playfulness.
My dream is to heal people through food and I invite you to join me.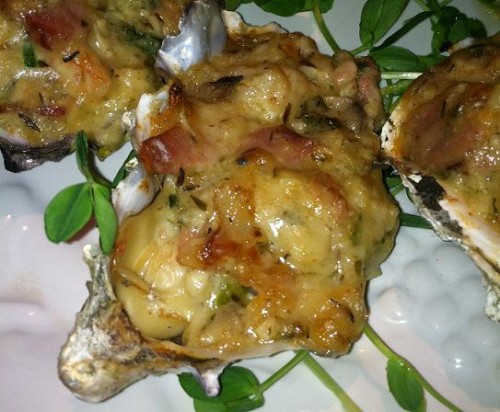 This year cook for other people when they are sick, busy, exhausted, or just barely making it in their lives. The love you can send through food is powerful and nourishing. Being silly and playful while cooking will certainly carry over into the dish that goes into the hands of the people eating it.  It's impossible to be unhappy when you are cooking for others who need it.
This concept doesn't just apply to humans.
My cat Francine became ill and was diagnosed with Crohns' disease. I also suspected a stomach tumor. My veterinarian said, "It doesn't matter what she eats, just make sure she eats protein." I went home 3 times a day to poach fresh fish for her.
She got bored with the fish because, after all, she's a cat.
I was at wit's end to find something she would like to eat. One day I had PMS and I went through the drive-through line at Popeyes Chicken restaurant. I ordered their 2-piece white meat, spicy. When I got home with the chicken, Francine-the-cat went nuts. She tried to eat the chicken out of the box.
I cleaned off the skin and spice and I broke it up for her on a plate. She ate it in record time. I was both amazed and amused. I started going to the same Popeyes Chicken drive-through twice a day. I'd order 1 breast, mild, no biscuit. Of course I went through all of the shifts and got to know the employee's faces. I didn't say a word nor did they for that matter.
They just looked at me like I was nuts.
One day I got to the window and I said, "Look. I want to explain why you see me twice a day, 7 days a week and give me the same order over and over." I told the person at the window the story. He said "Oh that's so sweet! I will tell the rest of the employees and we will make sure to have fresh chicken breasts for Francine!"

I know he also was also thinking, "I will also let them know that you aren't a complete lunatic!"
After a week had passed, another employee asked me for a picture of Francine. They began to ask me how "the baby was doing" when I'd pick up her chicken breast. One day I parked in the parking lot and went inside the restaurant. I'd made a huge pan of pasta with shrimp for all of them. I told them how much Francine and I appreciated them. The smiles on their faces were priceless.
A few days passed and the person at the drive-through said, "Miss Maria, park your car and come inside. We want you to see something." I walked inside and they pointed to the wall. There was this big plaque which read "CUSTOMER OF THE MONTH" and Francine's picture was under it. I almost wet my pants from laughter.  I was so touched.
I only wish they would have asked us to do a national commercial for Popeyes…
So you see? It all comes full circle. Give love and fun and you get it back in volumes.
This week's blog comes to you from Donner Lake, California near the Nevada state line and not far from Lake Tahoe. I spontaneously came here with my friends to watch football, relax and play in the snow.
This is only the 2nd time I've seen snow in my life.
I leave you with a video of me cooking in the snow and pouring love and playfulness into the food that a group of us will eat while watching NFL playoffs.
My recipe choice is Osso Buco because well, it's simply the bomb.
Osso Buco
4 1 1/2″-thick crosscut veal shanks, tied with kitchen twine
Kosher salt and freshly ground black pepper, to taste
1 cup flour
2 tbsp. canola oil
3 tbsp. unsalted butter
2 large onions, minced
2 medium carrots, minced
2 ribs celery, minced
2 tbsp. tomato paste
1 bunch flat-leaf parsley
5 sprigs fresh thyme
2 bay leaves
1 750-ml bottle cabernet sauvignon or dry white wine
1 cup veal or beef stock
8 cloves garlic, minced
Zest of 3 lemons
Heat oven to 325º. Season veal shanks with salt and pepper. Put flour on a plate and dredge veal in flour, shaking off excess; transfer to a plate. Heat oil in a 6-qt. Dutch oven over medium-high heat. Working in 2 batches, add veal shanks and cook, flipping once, until browned, about 10 minutes. Transfer veal shanks to a plate; cover.
Add butter to pot; stir in onions, carrots, and celery and cook, stirring and scraping any browned bits from bottom of pot with a wooden spoon, until soft, about 10 minutes. Stir in tomato paste and cook for 2 minutes. Tie 3 parsley sprigs and thyme with kitchen twine and add to pot along with bay leaves, veal shanks, wine, and veal stock or 1 cup water. Bring to a simmer, season lightly with salt and pepper, and cover.
Transfer pot to oven and cook until veal is nearly falling off the bone, about 1 1/2 hours. Transfer veal shanks to a plate and cover with aluminum foil. Discard herb bundle and bay leaves. Heat pot over medium heat and reduce liquid by half.
Transfer veal shanks back to pot, spoon over liquid, and cover to keep warm. Meanwhile, finely chop the remaining parsley leaves and toss in a bowl with the garlic and lemon zest. Sprinkle some of parsley mixture over veal shanks and serve family style from the pot along with the remaining parsley mixture. Set aside a skinny spoon to dig out the marrow or just use your mouth.
It's the best part.
Maria

Enjoy this special 8WomenDream Guest Contributor story submitted by new and experienced big dreamers throughout the world, edited and published to capture a dream perspective from different points of view. Do you have a personal dream story to share with 8WomenDream readers? Click here to learn how to submit dream big articles for consideration.
Note: Articles by Guest Post Contributors may contain affiliate links and may be compensated if you make a purchase after clicking on an affiliate link.