Last updated on June 9th, 2012 at 08:22 pm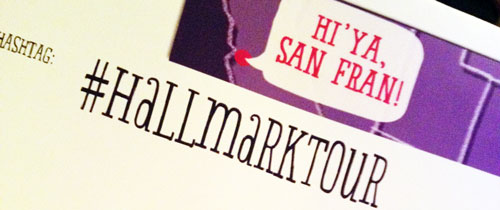 Product launch dreams come in all sizes. I have to say that I would never consider any of my ideas on the same scale as a company like Hallmark.
Most of you recognize the company and brand name of Hallmark as the greeting card company started in 1910.That feeling when you receive a card in the mail, that it is something special, when you first open it and the emotional awwwww it evokes that most would tag as a "Hallmark Moment".
As a huge company, they still know how to make a human connection, up close and in person.

Vow to tell them
In 2011, Hallmark embarked on a four-city tour to engage bloggers and bring to life its new brand campaign, Life is a Special Occasion. Life is a Special Occasion encourages us to pause and recognize those unplanned, perfectly imperfect moments we share with our loved ones — the moments that can take place any day and the moments that take place when we're celebrating milestones. Whether that perfectly imperfect moment involves a totally unexpected comment or question from your children or meaningful times spent with friends, the beauty of it is it's your moment.

In 2012, Hallmark is continuing the "Moments and Milestones" tour in six cities. During the tour, Hallmark will host interactive and collaborative events with local mom bloggers in their own communities, including the San Francisco area!
Take time to share
This is where Catherine and I caught up with the very generous Hallmark team yesterday in the beautiful Hotel Monaco in San Francisco. As an 8 Woman Dreamer, you know it's a good day when the only parking space you could find was on the 8th floor.
The goal of the Hallmark Tell Them campaign is exactly that – making the time, even a small sliver of time, to share with the people you care about, just how much they mean to you.
We had a wonderful opportunity to chat with three amazing and long-time Hallmark writers. Lisa, Molly and Tom have all been with Hallmark for several years, and have quite the list of publishing under their belts from piles of greeting cards to several storybooks. Their insights on the process of writing that they go through everyday was a wonderful behind-the-scenes peek at how they stay creative day in and day out.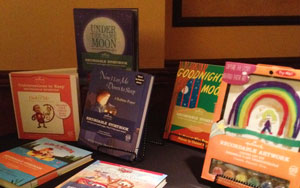 For being a short event, the process of getting in touch with your emotions and saying the things that are in your heart made for an emotional roller coaster of a morning.
When "Thanks Dad" just doesn't cut it
The Hallmark creative team on hand ran us through an exercise that helped us tell our story, focusing on the upcoming Father's Day holiday. I am very lucky to have a very supportive and loving family. My dad is a big part of my confidence in putting myself out there and see what makes me happy.
This was the easy part for me – getting this message down on paper. The tough part was the breadth of experiences and intensity of sharing these messages with the bloggers in the room. Thank goodness they brought in tissues for the tables!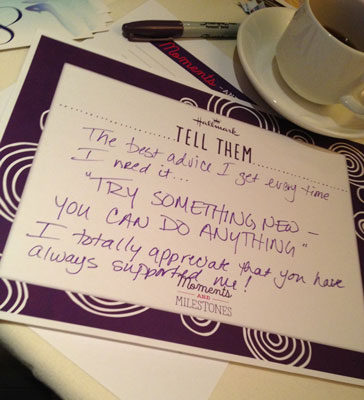 Connecting in person
Hallmark knows how and who will help them with their launch the Tell Them campaign and I was surrounded by the core audience in that room. Bloggers not only talk about their experiences, and share how we interact with brands, but Hallmark wants all the feedback they can get.
The participants were asked about daily experiences, our children, how we manage blogging daily. It was great to hear that no matter what the topic – from mommy blogger to Hallmark creative – as writers, we all deal with the struggle to be creative on a deadline.
The information they so readily offered about how they process new ideas and keep them flowing was a wonderful addition to the event. The Hallmark "Moments and Milestones" Tour had a few goals while on the road – to connect with bloggers, develop these relationships and humanize their business in the process.
In this product launch blogger's opinion, they were a resounding success. This won't be an event I will ever forget.
~ Heather
P.S. I had the ultimate blogger compliment when Lisa, one of the Hallmark creative team touched base with me after the event. She shared her own weight loss success, mentioning my posts were an inspiration. Thank you Lisa for the wonderful validation and please share how your own story is going!

Heather Montgomery is a fitness writer, triathlete, and serial entrepreneur who is devoted to sharing what she has learned about becoming a triathlete after age 40. She uses her Metabolic Training Certification to help other women struggling to get fit in mid-life. She lives and trains in Santa Rosa, California, the new home of the Ironman triathlon. You can find her biking the Sonoma County wine trails.
Note: Articles by Heather may contain affiliate links and will be compensated if you make a purchase after clicking on an affiliate link.