Last updated on November 1st, 2019 at 05:01 pm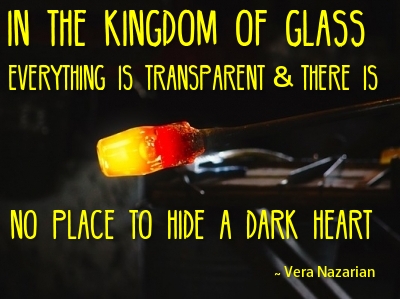 We open ourselves to our big dreams and recognize the magic that exists in this world, the results can be blissfully unexpected.
I went to Seattle last weekend with a friend. He works at an airline where we can fly for free. We went to Seattle so that I could visit the Seattle Glass Blowing Studio because I have always dreamed of being a glassblowing artist.
As we entered the building we saw that they were blowing glass while a live band played music. How cool is that?
The energy in the large warehouse studio was vibrant and relaxed. We felt like we were in some sort of wonderland. There was a glass-blowing class going on in the workshop area. I was interested in the process, but marginally. I love all things glass, but if I can't do it myself then watching someone else do it is torture.
I can't adequately explain what it is about glass that strikes me deep in my soul. I like to imagine how Egyptians first came upon glass. Was it formed from a lightning strike on a beach? Did they discover it the morning after a large fire in the sand?
Can you imagine their amazement and wonder?
As I was browsing an area in the studio with completed glass pieces out for display, we were invited to take a closer look at the glass-blowing process by an instructor. I loved that he was so approachable and willing to educate visitors who are just passing through the shop. I began to ask him questions about the glassblowing process. I drooled at being the nearest to glasswork as I've ever been.
The instructor then asked, "Would you like to take my classes?"
For only the second time in my life, I was stunned speechless. If you knew me, you'd understand how remarkable that is!
My budget has been tight as I have been working hard to get my business income to the level I need. The last thing I would have booked for myself, much less thought possible, is a glassblowing class.
But guess what I did?
For 6 Saturdays, starting in March I will be flying to Seattle every weekend to live one of my dream of learning to create glass pieces. It's still a bit unreal.
When you follow your dream urges and put your heart out into the world the Universe can't help but respond.
Your life will work out fine if you will take a chance, be open to love, create a space for hope, and believe in your big dreams.
Alyse Yerby
Alyse Yerby lives in the Sonoma County wine country. When she isn't glass-blowing, you can find her running her personal assistant company, "Gal Friday."

Enjoy this special 8WomenDream Guest Contributor story submitted by new and experienced big dreamers throughout the world, edited and published to capture a dream perspective from different points of view. Do you have a personal dream story to share with 8WomenDream readers? Click here to learn how to submit dream big articles for consideration.
Note: Articles by Guest Post Contributors may contain affiliate links and may be compensated if you make a purchase after clicking on an affiliate link.