Last updated on April 30th, 2012 at 08:44 am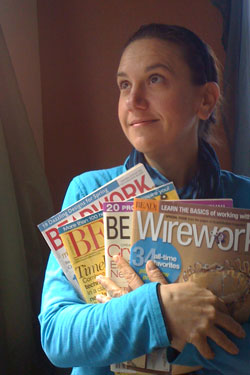 I love beading and wire-work jewelry magazines.
I learn a ton from them, and  "learning" is the topic of my March posts while I work on my product launch dream.
Do you ever get sick of learning?
Value is one of the things I aim for when learning something new. I know this may seem like an odd way to approach knowledge, but if I am going to spend the time I want to know that I will find value in what I have learned.
Here is my thought process when learning something new:
Is the information in a format that helps me learn? Personally I learn best by experiencing it as a kinesthetic learner.
Does getting the information fit into my erratic schedule? Can I access information after the class or seminar to review?
Getting the information you need

One of the information sources I have been receiving for over 2 years is the Jewelry Seller email newsletter. The newsletter comes from an interesting source, Dr. David Weiman, who's background includes 2 Masters and a Doctorate in psychology, third generation in the jewelry business, the Marketing Director of several top jewelry magazines and online outlets, including two of my favorites, Step by Step Wire Jewelry and Beadwork.
Needless to say, the man has some experience in the industry.
Tell the story
One of the suggestions he has can be used as a broad recommendation for most products, but has a direct impact on a handmade product like artisan jewelry.
The reason is that people like stories. People are buying artisan jewelry for a different reason than they would buying jewelry from Walmart, or Target or some other place. They are buying it for the connection they have to the artist.

What happens when someone sees a piece of jewelry you have on, and they are interested in it? They ask you where did you get that? Tell me about that?

You have a story to tell them, and people like that story.
Putting the information to work
As with all knowledge, applying what you learn is when things start to happen. What I appreciate about this newsletter is the way the information is broken down into simple focused tasks or actions. You may remember that I have been getting this newsletter for 2 years. I've read, filed, printed out, and even occasionally highlighted.
I may not have taken action on every item I thought had value, but it was already in my head.
For example, my sister Michelle the Glass Artisan were having an interesting conversation the other day on selling and the taboo artisan conversion — pricing. We have had this conversation several times over the years about the balance of the cost of the item in the market vs. the time and materials that actually go into the item.
This is a presentation video Dr.David Weiman offers for those artisans – specifically jewelry makers – who are afraid to raise their pricing. I do love this particular statement in this message:
People don't buy artisan jewelry based on price. They buy it because it's unique, handcrafted and made by someone they want to buy from — YOU.
What information can you get?
There are so many resources of information to help you with your product launch dream that it can be overwhelming at times.
Here's my suggestions for managing the information overload:
Pick your niche
Find ONE expert in that field and read their information
Pick ONE suggestion and take action on it
This product launch dream process may take a bit longer, but you will learn a lot by focusing on one expert and then testing that suggestion in action.
What are you planning to learn this week?
Go learn more ~ Heather

Heather Montgomery is a fitness writer, triathlete, and serial entrepreneur who is devoted to sharing what she has learned about becoming a triathlete after age 40. She uses her Metabolic Training Certification to help other women struggling to get fit in mid-life. She lives and trains in Santa Rosa, California, the new home of the Ironman triathlon. You can find her biking the Sonoma County wine trails.
Note: Articles by Heather may contain affiliate links and will be compensated if you make a purchase after clicking on an affiliate link.