Last updated on September 30th, 2012 at 11:53 pm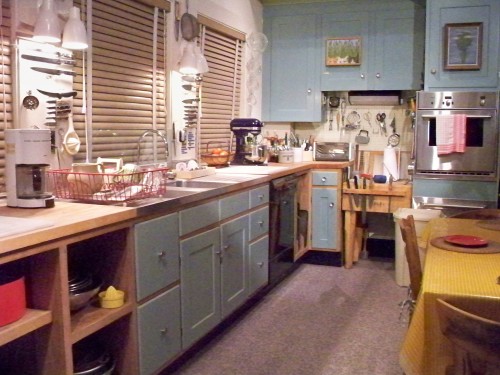 I do not dream about cooking for my two children and husband every day.
I do not fancy baking dozens of batches of cookies, cupcakes, lemon bars or berry pies on regular occasions for the vineyard and winery crew.
No, I do not dream about it, because I do it now.
Seriously, every day, from scratch, cooking and baking, and I love it.
Period.
If it had not been midnight when we arrived back home on Monday from an incredible, family dream vacation with my husband, Bryan's parents, I swear, I would have pre-heated my oven and baked my little heart out.
As it was now well past 1:00 a.m. when our adorable, sleepy-headed duo from the back seat were poured into their own beds, my husband and I sipped a nice glass of Pinot and tucked in ourselves.
I jumped out of bed and almost out of my skin on Tuesday morning so thrilled to be back in my own perfect dream kitchen with all of the serving platters and favorite appliances that welcomed me home.
Gosh, how I ached for the feel of my sharp, perfectly balanced, Henckles chef's knife in my right hand. 
Six days and nights I went without kneading any kind of dough, or proofing yeast for something and it made me feel odd at times, like I forgot to put on my pants or something.
I did get to cook two dishes while in California, as I brought a full compliment of our little vineyard farm fresh eggs and was very happy to scrambled up a spinach, Manchego and chive breakfast one morning.
While on vacation, the previous Saturday's trip to San Francisco's North Beach/Telegraph Hill area, had us returning to parents-in-laws' Santa Rosa home with some wonderful fresh spinach pasta, olive oil, pancetta and cheese from Molinari's, a perfect-in-my foodie's mind, one stop shopping place for all things authentically and deliciously Italian.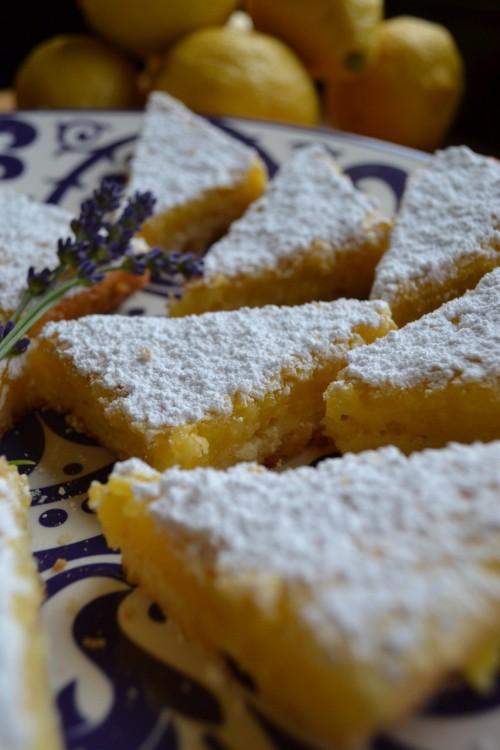 However, once back at mom and dad's gorgeous, completely recently renovated kitchen, I found their small sauce pan that had been put on to boil and the dull kitchen knives making dangerous work of my basil chiffonade challenging to work with.
It had me realizing just how much I appreciate (and yearn for) the kitchen essentials that make up my favorite work and play room back home in my Willamette Valley Oregon, wine country home.
And pleased though I surely was to have previously baked and frozen several of my family's favorite sweet treats to enjoy in California, I really, really missed having my very own tried and true culinary necessities within close reach and in excellent condition, while at mom and dad's.
At home, daily cooking and baking is a joy of joys for me.
Friends and other family are often surprised to find that I do not plan meals or draft weekly menus in advance, even though I have my young son and daughter home schooling and hungry, in my presence every day.
Nope, planning is not as fun or creative or as dreamy to me as being inspired by what's in season and what's on my mind.
I also never, ever want to be a professional chef or pastry chef.  I am ever so delighted that there are such masterful people, because I completely love dining out at places were creative cooking passions meet my fork and happy face.
My home cook's dream kitchen is filled with some things I use every day, for which I am truly grateful.
These are 8 of the most important and beloved items from my perfect wine country kitchen that help me create fun, happiness and delicious successes —
1.  A Well Stocked Pantry.
Living out here many miles away from supermarkets (which are not my favorite places to spend time anyway) means that my trips to the market really have to count.
Normally, the children and I will load up the recycling and clothing/toy/electronics donation items, and make an afternoon of shopping for "fridge items."
About once a month the whole family will drive to the nearest "buy in bulk" warehouse place always with a well thought out list of supplies for cooking and baking.
For me this always includes Bob's Red Mill flours, unsalted butter, lemons, proteins, nuts, savory and sweet spices and things that I or my farmer neighbors don't grow or raise ourselves.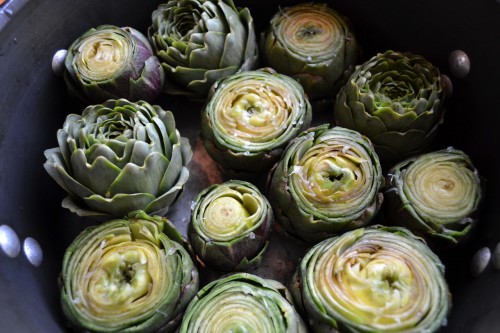 2.  A Culinary Garden.
In my vineyard garden you will see and smell at least:
An 8' x 8' raised bed of thyme, lemon thyme, sage, tarragon, Provencal and Spanish lavender, basil, nasturtium, oregano, dill and rosemary.
All surrounded by hundreds of acres of Pinot Noir, Pinot Gris, Riesling and a wee bit of Chardonnay.  I have used the vine's leaves to steam things in, the dried vines on the open fire for grilling goodies, and this year will attempt to produce my very first verjus…
I hope you stay tuned for this.
I have half wine barrels of succulent strawberries, more raised beds of blueberries, artichokes, broccoli and assorted squash.
Crazy delicious blackberries surround a smattering of pie cherry trees and some golden plums on this 206 acre property and the two apple trees, a pear tree and two walnut trees make for a tasty season of fall flavors and I take full advantage.
The half wine barrels of heirloom tomatoes, which, while I am the only immediate family member who swoons over a  Caprese salad, will later be roasted and transformed with my various hot and sweet peppers into soups, sauces and salsas, which everyone goes weak in the knees for.
Planting, cultivating and harvesting from my very own vineyard garden is an act of love for me, and while the reasons are many, (healthful food for my family and friends, taste and freshness beyond any comparison, my children toiling in the soil, right by my side) there is an indescribable joy that comes along with growing food that must be experienced to be appreciated.
Only this very morning, I served up second year strawberries, just washed, with yogurt and honey…indescribably scrumptious.  This is what dream living tastes like.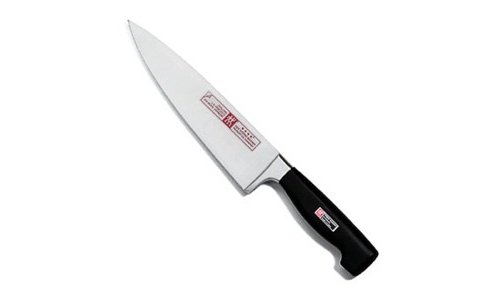 3.  An Excellent Chef's Knife, pairing knife, serrated knife, boning knife, fillet knife.
Two very important things necessary to keeping great knives in my home:
A.  A very good sharpener, knowing how to use it and doing so.
B.  Teaching my small children, who are slowly and surely learning knife skills, that something even more dangerous than a very sharp knife in the kitchen is a very dull knife.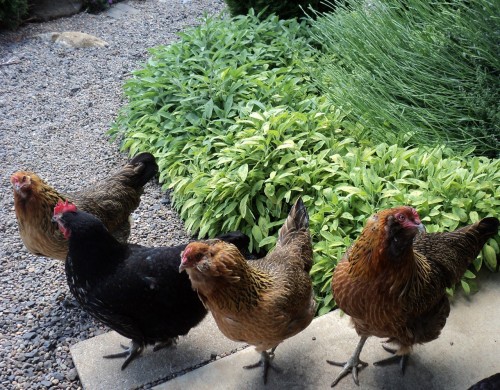 4.  SUPER Fresh Eggs.
Many times, still warm from the nesting boxes, I crack open a gorgeous orb and it can either sit fresh, firm and more orange than yellow in the yolk as I marvel first at the sight, or if scrambled, you can almost be deceived into thinking there is cheddar in the dish.
Then, with a little salt or chopped chives, turned into a timbale or quiche the flavor profile of the eggs from these free ranging, scratching beauties is sublime.
Wondering about our homemade pasta?
Care to query about the over-night grand mariner French toast made from my yummy, braided Challah?
Oh how I wish I could feed the whole world this way.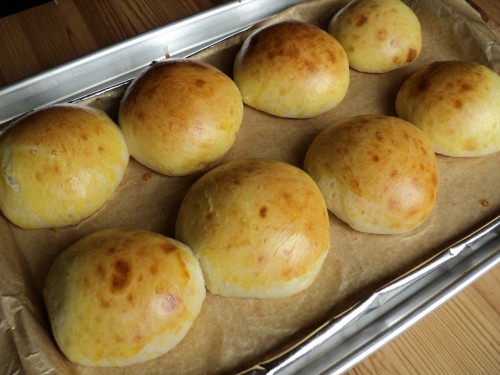 5. A Bread Machine.
This may surprise you, but my desire for fresh, sweet or savory dough for pizza, rolls, buns and other breads far surpasses my need to always knead them by hand.
I love the garden fresh ingredients that I introduce to the bread pan, letting the machine do most of the work and the rising, while I tend to the daily laundry, house work, home education of my children, critter and organic garden tending, writing for 8 women Dream every week, and lab work at the winery on weekends, ETC…
This is not to say that I don't enjoy the (at least ) once a month hand made breads I craft, particularly the Parker House Rolls from my favorite…"Beard on Bread", by James Beard.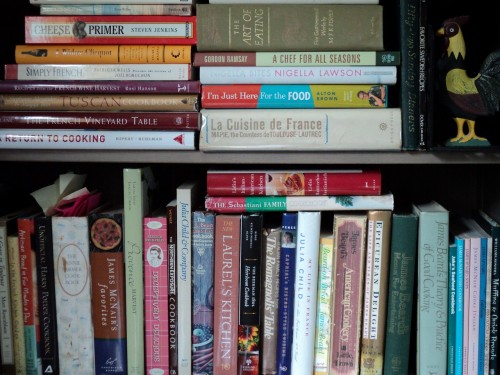 6.  COOKBOOKS.
I have a huge stash, I collect AND read them carefully, cover-to-cover like any other favorite books by favorite authors.
My top three favorites, in addition to anything I can get my hands on by the above, most beloved mentioned author are:   "The New Laurel's Kitchen", by Laurel Robertson, "The Beekman 1802 Heirloom Cookbook", by my Fabulous Beekman Boys and "Lidia's Italian-American Kitchen" by the incomparable, Lidia Matticchio Bastianich.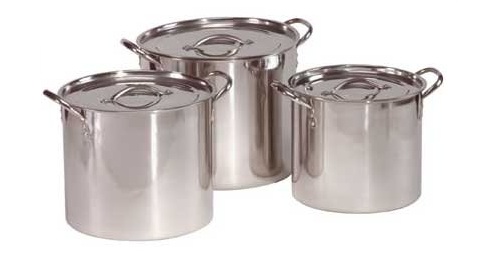 7.  Stock Pots.
This is not a uni-tasker as the name of this vessel implies, I use my large pot for the previously mentioned, family favorite, fresh pasta.
It has made all of the difference in whether pasta sticks to itself, fresh or dried.  *Tip, when you drop your pasta, make sure you stir it, and don't just walk away.  
I also must have this large pot for my seafood, chicken, beef, vegetable and other stocks.  I make my preserves, and soups in my stockpot, and steam mussels in saffron broth in it.  Yay for my stock pot!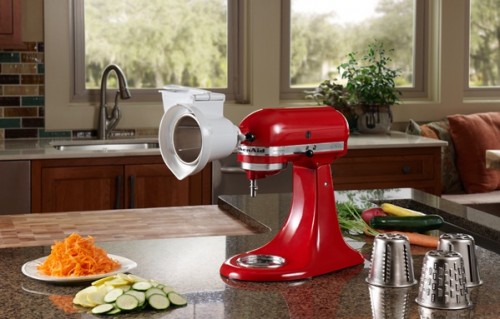 8.  A Stand Mixer.
Had this not been a Christmas gift, Bryan and I received fifteen years ago, I'd have saved up for it, because here's the truth–I use it every day.
With my paddle,  whisk and a dough hook attachments, I feel like the world is my oyster.
Mmmmm, oysters.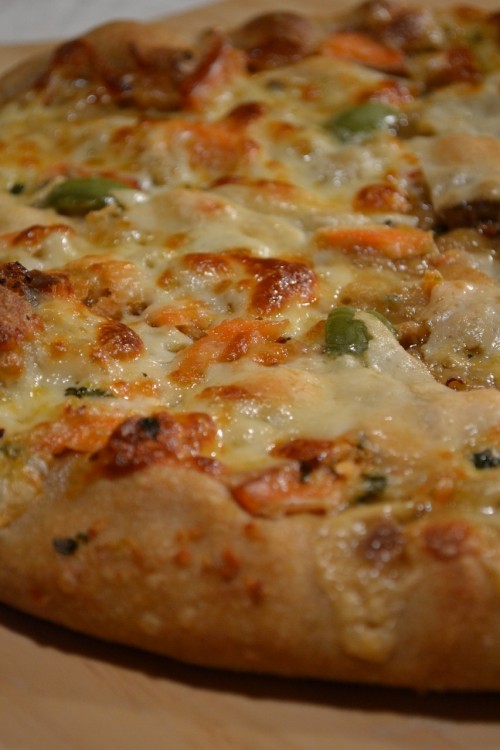 8.  A Pizza Stone.
Another non- uni tasker  I keep this in my oven and yes, it makes the BEST chewy crispy pizza crust, but also great biscotti and other twice baked cookies, yummy crusty breads and more.
These are but eight of my favorite kitchen delights that my love, Bryan, and I have amassed over the years, and for which I am so, so grateful.
I could easily have put my husband in the top position as favorite kitchen necessities, as we do love to cook together and he is a very fine, creative person in the kitchen.
If you, too, are a dreamer who finds great joy in cooking and/or baking for yourself or other loves in your life, then I hope your collection of tools and treats brings you as much fun and feeling of creative sense of self as mine always do.
I wish you a baker's dozen delicious experiences, until we're together next Sunday,
Shellie

Enjoy this special 8WomenDream Guest Contributor story submitted by new and experienced big dreamers throughout the world, edited and published to capture a dream perspective from different points of view. Do you have a personal dream story to share with 8WomenDream readers? Click here to learn how to submit dream big articles for consideration.
Note: Articles by Guest Post Contributors may contain affiliate links and may be compensated if you make a purchase after clicking on an affiliate link.