Last updated on July 13th, 2022 at 05:55 pm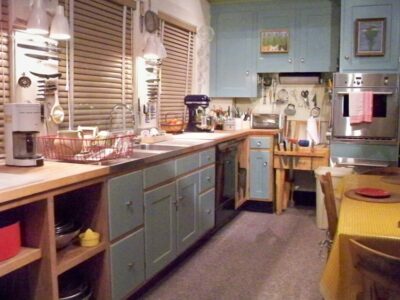 Gearing up for oodles of joy surrounding the end of a very blessed year finds my husband, Bryan, and me remodeling our kitchen.
Yep — all DIY style, as usual.
Truth be known, it is, in my estimation phase III of the total kitchen overhaul we undertook five years ago when we first moved to this 206-acre piece of Oregon's, Willamette Valley.
As I watch my adorable handyman/carpenter/wine-making, husband, and lend my own little hands here and there, I begin to plan our New Year's Eve celebration.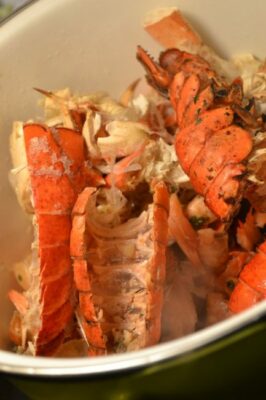 Home-made seafood stock for the crab bisque is our new tradition, I decide.
This is perfect because I want to make our wonderful bisque as an homage to our family's very first dive into crab fishing, an awesome activity we learned over this past summer.
In late May, we purchased a couple of traps, learned how to bait the traps, loaded the minivan, and popped over to the spectacular Oregon coast, which is located a mere fifty-five minutes from our little house in the vineyard — just the way we like it.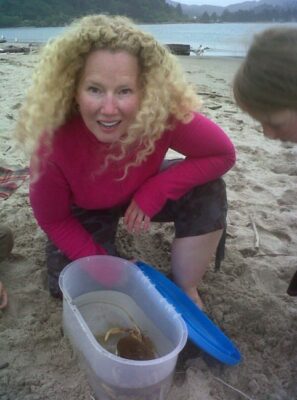 Did you know that you can fish for crab right from shore?  Tootsies in the sand?  Digging for clams at the same time?  Build a driftwood campfire and have access to creature comforts like a clean restroom and other yummy eats in case you get skunked?
Well, now you do.
This was just one of the adventures I began to smile about as I tossed the onion, carrots, celery, my garden's herbs, water, and shells of crab and lobster, prawns, and shrimp from the last six months, into the stock pot.
The water's off in the kitchen, for my new sink, so I'm washing the dishes in the bathroom for now, and still, I grin.  I am getting a new, lovely, custom design (mine) for my country kitchen, and Bryan and I are doing it ourselves, together. Another thing to be grateful for in 2011.
My teammate, my love, gave his blood, and sweat, and delighted in my tears of joy as we inch closer to my dream kitchen.
Last year he built my "bake center" so very much as Paul did for Julia Child.  TaHa!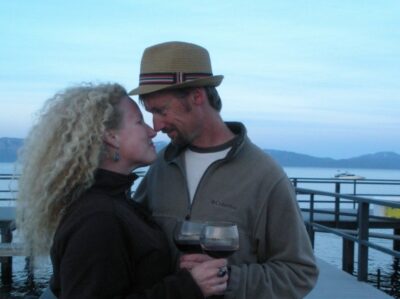 Lordy, I love this person.
Baking is a passion for me and he knows this.  This space really made my life so fun while creating so many yummies which the children and I deliver to the vineyard crew and the winery's staff as well.
Taking a break from building the stock, I assist in lifting my new countertops into place for their ultimate home in my home. The aroma is simply intoxicating!.  And it's not just because my husband's Riesling has been adoringly introduced to the stock pot.
I remember one year ago when I would not be partaking of this impending deliciousness, as I was ninety pounds heavier than I am now.  Yes.  Ninety.  Five feet and two inches tall, and ninety pounds heavier.
Another big reason to be thankful for glorious happenings in 2011: I took my life into my own hands, cared more and deeper about everything, and made my health a priority.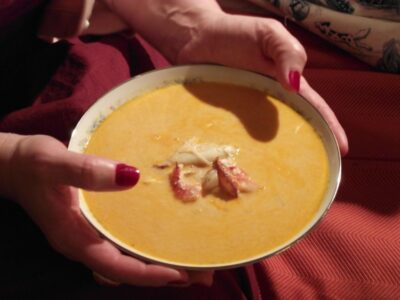 Now, I introduce the water to "just cover" the stock as my Bryan, only two feet from me lays on the first coat of semi-gloss black paint to the backsplash.
Time to stir the brewing and bubbling cauldron of luscious delectables.  Not before a kiss to my love on the way by.
I stir.  I think.  "How very much like my past year is this dish."
A statement, not a question.  My last year was a quick-and-slow process with each step to be savored, lingered over, and recalled for the mistakes as much as the successes.
This is not my first seafood stock, but I believe it will be my best, yet and the next one better still.
The key, for me, is both in the learning and in spending moments in intense gratitude for what I am building.
In this brand new shiny season, I raise a glass of exquisite Oregon Pinot Noir and make you a toast, "May the very best day of your past year, be the worst day of this new year!"
From the bottom of my country heart.
Shellie Croft
Shellie Croft is a writer with a great passion for delicious winemaking and healthy, organic living on her farm in the Oregon wine country.

Enjoy this special 8WomenDream Guest Contributor story submitted by new and experienced big dreamers throughout the world, edited and published to capture a dream perspective from different points of view. Do you have a personal dream story to share with 8WomenDream readers? Click here to learn how to submit dream big articles for consideration.
Note: Articles by Guest Post Contributors may contain affiliate links and may be compensated if you make a purchase after clicking on an affiliate link.