I have not always been a big fan of "Hallmark Holidays" – those that elevate consumerism in the name of love. This past Valentine's Day however I fell in love with the holiday all over again, finding happiness in spending a sweet day with a new love and his adorable little boy.
We had big plans to go ice skating, Rafa (my boyfriend), Luca (his three-year-old son) and I. The universe wasn't conspiring with us to make that happen, however.
Luca asked his Daddy to make a pinky promise to take him ice skating, and I've been wanting to go for so long. I've asked several friends to go this winter, and none had agreed so far.
New Kinds of Magic
Our ice skating plans were thwarted however by the giant snowstorm that had blown through the East Coast. All the local rinks were closed.
We had to regroup. Rafa spent an hour digging his car out from the snow so he could bring Gianluca to my house.
This would be the first time I'd had my men over! I was excited.
I did some last minute straightening up, swept my hardwood floors, and said a little prayer that they would like my home. Soon Rafa and Luca arrived and the festivities commenced!
Luca had been so excited to see me again, and got overwhelmed by three-year-old boy love and shyness. He climbed into my arms and proceeded to lay his head down on my shoulder and pretend to go to sleep.
He roused himself when I presented a present for him to open. I'd bought him a little soft puppy dog holding a heart that said, "I love you."
Luca used to have a pet puppy, but didn't any longer. I figured he might miss the puppy, and if he missed me, could hug the stuffed puppy.
Then I got to open my Valentine's Day presents. There were a few.
Love in A Bag!
First, I opened the beautiful card that Rafa made for me my hand, designed to replicate an aged piece of scroll with a a love note written on it. It was exquisite!
Then, Rafa pulled out the homemade gift Luca made for me. It was a beautiful colorful drawing of a flower on a tall stem with the sun shining on the flower.
He had written in his little penmanship, "Lisa I <3 you. From Gianluca."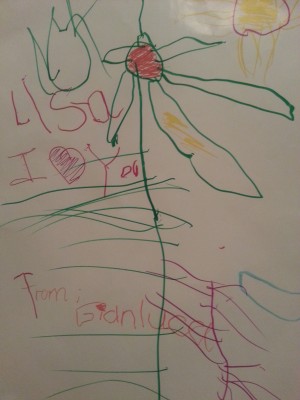 If this does not melt your heart, I don't know what will!
This beautiful masterpiece of art is now hanging in a prominent spot on my dining room wall. It's easily my favorite piece of original art that I own!
My present for Rafa was a book by a favorite author, Leo Buscaglia, who is known as the "Doctor of Love." I had purchased it in South America, and own the book in both Spanish and English.
I gave Rafa the Spanish version and held onto the English, although of course I am the one who needs to be practicing my Spanish! That will come.
We write to each other in Spanglish and I am getting better at braving speaking a little Spanish here and there with him. Time to dive in and really practice and achieve fluency finally!
Cuddle Time!
Since ice skating was out, we needed to entertain ourselves at my house. With a little love bug of a three year old around, this turned into lots of cuddle time, primarily.
I have a little meditation room that features a big pile of soft pillows on top of fuzzy blankets and a plush carpet. Luca burrowed in here and threw himself on me to claim some hugs.
He got very territorial around me, which was priceless. At one point when Rafa asked to lie down with us, Luca said, "Daddy, there's no room here for you!"
He then threw his little arms around me and declared, "It's mine! It's mine!"
I about died from the overload of cuteness.
Hide and Seek
We played a few rounds of hide and seek, and noshed on the delicious dark chocolates that Rafa bought me. It was a girl's happy dream come true to be with two such handsome men, one big and one little, and to have chocolates too!
Who could ask for more than two loving and adoring Valentines. It was heavenly!
Finding Happiness Wherever You Are
It was a good reminder that even when our plans fall through, even when Mother Nature interferes, even when a dream is deferred (in this case, a little boy's dream of ice skating with Daddy!), it's totally possible to have a good time from wherever you are.
I was nervous about having my two men over for the first time. Luckily, they loved my house and felt right at home.
It felt so right to have them with me! I look forward to more play adventures at my house.
And to going ice skating together finally, whenever it maps out!
The Moral of the Story
When it comes to life and love, it's who we're with and not where we are that matters most. Anything can be fun in the right company.
I feel so blessed that I'm with someone who makes me happy wherever we go, and that he has a beautiful son who also brings me off-the-chart levels of joy.
It was seriously the best Valentine's Day I've ever had, and it wasn't because we went anywhere fancy or spent a lot of money. We didn't.
We just played and cuddled, and laughed and loved, in my humble little home. And that was just what this heart needed!
I hope that everyone had a beautiful Valentine's Day, whether you're single or "taken," and that you spread the love in your heart around the world for everyone to enjoy as well.
I believe we are all here to learn how to love one another, and being someone's Valentine is a great way to practice expanding your heart with more and more love!
One can never love enough.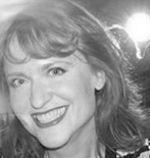 Lisa P. Graham is an inspirational writer, life coach, TED motivational speaker, and globe-trotter whose passion is to help others to find happiness and meaning in their daily lives. A political activist at heart, Lisa would like to empower more women to run for political office as a way to create positive change in the world. You can find her on her website or watch her TEDx speech on YouTube.
Note: Articles by Lisa may contain affiliate links and may be compensated if you make a purchase after clicking on an affiliate link.