Last updated on January 22nd, 2019 at 01:57 pm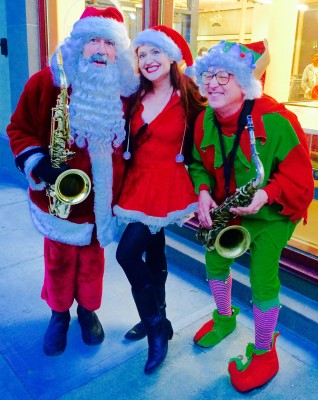 If you want to know who I am at heart, you should know this about me:  for pretty much the entire month of December, I wear a Santa hat. Whenever possible, I also slip into my Mrs. Claus little red velvet dress with the short flirty skirt.
Bringing joy to the world makes me happy! I am madly in love with this festive, bright, colorful, lit-up, joyous time of year.
This past weekend, I found happiness through creating holiday events for others to enjoy. Bringing others happiness is one of my favorite ways to boost the level of joy in my heart.
Finding Ways to Spread Good Cheer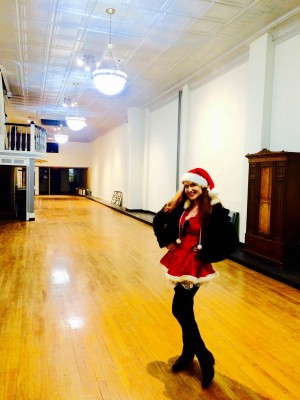 This year, I decided to open up my downtown Troy historic commercial property, the  "Up-to-Date" building which once housed a women's high-end clothing store of the same name. I arranged for some of the area's best jazz musicians to play, went out and bought some ginger snaps and mini chocolate graham cookies in the shape of teddy bears for the kiddos and kids at heart, and we were ready to roll!
We hosted live jazz in the building during Troy, New York's largest and most festive annual event, the Victorian Stroll. People walk the streets of the downtown clad in Victorian garb, honoring the city's Victorian architecture and an era that was prominent in its history.
Then there are those who prefer to dress in traditional Christmas-y attire, like my short flirty little red velvet Santa dress with white faux fur trim. I can't wait to bust out this little zipper front dress every year, and to pair it with a Santa hat.
Every year, tens of thousands of people come to the Troy Victorian Stroll. I didn't get to "stroll" as much as usual this year, since I was hosting an event in my commercial property.
But as always, there were Santas and elves wandering Troy's streets, playing music, handing out hot cocoa and more. Everyone was bursting with energy and cheer.
It definitely is my favorite time of year!
Hosting People at the Mansion
After the Victorian Stroll was over, a dear friend and I hosted friends in the "penthouse suite" where I live in a historic mansion on a private park in Troy. I live in a 2,000 square foot apartment with eight walk-in closets, and it almost seems like a crime to keep its beauty all to myself!
We hosted a vegetarian potluck. I'd been cooking veggie chili all weekend, and the air smelled like tomato sauce and chilis (in other words, delicious!).
The Christmas tree was up and strung with holiday lights. I'd wrapped colorful Christmas lights around the bannister of the curving staircase leading up to my 4th floor apartment.
It was wonderful to have friends over and to celebrate all of our blessings. The gifts of this season and of this life are always better when shared with others!
Mrs. Santa is a Happy Merry-Maker!
As I write this recap of Sunday's events, I am still wearing my Santa hat, but now with a green sweater and jeans. I literally won't take it off much in December, except of course to shower.
I find that it brightens people's day to be greeted by a cheerful redhead in a Santa hat! Toll-booth operators, cash register operators, barristas, wait staff and more respond well to the perennial Santa hat.
I love surprising strangers and friends alike with it. If I thought I could get away with it, I would honestly probably wear my sexy Santa dress and jingle bells all month long, but that feels like a bit of a stretch.
What Do You Do To Spread Cheer?
What are your favorite ways to spread some extra cheer during the holiday season? If you feel inspired, join me in the wearing of the Santa hat, and see just how many smiles you can bring to people!
Of course, you could also wear a Menorah or dreidel-shaped hat for Hanukkah. Or a hat topped with mistletoe, if you really want get people into the holiday loving spirit!
I believe this is a season in which you can get away with wearing silly holiday hats, pretty much daily. I love it, and am wishing joy to the world!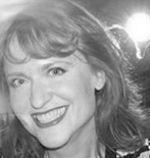 Lisa P. Graham is an inspirational writer, life coach, TED motivational speaker, and globe-trotter whose passion is to help others to find happiness and meaning in their daily lives. A political activist at heart, Lisa would like to empower more women to run for political office as a way to create positive change in the world. You can find her on her website or watch her TEDx speech on YouTube.
Note: Articles by Lisa may contain affiliate links and may be compensated if you make a purchase after clicking on an affiliate link.