Last updated on September 30th, 2012 at 11:58 pm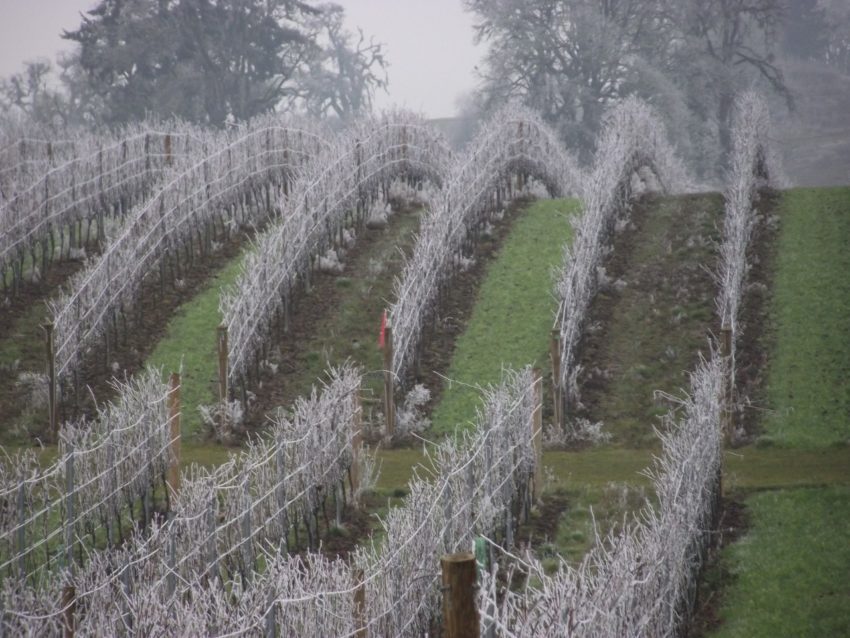 Spring has come to Willamette Valley and my American dream life on the vineyard.
"Whether the weather is cold or whether the weather is hot, we'll weather the weather, whatever the weather, whether I like it or not."
This is a literal and figurative mantra of mine.
March is a month that I enjoy for learning how to tie down the Pinot Gris and Pinot Noir Vines on the trellis wires in the vineyard. The warmer temperatures, and a good dose of spring rain for the new blueberries, trees and shrubs I love to plant, and OH the babies, babies, babies born out here in our neck of the woods are treats of life that make my heart positively sing this time of year.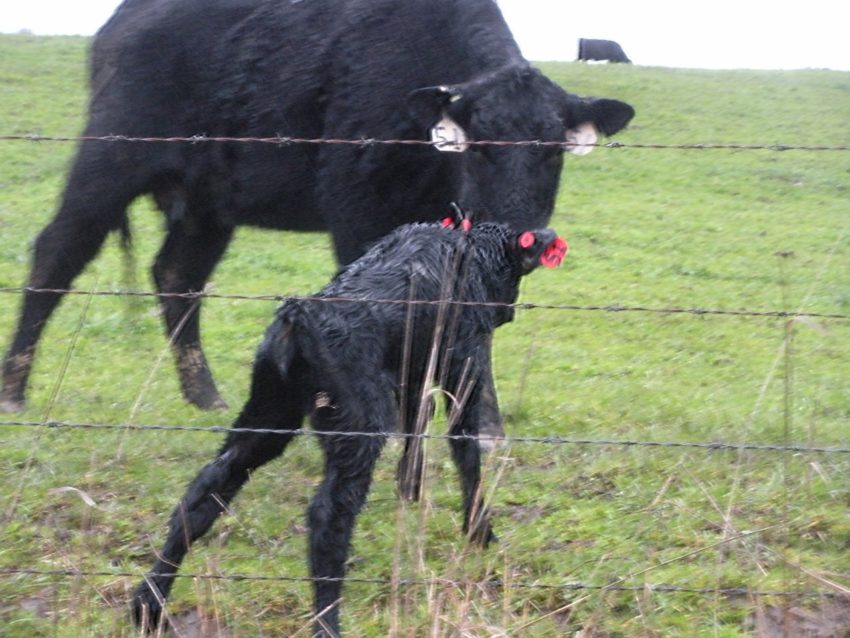 The baby calves, the baby goats, the teensy-weensy lambs all nuzzled up to their mamas makes me weak in the knees, I swear here and now! Rain or shine the babies around our "neighborhood" are being birthed and the sight of these little creatures taking their first breath or wobbly steps, does my soul a great, great service.
My little son and daughter and I caught a glimpse of some of the baby calves, but the rain and wind has kept us inside the mini-van this year. We viewed the lambs that dotted the pastures from binoculars at distance as well, because the road conditions were too icy for safe navigation.
Harrumph. Not the same.
March was supposed to be the month that I really got to the business of leaping over the winter hurdle of my personal fitness/weight loss goal and run at full speed toward the maintenance portion of my best size and shape, taking my health and physical form to a new frontier and embracing wellness. My plan includes a cardio/toning/strength workout that has been extremely successful for me called landscaping and farming.
The first days of spring were to be packed with the garage cleaning extravaganza, in preparation for the incubator my sweet farmer gal friend is lending us, so that the children and I could experience hatching our own chicks this year.
For the past three years, my little son and daughter and I have enjoyed "chick day" at our feed store where we pre-order and go pick up the fuzzy balls of cuteness, but it's time for something more enriching and lord knows I love to try new things.
A thorough hen house cleaning with fresh straw spreading and upper window/ventilation creation were on the spring cleaning list, right at the top. Our girls are laying like crazy, so I must give them more light and air and a nice environment for roosting and production.
Here's where my "Living in Wild, Wild, Western Oregon Wine Country" reality show stepped in, and for most of the month took hold of my dreams and shifted their shape.
Snow. Rain. Wind. Lather. Rinse. Repeat.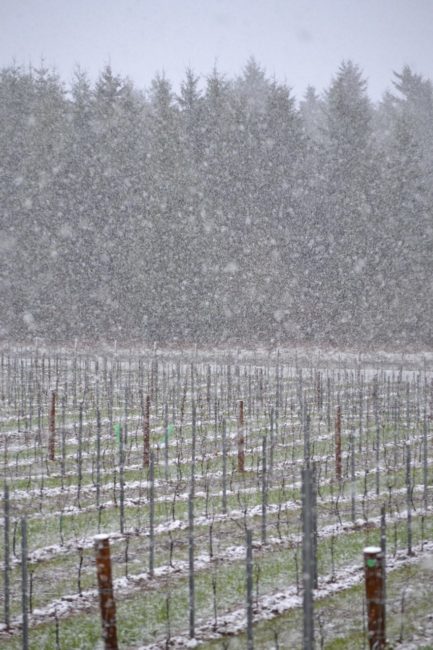 This month was unusually crazy with riotous weather causing everything from trees being uprooted and falling on vehicles and houses and power lines, to flash flooding and severe water damage and destruction of property.
Some of our neighbor's vineyards, lining the edge of the south-facing slopes were caught up in mudslides that washed across the gravel road, just to the north.
Most impressive to me, and thankfully my ultimate inspiration to get over myself here and carry on, was not the fact of the weather, but the sight of the full-time vineyard crew which consists of a little more than a dozen men and women of varying ages working through it all beginning at 7:00 in the morning and ending at around 4:00 in the afternoon, Monday through Saturday.
Sideways rain stinging and pounding their dark complexions, the unrelenting wind smarting any exposed skin without regard and snow sometimes landing and sticking on eyelashes is part of the experience of the hard-working team of individuals that are not taking on this grueling vineyard work because they choose to, but because they have to, to make a living and support their families.
Talk about March madness.
The whole month, day in and out, the dormant vines did NOT care about the feathery flakes or pay any plant matter to the icicles that collected on the fruiting wires, but I'll tell you for sure, that even through the work gloves, the finger pain from the grabbing and twisting yet carefully wrapping, vine after vine, for row after row, acre after acre, was just one thing the vineyard crew had to come to terms with to do this brutal kind of labor.
It is what they do, and they do it well.
By comparison to these seasoned individuals, I did little to nothing in my time spent pruning a few rows. It was welcomed, hard work for me, certainly, but it was my choice to learn this new viticultural skill and not an employment necessity as it is for these undaunted, highly tolerant, and oh-so-weathered wonders– the vineyard workers.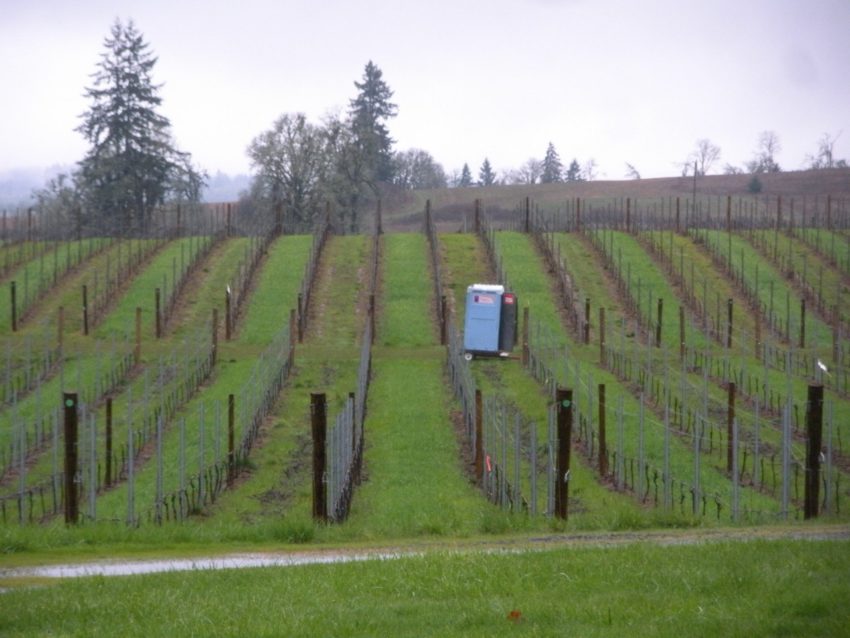 I was humbled for the first time ever, instead of annoyed by the sight of the bright blue, portable toilet which my little son thinks is ridiculously misnamed, "Honey Bucket."
It moves as the workers do and it is currently, yet temporarily, parked 500 yards directly outside my living/dining room window's vineyard view. While it doesn't evoke very savory thoughts to dine by, we have other rooms in which to enjoy ourselves, not to mention our two warm, clean, cozy, private, full bathrooms with perfectly working locks to use whenever we need to.
Absolutely, I'll get to the garage, the gardening, the new baby chicks and those last ten pounds, but before I waste one more second on what I didn't get to this month, because the weather was too harsh for comfort, I will share a heartfelt, "Muchas Gracias" to those hard working, family loving, no time wasting beautiful people, who play a crucial part in helping my talented winemaking husband and me craft the well cared for grapes to delicious wine for you to enjoy.
What on earth will I do with the probable April showers that lay ahead?
Well, I'll be ever grateful for my American Dream Grape Life and March on, of course.
Shellie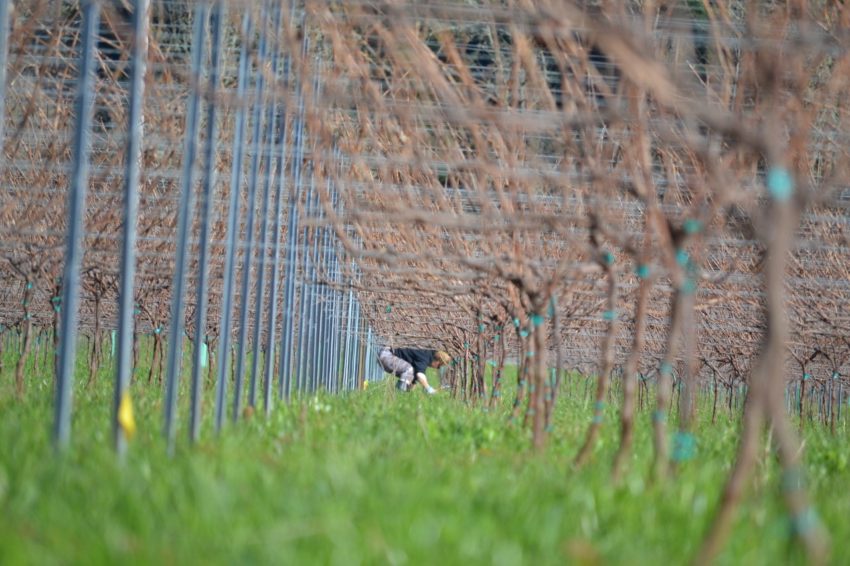 Enjoy this special 8WomenDream Guest Contributor story submitted by new and experienced big dreamers throughout the world, edited and published to capture a dream perspective from different points of view. Do you have a personal dream story to share with 8WomenDream readers? Click here to learn how to submit dream big articles for consideration.
Note: Articles by Guest Post Contributors may contain affiliate links and may be compensated if you make a purchase after clicking on an affiliate link.