Last updated on October 6th, 2023 at 12:45 pm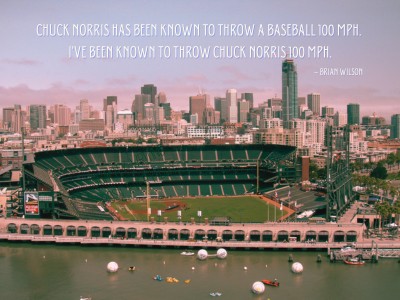 At the start of every professional baseball season, all 30 teams have the same big dream — to play on the national stage and win the World Series.
The San Francisco Giants is one of those teams.
But their past winning seasons have never been an obvious bet. Their path to the championships is always long, tiring, and unpredictable. As a fan, it's torture.
All too often, it seems to come down to the SF Giants having to win their very last game against their big rivals to make the playoffs.
They frequently struggle throughout an entire season, fighting against certain players' ages, others' lack of playing experience, and maybe the biggest obstacle of all — the baseball reporters and experts who have not "bought-in" to The Magic of Giants Baseball.
That doesn't seem to bother any of the players all that much.
As a fan, like in 2010, I saw the team go from underdogs to possible world champions in a matter of eight months.
As a lifelong fan, here's what I noticed about the underlying success of dream teams
1. They make plans.
Baseball games can look pretty haphazard and unscripted, almost like the players go out on the field, leaving it all to chance. But hardly anything the San Francisco Giants do is unintentional. There are game, backup, and contingency plans for when the original plans don't execute right.
2. They make a bunch of little gains and keep the big picture in mind.
Each game is important, but they obviously embody the cliche, "We'll just play them one game at a time." They paced themselves, knowing it's always a long season. That patience has made the difference — because they have played in the World Series 20 times.
3. They push themselves to get better throughout the season.
They set personal and team goals for improvement. Hitters work to build strength. Pitchers focus on finesse. Defensive players develop endurance. When they improve personally, the team is more productive.
4. They take days off to rest physically and mentally. 
They understand the importance of rest and repair both physically and mentally. Humor is a big part of the team, and many players are friends off the field. Their support and camaraderie is reflected on the field.
5. They make errors and get over it.
Let's face it. Mistakes happen. And in baseball, there can be lots of errors. The veteran players have made it a point to help the newer guys learn from their mistakes, shake them off, and keep playing. The team's leadership and self play a huge role in the team's success.
6. They practice to make progress.
As with anything we want to master, we must build skills and best practices and do them repeatedly until they become routine. Former pitcher Tim Lincecum is our two-time CY Young Award winner at age 26. When he played for the Giants, he attributed his success to his pre and post-game regimens, something he practiced since his little league days.
In the grand theater of professional baseball, the San Francisco Giants have continually defied the odds and captured the hearts of fans like me. Their journey from underdogs to possible world champions is a testament to the underlying principles of dream teams. The SF Giants have etched their name in the annals of baseball history through meticulous planning, steadfast focus on the big picture, relentless self-improvement, and the invaluable embrace of rest, camaraderie, and resilience.
The team has shown us that even when errors occur and challenges arise, the dedication to practice and the unwavering pursuit of excellence pave the way to success. So, as a lifelong fan, I'll continue to cheer for my Giants, knowing that their enduring commitment to these principles will keep them chasing their dreams and inspiring us all to follow their lead in how to become our own dream champions.
Here's a small collection of the photographs I have taken of Giant's Dream Teams
Remy Gervais
Remy Gervais is a freelance photographer and EMyth's Coach Training and Development Manager. You'll find her taking photographs at SF Giant's games and in the beautiful countryside of the northern California wine country.

Enjoy this special 8WomenDream Guest Contributor story submitted by new and experienced big dreamers throughout the world, edited and published to capture a dream perspective from different points of view. Do you have a personal dream story to share with 8WomenDream readers? Click here to learn how to submit dream big articles for consideration.
Note: Articles by Guest Post Contributors may contain affiliate links and may be compensated if you make a purchase after clicking on an affiliate link.