Last updated on December 10th, 2010 at 12:01 pm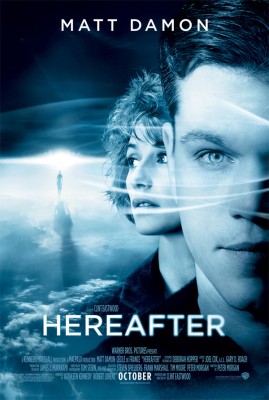 As a budding screenwriter, I'm a huge fan of Clint Eastwood, the actor, the director, the producer and the environmentalist.
Years ago, I came within rubbing elbow distance of him. My girlfriend and I were at an AT&T Pro/Am Golf Tournament in Pebble Beach, Ca. When I saw him, I nudged my friend telling her that he was coming our way. She said she didn't think much of him. As he glided by with his own special brand of coolness, Deb went weak kneed and said,
Damn, he's hot!
He has a undeniable presence. A presence that outshines any actor he shares a scene with on the movie screen.
Being a tomboy, I relished watching him play the anti-hero in all those spaghetti Westerns-Sergio Leone's trilogy – "A Fistful of Dollars", "For A Few Dollars More and "The Good, The Bad and The Ugly."
He was stellar in his performances in thrillers and sports dramas. His roles commanded your attention and you knew without a doubt what he stood for.
I only wish that Clint Eastwood's presence and conviction would have been incorporated into this film.
This movie poses the big question, what happens to us after we die?
The best part of the movie is a spectacular special effects sequence. Marie Le Lay (Cecile de France), a French anchorwoman suffers a NED-Near Death Experience when she gets swept up in a tsunami that hits Indonesia. While unconscious, she experiences visions of angels and a light heavenly presence. She is forever a changed woman.
In England, a pair of inseparable twins, Frankie and George Mc Laren (Marcus/Jason) are once again, trying to cover for their junkie mother from the child protection agency who are just looking for an excuse to take the boys away from her.
When Jason (who is 12 minutes older and more outspoken than Marcus) is killed in a horrible accident, the mother completely loses it and is sent off to rehab and Marcus is placed in a foster home. He steals money from his foster parents to seek out psychics to make a connection with his brother. Instead, he falls victim to a bunch of charlatans.
Marcus starts wearing his dead brother's baseball cap. He's about to get on the subway, when his cap gets knocked off his head. Every time, he bends down to pick it up, the cap flits away. Just as he recovers it, a bomb goes off and destroys the train. Jason was looking out for his little brother from Heaven.
In San Francisco, we meet Matt Damon (George), a reluctant psychic who struggles with the emotional turmoil his work causes him. As a child, he was stricken by an infection in his brain which required surgery, As a result, he was "blessed" with psychic abilities which he saw as a curse. When he touches a client's hands, their dead relatives rush forward with messages from beyond.
He is a lonely man who walks away from a lucrative career as a medium to seek a normal life and gets a job as a forklift operator. He signs up for an Italian cooking class where he is matched up with Bryce Dallas Howard (Melanie), daughter of Director/Producer Ron Howard. Her exuberance and vitality are in stark contrast to George's humorless, boring character.
Melanie cajoles George into a reading and as a result, her dead father comes forward to apologize for sexually abusing her as a child. She recoils in horror and rushes out of his house, never to be seen again. This further reinforces George's belief that his psychic abilities are a curse.
George loses his job and his brother Jay Mohr (Billy Lonegan) begs him to re-assume his career as a psychic with the ulterior motive of profiting off of him.
Cecile is so distracted from her NDE that her boss/lover suggests she take sometime off work and start writing her already proposed book about French President Francois Mitterrand. Instead she pours all her energies into investigating and writing, "Hereafter: The Conspiracy of Silence".
I knew George, Marcus and Cecile's paths would cross eventually. Unfortunately it took over two long tedious hours for this to occur. While each of them are on a path in search of the truth, they "coincidentally" meet up at the London Book Fair. Cecile is hawking her book; Marcus is brought there by his foster parents who are there to see a former foster child whose working as a security guard and George travels over the pond to initially take a tour of Charles Dicken's house (his hero) and then on to the book fair.
When the movie mercifully comes to a end, the audience (some people walked out) looked at each other as to say, "That was it?" We kept waiting for something momentous to happen and when it didn't, many of the moviegoers were disappointed..
"Hereafter" fails on so many levels. The pacing was excruciatingly slow, the script was boring, uninspiring, mechanical and doesn't leave you with any real answers about the afterlife. It lacked feeling and failed as a drama to compel. The screenwriter Peter Morgan ("The Queen", "Frost/Nixon") should have stuck with writing scripts about real people and/or events.
This movie could have been a golden opportunity to explore with conviction Near Death Experiences and the future beyond mortal existence. And to think Steven Spielberg (producer of "Hereafter") read this script and said he knew the perfect person to direct this! Boy was he wrong!
The guy next to me in the theater fell asleep within the first twenty-five minutes of this stinker. I gotta admit this murky morass of a movie made my eyelids so heavy, I wanted to escape by falling asleep myself. I kept telling myself, this was a Clint Eastwood movie, it's got to get better, but after what seemed like an eternity, it never did.
Hereafter would never have been made if it wasn't for all the heavy hitters involved in this movie that flat-lined after fifteen minutes. They should have left this type of movie to the likes of M. Night Shyamaian.
What are your favorite Clint Eastwood movies?
Mine are: "Kelly's Heroes", "The Outlaw Josey Wales" and "Magnum Force."
See you at the movies-
Toni
Toni has placed her dream to get her screenplay, "Divine Intervention" and reality show, "The Bitter Bus" produced on hold while she works on Club B. Toni left 8 Women dream November 2010 to work on Club B full-time.

Enjoy this special 8WomenDream Guest Contributor story submitted by new and experienced big dreamers throughout the world, edited and published to capture a dream perspective from different points of view. Do you have a personal dream story to share with 8WomenDream readers? Click here to learn how to submit dream big articles for consideration.
Note: Articles by Guest Post Contributors may contain affiliate links and may be compensated if you make a purchase after clicking on an affiliate link.