Last updated on July 27th, 2014 at 10:15 pm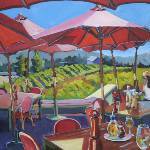 It's Saturday night and my goal is to write Sunday's post before it gets too late and I become a zombie in Zombieland. So here I am and it's only 7:30 instead of my usual midnight rendezvous with the computer.
What a week!  My weeks are so full that days feel like years and years become decades.
This is the last weekend of Artrails (open studios) which will officially end a full month with no days off. Am I whining?  A little.  But I created this crazy life of mine with wanting to be an artist/ art teacher/ grad school student/ international artist/ a mother….   and I would not trade it for a million dollars.
I feel the most alive when my life is full and I am making art. There is so much to paint and so little time. Lately I have been dreaming of painting in Italy.  One of my new painting buddies told me a delicious story of how he went and painted in Italy with his mate.
They have a patron who owns a home there and lets them visit anytime for as long as they want.  It's in a town with no roads and a wall that surrounds it so everyone must park their cars outside and walk in.  He told me of the wonderful days they spent rising early in the morning to paint the sunrises then returning to their three story villa where they would take a nap before returning to paint the sunsets.
The bedroom was on the third floor and had long gauzy orange curtains. They would billow with the afternoon breezes  slowly drifting down with sighs of contentment.
My painting of the Red Umbrellas sold today.  It was from a one day painting competition at Frances Ford Coppola's winery in Healdsburg.
Wendy
(Wendy's dream is still to become a influential international artist, but she left 8 Women Dream in March of 2010 to complete grad school.  She is still a strong supporter of 8 Women Dream and you will see her in the comments on the blog.)

Enjoy this special 8WomenDream Guest Contributor story submitted by new and experienced big dreamers throughout the world, edited and published to capture a dream perspective from different points of view. Do you have a personal dream story to share with 8WomenDream readers? Click here to learn how to submit dream big articles for consideration.
Note: Articles by Guest Post Contributors may contain affiliate links and may be compensated if you make a purchase after clicking on an affiliate link.