Last updated on December 3rd, 2012 at 02:11 pm
When I go to a Giants baseball game in person, I'll show up to watch batting practice, listen to the pregame show on the local AM radio station KNBR and keep score in an actual score book.
Ask anyone who goes to the ball park with me — they'll tell you I'm not embarrassing to sit with – I sit in the stands with incredible intensity — much more than that of the 'normal' fan — to the point where the foam-finger vendor won't even make eye contact with me as he's running up and down the aisles.
I also love hot dogs.
A game usually lasts somewhere in the neighborhood of 2 — 3 hours.  As a young fan, I'd watch hitters hit, the defense make great plays, and every once in a while, something unexpected would happen, like a broken bat flying through the stands, or that wild pitch enabling a run to score.
But now that I'm older, I understand why I like baseball so much.  The activity that goes on out there on the field is a result of a strategy the team has built — it's on purpose and its defined — and it's the strategic plan of the game is what excites me.
Once I started really learning the strategies, it was more about how they won. Did the pitcher work well?  Why did they walk that guy on purpose?'  How many errors were there?  Who was hitting well?  And what DIDN'T they see coming that ultimately impacted the outcome?
Once I realized that their approach was intentional, and that all the guys were working together with the result in mind, I had a new respect for the game, and my perspective as a fan had changed.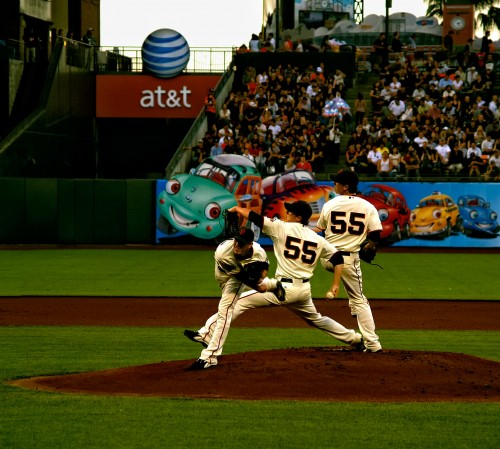 *photo by Remy – edit by Ray Mabry Photography
In my infant photography business – playing the game has some obvious activities:
make to-do lists
check things off
go here – call there
work with clients
schedule meetings.
These are all of the little pieces are simple, somewhat related, but finite.
What I need to do is to step back and create a context for all the little pieces — ask myself, how do all these things fit together?
WHY am I doing all these things?
Should I do something else?
And by doing all of these things, does it get me closer to my goals?
Regardless of if you like sports or not, I'm sure we can agree that strategic planning is important.  In my business I need to go out there, play my own game, and be conscious of what the other teams are doing then before I start playing to decide: 'what is my strategy?'
And believe me, when I finally get good at that, I'll find a way to win!
Play ball people.
Rem
Remy's dream is creating opportunities for photography showings and public displays of her work.

Enjoy this special 8WomenDream Guest Contributor story submitted by new and experienced big dreamers throughout the world, edited and published to capture a dream perspective from different points of view. Do you have a personal dream story to share with 8WomenDream readers? Click here to learn how to submit dream big articles for consideration.
Note: Articles by Guest Post Contributors may contain affiliate links and may be compensated if you make a purchase after clicking on an affiliate link.