Last updated on February 19th, 2023 at 05:34 pm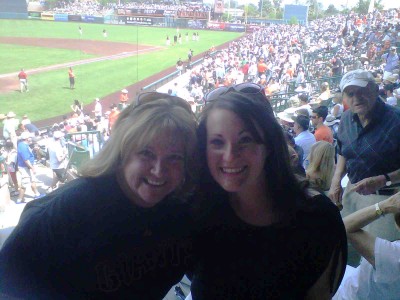 For this week's freelance photography update, I am showcasing a few images taken at my annual Spring Training trip to Scottsdale Arizona to watch my favorite pro baseball team, the San Francisco Giants.
After 15 months of submitting my stories to the 8WomenDream website along side travel writer, Katie Eigel, we finally got to meet in person–in Arizona of all places!
Talk about big dreamers colliding, and what a firecracker this girl is!
Our view from the center field grass. There is a reason they call it a peanut gallery. Hard to concentrate when you cant see.
*Note to self:  Next year, remember to purchase tickets the day they go on sale.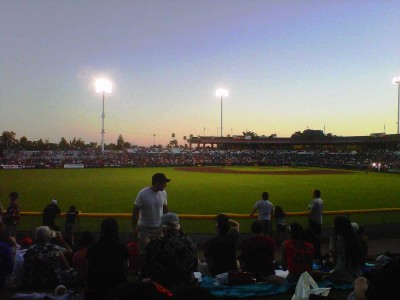 Biggest Rival team: LA Dodgers. This Dodger Fan agreed to wear wife's tube top in exchange for a bachelor party at Spring Training. A fair trade don't you think? (Posed with my sister, a brave soul!)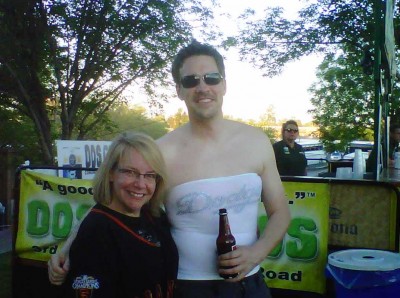 The strategy when you want to sit closer? Get there early and sit in someone else's seat until they kick you out.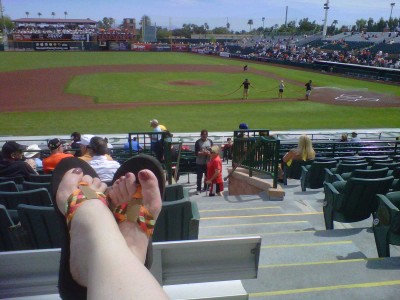 Double take: is the Mohawk real or fake?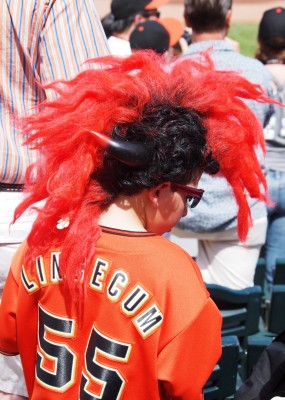 Olympus 5e Special Settings: B/W Grain.  Love the effect it has on shots like this.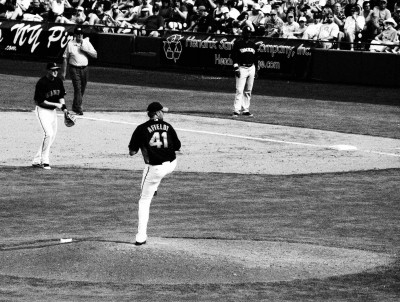 Wanted to capture energy in motion. Did I get it?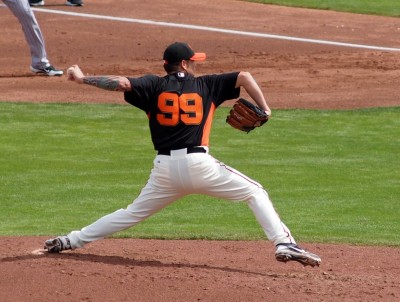 Cant be a Spring Training post without an artsy zinger. Can you see this vendor handing back our change?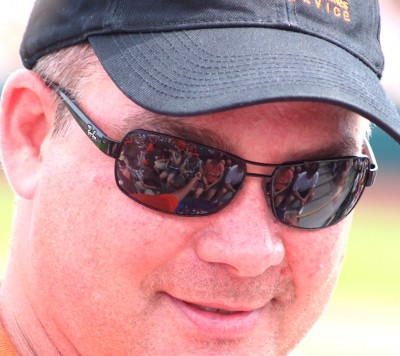 Remy Gervais
Remy Gervais is an EMyth business coach, humorist, and freelance photographer in the Northern California wine country on a mission every day to ensure the survival of small businesses in California and the broader US.

Enjoy this special 8WomenDream Guest Contributor story submitted by new and experienced big dreamers throughout the world, edited and published to capture a dream perspective from different points of view. Do you have a personal dream story to share with 8WomenDream readers? Click here to learn how to submit dream big articles for consideration.
Note: Articles by Guest Post Contributors may contain affiliate links and may be compensated if you make a purchase after clicking on an affiliate link.