Last updated on July 5th, 2022 at 02:20 pm
As I work on my dream to become a renowned (and well-compensated) photographer, there's a photography technique that I am currently experimenting with called "high dynamic range imaging," or "HDRI."
High-dynamic-range imaging (HDRI) is a high dynamic range (HDR) technique used in imaging and photography to reproduce a greater dynamic range of luminosity than is possible with standard digital imaging or photographic techniques. The aim is to present a similar range of luminance to that experienced through the human visual system. The human eye, through adaptation of the iris and other methods, adjusts continuously to adapt to a broad range of luminance present in the environment. The brain continuously interprets this information so that a viewer can see in a wide range of light conditions. (Source: Wikipedia)
If you are a photographer like me and your strengths lie in the artistic side of the craft, my next few technical photography paragraph descriptions may cause you to self-combust.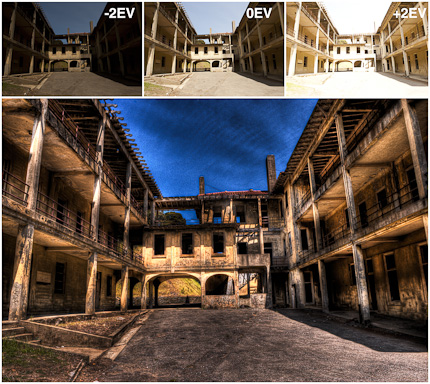 The technique of HDR is to show the full range of intensity levels found in a photograph.
There are 2 ways to create the HDI visual effect:
1. The first way is to physically take a series of shots in the field of something–like the abandoned building shown above. You take this series of shots at different exposures and combine them later in an image editing program. You are literally 'layering them' on top of each other so that the images will show deeper contrast and color tones, and have a greater texture and density look to them than a standard one exposure image would have.
Think about this like baking cookies from scratch. You have all the raw ingredients, you put them together, and you get the result, and you can alter any of the elements to change the outcome. You have more control over how they turn out because of this.
2. The second way to achieve this effect is by producing them using Adobe Photoshop, Lightroom or other photo editing programs. You start with your one image of those same subjects, and you adjust the tonal values, highlights, and different settings on the original photo until your tweaking ultimately creates the final look you want.
This effect is similar to baking those cookies, starting with a box of cookie mix and adding a half a cup of chocolate chips to make them even more chocolaty. Your control over the outcome of this approach is limited because all you can do is add other ingredients to the mix that is already there.
HDR is one of those things that beginning photographers should learn sooner than later. It sounds more overwhelming that it is. Once you understand how to approach it, go out and practice it. Make mistakes. Try different settings and add various effects.
As with most things, the more you practice, the better you'll get.
There are plenty of resources for classes, training, and books. In the town where I reside, there's even a local photography Meetup organizer, Ray Mabry, who has photography workshops to learn shooting techniques in a classroom setting, and then go outside and practice them together as a group.
If your dream is to learn how to use HDR photography, here are 8 great HDR photography guides, tutorials, classes, and techniques:
1. Trey Ratcliff's HDR Tutorial
2. Master HDR Photography Mentor in the Arcanum, Klaus Herrmann
3. Free HDR Photography Tutorials and Resources on PhotoTraces
4. Gannon Burgett on How to Shoot HDR Images Using (almost) Any Camera
5. Photography Life's HDR Photography Tutorial
6. National Geographic's How to Take HDR Pictures
7. Cameron Chapman's HDR Photography Tutorials, Tips and Stunning Examples
8. Tom Till's Making Best Use of HDR
By focusing on learning new post-processing techniques as part of my photographer dream journey, I am DE-mystifying the technical side of photography–my most significant learning curve–and, the challenge makes me feels like I'm on the right track with where I want to be with my photographer dream.
Remy Gervais
Budding photographer

Enjoy this special 8WomenDream Guest Contributor story submitted by new and experienced big dreamers throughout the world, edited and published to capture a dream perspective from different points of view. Do you have a personal dream story to share with 8WomenDream readers? Click here to learn how to submit dream big articles for consideration.
Note: Articles by Guest Post Contributors may contain affiliate links and may be compensated if you make a purchase after clicking on an affiliate link.