Last updated on April 17th, 2013 at 07:50 pm
It was one of the happiest afternoons I've had in a long time. If I were a cat, I would have been purring contentedly.
I spent Sunday relaxing at home, in my home that was once a stop on the Underground Railroad, with its stretch of hardwood floors, high ceilings, chandeliers and ornamental fireplaces. I love my house, which also has a "railroad" apartment layout, which means the bedrooms are all located on one side of the apartment, and the common areas – double-parlor living room, full dining room, and sunny kitchen — span the length of the house.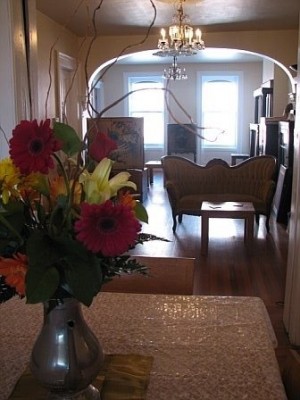 I spent some time contemplating the next steps on some of my dreams, dreaming and mapping, and I snacked on leftover food from a party my best friend and I had thrown the night before. Homemade chocolate raspberry pie. Falafel with hummus and garlic sauce. Stuffed grape leaves. Mmmmm . . .
For a few hours, I curled up on the couch under a fuzzy blanket with a spiritual book, Everyday Simplicity: A Practical Guide to Spiritual Growth, and a hot cup of homemade mocha, my own special blend of coffee, spicy Mexican hot chocolate, and vanilla soy milk.
This is Bliss
Really, the word for what I felt was bliss. Total, utter contentment.
I thought: how lucky I am to live in this beautiful home. How lucky I was to have friends over last night. The house was still festooned with balloons and pink and red streamers for the surprise birthday party we had thrown for a friend.
How lucky I am, I thought, to have such good friends.
How lucky to have my health. This hot cup of mocha. This delicious food.
How lucky I am to have a quiet afternoon to myself, when I can simply curl up on the couch with an inspiring book; relax with my thoughts; and dream.
There is nothing, I thought, that I would change about my life right now, or all the moments that led up to this moment. I felt absolutely 1000% happy, grateful, lucky to be me.
And yet, in some respects it had been a challenging weekend. On Friday night, my on-again, off-again boyfriend and I broke up again. I love him. I cried, of course, and then texted my best friend on the way back from his house at 11:30 p.m.
Being a great best friend, she said, "Come over," and padded downstairs in her pajamas to let me in. We stayed up until 3 a.m., laughing ourselves silly, until I was crying from laughing so much instead.
Her very intuitive cat came and rested his soft black paw on my shoulder protectively, as if to say, "No worries dear, it'll be okay. I'm here."
I was sad, of course, but also knew that at least for now it was the right thing for us to do; we are just at different points in our lives right now. No one's at fault, really, we just know it doesn't work for us to be together now.
So why was I so ridiculously happy, two days later?
You Choose . . .

That's the funny thing about happiness.
We tend to think it is dependent upon our circumstances, on some precise alignment of factors in our lives. How often have you said to yourself, or heard someone else say: "I'll be happy when . . . (fill in the blanks) I'm in a relationship . . . I land that job . . . I make more money . . . My kids are older . . . I lose that 20 pounds . . ." etc., etc. etc.
When we place conditions upon our happiness, we are telling the universe that "I can't be truly happy now because . . ." (insert above-mentioned factor here). We are postponing our happiness for some future date and time. "I'll be happy when" really is the same as "I'll be happy then."
But what happens when you do lose those twenty pounds, and find that, shockingly, it doesn't take away your financial worries? Or make your children more well-behaved? Life may feel somewhat better, but there will always be another problem to "fix," another obstacle on the horizon.
We have all witnessed public figures — movie stars, rock stars, politicians — who achieved all that they had ever dreamed of, and then engaged in risky or self-sabotaging behaviors — sex scandals, alcoholism, burning through millions on luxury items and declaring bankruptcy. These are usually people who have lived their childhood dreams, and are still desperately unhappy.
What If Happiness Isn't Dependent Upon Outside Factors?
It is so tempting to believe that we can create happiness, permanently, by obtaining that elusive goal, whatever it may be. It can also be tempting to think that we can buy happiness. If only I had more money and less financial worries. If only I lived in a bigger apartment. If only I could buy my own house. If only I could vacation in the Bahamas. Then, I'd really be happy.
And on and on it goes.
The problem is that it's an endless cycle. Generally, the more we get, the more we want. And the more we achieve, the more we feel compelled to achieve, to top ourselves. Isn't it all a big competition after all — to be more, do more, have more?
Or, is it?
If you constantly want more, more, more, then you may never feel satisfied with what you have.
So How Does One Find Lasting Happiness?
There is actually a branch of psychology now called "the science of happiness." One Website, www.pursuit-of-happiness.org, cites seven factors that researchers associate with long-term happiness.
These seven science-based factors that they say lead to happiness are:
Communicating
Caring
Exercise
Getting In The Flow
Spiritual Engagement
Cultivating Strengths and Virtues
Positive Thinking: Optimism, Savoring and Gratitude
And, to get back to living our dreams, in the section on "Cultivating Strengths and Virtues" they include the great Victor Frankl quote: "What man actually needs is not a tensionless state but rather the striving and struggling for some goal worthy of him."
So perhaps it is actually reaching for our dreams that makes us happy, not simply achieving them. Not the end, but the means; not the outcome, but the process.
How To Be Happy, No Matter What
That said, scientific studies aside, what I have found in my own life is that happiness is truly a choice.
We have all known people who have survived tragic life circumstances, and who still focus on the joy in their lives. We have all met people who seem to "have it all," and yet, right underneath the surface, they are clearly miserable.
Abraham Lincoln said it well: "Most folks are about as happy as they make their minds up to be." Indeed!
Can Being Happy Help Us Live Our Dreams?
Now, here is what I really find interesting.
I think we are often taught that having what we want will bring us happiness, so we assume that we need to be "successful," however we define success, first in order to be happy. Research however shows that the truth is usually actually the reverse.
According to an article on Optimistworld.com:
In many cases, it is the happiness that came first.

…Much of the previous research on happiness presupposed that happiness followed from success and accomplishments in life, said the authors.

"We found that this isn't always true," Sonya Lyubomirsky said. "Positive affect is one attribute among several that can lead to success-oriented behaviors. Other resources, such as intelligence, family, expertise and physical fitness, can also play a role in people's successes.

"Happy individuals are more likely than their less happy peers to have fulfilling marriages and relationships, high incomes, superior work performance, community involvement, robust health and even a long life."
Or as my best friend put it, using some charmed and sexy mixed metaphors, "If you are a happy little bee living your life and purring through life, people are going to want to pet you."
Don't you find that to be true?
The Happiness Is In The Journey

For me, the happiness is in the journey. And I believe that if I am happy, I also am that much more likely to live all my dreams. So I will happily pursue completing my book manuscript, and selling it, and building out my life-coaching business. I'll keep traveling the world. And, when the time is right, I'm confident that the right relationship will align for me.
The point is, while I'm pursuing all of these goals, I will also simply choose to be happy. Denis Waitley defines happiness as "the spiritual experience of living every minute with love, grace, and gratitude." I love that!
How about you? Can you choose to be happy now, no matter what? And to live your dreams from this space?
Lisa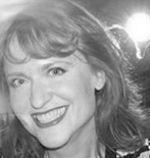 Lisa P. Graham is an inspirational writer, life coach, TED motivational speaker, and globe-trotter whose passion is to help others to find happiness and meaning in their daily lives. A political activist at heart, Lisa would like to empower more women to run for political office as a way to create positive change in the world. You can find her on her website or watch her TEDx speech on YouTube.
Note: Articles by Lisa may contain affiliate links and may be compensated if you make a purchase after clicking on an affiliate link.