Last updated on April 2nd, 2023 at 03:01 pm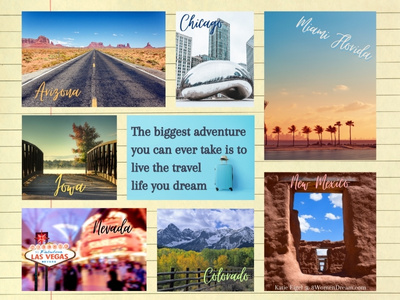 When considering your travel dream, take the time to define your own travel adventure story before you book any flights or places to visit.
Defining your travel adventure story can be a fun and exciting exercise that helps you focus on what you want to get out of your travels and out of life. You are less likely to be disappointed if you outline your idea of a travel adventure, and it prepares you for any unexpected invitations that may line up with your dream.
Personally, I've traveled to nine travel adventure destinations in the past 30 days. I road-tripped from Chicago to New Mexico with Colorado and Iowa layovers. I partied in Denver, then skied in Vail. I sunned in Miami Beach at a sunrise yoga session.
Then I flew to Phoenix for a few days and drove to the middle of nowhere in northeast Arizona for a week. Oh, and I escaped to Las Vegas for a weekend.
Perhaps the two feet of snow outside of my place encouraged me to choose a travel adventure that included flying south, west, and southwest during winter. Maybe I was subconsciously checking out new places to plant myself. The snow has this weird annual effect, which causes the afflicted travel junkie in me to question why people like me choose to live under a sludgy, gray blanket for most of the year.
The snow makes me think about where else in the world could suit me, and travel adventure ideas begin to pop into my brain. As a blizzard swept through the Midwest, I was offered the chance to move south for the winter and possibly beyond. Since it aligns with my idea of travel adventure, I am considering saying yes.
When you have a clear idea of what you want from your travel experience, it's easier to decide where to go, what to do, and how to spend your time and money when you feel the itch for change. You can choose destinations and activities that align with your travel dream and avoid those that don't.
5 Steps to Create Your Travel Adventure Story
Set aside some quiet time to do this exercise. Find a quiet space where you won't be interrupted. Sit comfortably and take a few deep breaths to help you relax. Close your eyes and imagine yourself in a peaceful, happy state. Visualize yourself feeling calm, centered, and happy.
1. Start with the destination: Consider where you want to visit. What draws you there? Is it the culture, the food, the scenery, the people, the history, or something else? Jot down some notes about what excites you most about this destination.
2. Set a goal: What do you want to achieve during your travels? Do you want to challenge yourself physically by hiking a mountain or trying a new water sport? Do you want to learn a new skill or language? Or do you simply want to relax and disconnect from your everyday life? Define your goal and write it down.
3. Create a plot: Imagine your travel adventure as a story. What challenges will you face? What surprises might you encounter? Will there be a turning point or moment of triumph? Think about the plot of your story and how it will unfold.
4. Add characters: Who will join you on your travel adventure? Will you be solo, traveling with friends or family, or joining a tour group? Consider the people you will meet along the way and how they might impact your story.
5. Consider the ending: What will be the conclusion of your travel adventure story? Will you have achieved your goal? Will you have learned something new about yourself or the world around you? How will you feel when you return home?
Don't be afraid to trust your instincts and choose a destination that excites you, even if it's not the most popular or well-known place to travel. By visualizing your kind of travel adventure story, you can create a future travel experience that is uniquely yours. It can be as wild or as simple as you like. Defining what you want to get from your travels and creating a story that will inspire and motivate you to make it happen is an important part of making your travel dreams come true. It may also inspire you to pack your stuff and move to an entirely new place!
Katie Eigel
Born and raised in St. Louis, Katie Eigel has lived in Switzerland, San Francisco, Arizona, Sonoma, California wine country, Brooklyn, and Chicago. She has published wine and travel stories in Wine Folly, Chicago Sun-Times, Image Chicago Magazine, TimeOut Chicago, Travelers' Tales: Leave the Iguana, Take the Lipstick (book), Billboard (music business), WhichWinery, and more.

Katie Eigel is a freelance writer and social media strategist specializing in travel adventure stories. Katie currently works with best-selling authors, fortune 500 companies, and start-up entrepreneurs to strategize how to amplify their brands online and offline. The 8WD project will tell you that Katie's 8WD travel stories profoundly changed people's views of what it means to live your travel dreams.
Note: Articles by Katie Eigel may contain affiliate links, and Katie and/or 8WD could be compensated if you purchase after clicking on an affiliate link.